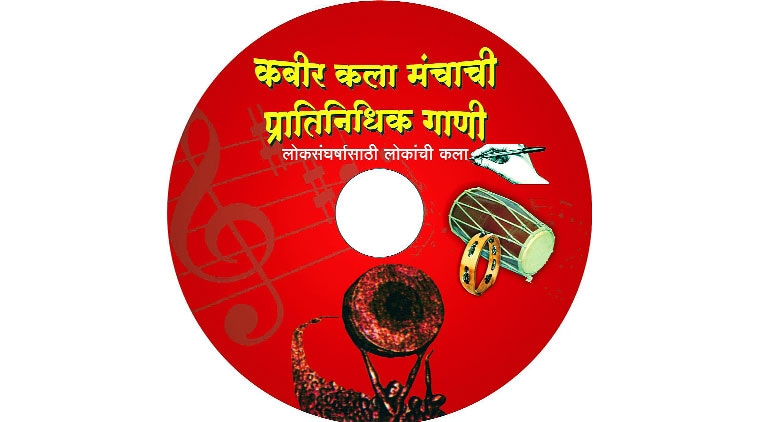 The KKM artistes have recorded new songs for their CD – Gani Sangharshachi Naav Samaj Nirmitichi. The new CD will have all these songs, along with a couple of new songs. It will be launched in the next few days.
Pune-based cultural group Kabir Kala Manch (KKM) is all set to release its CD of revolutionary and socio-political songs. KKM has been on the radar of policeagenciesdue to the alleged Maoist links of some of its artistes. However, despite all it hardships, the KKM artistes have recorded new songs for their CD – Gani Sangharshachi Naav Samaj Nirmitichi. Besides, they are also planningto release books with poems and stories written by their fellow KKM artistes, who are lodged in jails and facing trial for their alleged links with the banned Communist Party of India (CPI-Maoist).
KKM artiste Jyoti Jagtap said, "KKM, earlier, released three CDs – Yevo Balicha Raja, Jaati Antachi Gani, Rajya Daman Virodhi Shahiri. The newCD will have allthese songs, along with a couple of newsongs. It will be launched in the next few days"
Jyoti added that the newsongs included one written by KKM artiste Ramesh Gaichor, who was in prison. "Ramesh felt the pain of farmers who were affected by hailstorms and penned it down – Garpithitun Abhalatun Jahar Shivari Barsavla (Poison poured on the farms in the form of hailstorm..)," she said. Another newcomposition based on freedom fighters Bhagat Singh, Rajguru, Sukhdev is written and sung by KKM artiste Deepak Dhengale, who was released on bail in 2012.
"The newCD will have about 32 songs. It will be availablefor Rs 100. There is no copyright on these songs. KKM is people's art for people's movement. So, we have no objection if peoplecopy and share our songs freely. AllKKM artistes come from poor backgrounds. They have experienced the sufferings. Their compositions are natural. Ramesh and Sagar have written poems and stories in jail. They surrendered two years ago on May 7, 2013. We plan to launch the book on the same date this year," said another artiste, Rupali Jadhav.
KKM artistes Deepak, Ramesh, Sachin Mali, Sheetal Sathe and Sagar Gorkhe were among the suspects booked by the ATS after the arrest of alleged Maoist Angela Sontakke and her aides from Thane and Pune in April-May 2011. Sachin, Sheetal, Ramesh and Sagar had surrendered by staging a "satyagraha" in Mumbaiin 2013.
Jyoti and Rupali, who had gone "underground" also appeared in public along with them. Some surrendered CPI-Maoist operatives gave statement to the ATS that KKM artistes were allegedly introduced to them in jungles as "party workers in urban areas."
The artistes say it was not easy for them to getthe songs composed in a professionalstudio as policeagencieshave falsely branded KKM as a Maoist front. "KKM is not a banned group. But those who help us face policeinquiries.
There were suggestions that we shouldstop workunderdifferent name. But we continued to workas KKM. We would not surrender our pen or auction our art… One day we will defeat the unlawful forces," said Jyoti.
http://indianexpress.com/article/cities/pune/artistes-branded-as-maoists-say-they-wont-surrender-their-art-pen/99/