By NEETA KOLHATKAR February 15, 2023
'The IB and authorities knew I had given away all my property and had nothing in my name.'
'Even among police officers, they all respected me for this sacrifice which is rare these days.'
'They respected me from this point of view — in this day and age few individuals live by ideals for the poor.'
Kobad Ghandy, has been a sympathiser of the Communist movement for half a century including its radical wing, the Communist Party of India (Maoist).
Along with his late wife Anuradha Shanbag Ghandy, he dedicated many years to the cause living in Vidarbha.
Both Kobad and Anuradha ensured they lived by Communist ideals and gave away their possessions and wealth for the cause.
Kobad was arrested in 2009 and released in October 2019.
After his release, Kobad wrote Fractured Freedom — A Prison Memoir, which has been translated in various languages and which has received flak from radical Left circles.
"I'm persona non grata in these (radical Left) circles. I have been for 10 odd years in jail, cut off from any civilisational contact, let alone political touch. In fact, for 15-20 years I haven't been in touch with any organisation. I just find it pointless," Kobad Ghandy tells Rediff.com Senior Contributor Neeta Kolhatkar in the first of a multi-part interview.
How have the last three years been for you? Have you tasted real freedom? Where are you staying and have you adjusted to the new way of life?
The last jail term was in Surat and I knew nobody in Gujarat.
It was a general conspiracy case and like all others I got bail.
The people handling my case and those of the others were mostly human rights lawyers.
Actually my sister has been there for me.
In fact, she paid my bail and brought me back once I was released.
In Surat I knew I would be out soon, but my biggest worry was once I come out where would I go? I had sold out my properties and I don't have any place.
I thought who would keep me. Not one of the my left associates offered me their place.
They all have big flats, extra flats, rooms and so on. But not one of them offered me place.
Till today, not one of them has asked me. Anyway, my sister offered and has been cooperative. Since then I've been living in her house even though she doesn't agree with our ideology.
I also found it difficult to adjust to such an upper class atmosphere, but without her help i would have had no place to stay, this was around five to six months before Covid, a lockdown was declared.
It was first pure freedom immediately after release and then semi-freedom, locked in our houses.
What I found out in these three years, the Parsi community and especially the Parisiana magazine and other community members have been extremely supportive.
The editor of Parisiana, Jehangir Patel, is an extremely nice person.
I had to recently travel a lot to Jharkhand and other states to attend court dates which took a toll on my stomach.
I happened to casually mention this to him and he purchased online chlorine tablets for me before I went on my next trip.
Since I subscribe to Parisiana, he knows my address and he just sent them. (Laughs).
Such type of a nice feeling is there. Like I have mentioned in my book, Fractured Freedom — A Prison Memoir, I have raised questions on philosophical aspects of the communist movement regarding values, freedom and happiness.
I found I am getting support, which has been refreshing.
One didn't realise that ordinary, old, Parsis want to meet me. I never expected that.
When did you think of writing Fractured Freedom — A Prison Memoir? You have mentioned in it that the Parsi community supported you along with your friends from Doon School. Was this unexpected?
From the Surat arrest I began to think of writing a memoir.
I didn't have the intention earlier because nothing was sure — will I ever be released? will I get bail? where will I stay? Nothing was sure.
Then it seemed possible that I may get bail and from then on I began to conceptualise it.
Around January 2020 I was looking for a publisher because I know nothing about the publishing industry.
A few friends put me in touch with some publishers. Then the lockdown was declared.
It was a boon for me, as I could focus on my book and there were no distractions.
At that time Jehangir Patel told me his daughter Simin would help me because she knew about publishers.
I also needed legal help to draft an agreement and she knew of a lawyer friend and that is how I met Xerxes Ranina.
Now he has become a friend. In fact, this book came out around March 2021 and has given me a lot of confidence as it was promoted excellently by my publisher, Roli Books.
I'm told it is still a bestseller on Amazon. The way it has sold, people do seem interested in reading about the possibility of a better future.
I have kept the translation rights and I knew I could get it done inexpensively, so it has already been published in Marathi, Bengali, Punjabi, Hindi, Kannada and will soon be coming out in other languages as well.
I've been told the Bengali version of my book is selling well in Bengal, though there is strong opposition from many of the Maoist circles. Marathi has sold the maximum especially after the awards controversy and the publicity it got.
I believe the Maoist Party written a 100 page paper attacking my book. I am told it is sub-standard. They have written it in English, Hindi and Telugu.
They have nothing better to do or what, I don't know.
I'm persona non grata in these circles. I have been for 10 odd years in jail, cut off from any civilisational contact, let alone political touch.
In fact, for 15-20 years I haven't been in touch with any organisation. I just find it pointless.
Since you have been released, are the authorities keeping a watch on you?
I haven't noticed anything as such.
On the other hand, I feel they don't have the need to do keep an eye on me.
They know everything. I am doing everything legal — I go to the courts and attend to all my case dates.
If at all they want to watch is if I was doing any organisational work.
That they would want to know, but I am not interested in that.
I am interested more in research, study and analysing in what we have done and not done in the last many years.
I want to dwell on those concepts. My talent was writing, even when I was an activist.
Whether they (party people) are disturbed or not, I don't care because what is more important is the future — the future of humanity and the future of our work.
I feel that dialectical materialism and Communism is the best and there is no better alternative to it. But the fact is, it has faced a setback because of the reasons outlined in my book and I have given an example of Anuradha (his wife who died in 2008) as the ideal Communist in my book.
She is a model kind of person and I had presented her as an example.
Then I posed the concepts of freedom, happiness and the question of values of simplicity, truthfulness, straightforwardness, etc as the model values seen in Anuradha.
I realised if these incorect values are present at these small levels, this must be worse at the higher levels throughout the Communist parties of the world resulting in the setbacks.
The Parsi community, a community not known to revolt, has supported you. Is it unexpected?
Like all communities, Parsis too are classists and despite you being a Communist, the Parsis have supported you.
Is it because you belong to an upper class Parsi family? Has that made a difference?
Yes, to some extent it could be, because class and caste is relevant in our entire society.
A person who comes from an elite background is given support when he/she sacrifices everything for the poor and oppressed. But a poor person who joins the cause has nothing to sacrifice. It is another aspect that most do not sacrifice and keep their wealth while also keeping their Communism.
I found this even among the police officers, they all respected me for this sacrifice which is rare these days.
Maybe because I have been living by the ideals. The IB (Intelligence Bureau) and authorities knew I had given away all my property and had nothing in my name.
From that point of view, I got support in all jail authorities except Tihar.
They expressed surprise and respected me from this point of view — in this day and age few individuals live by ideals for the poor.
Now I found this respect even among my Doon School alumni.
As far as the Parsi community in particular, well that is also divided.
Many years ago when we used to stay at Colaba, my neighbour, who is a Parsi, was telling me that while some people are against me, many are sympathetic.
I think Parisiana has made a huge difference in influencing the community.
In fact, I have personally sold 150 copies of my book, mostly within the Parsi community.
There is a section of the Parsi community who are anti-Muslim and pro-Narendra Modi — some of my relatives too are like that. But there is a large section of Parsis who are ethical.
My father was sympathetic towards us. The Parsis are sympathetic because of their ethical values, honesty.
Still these are prevalent amongst the general Parsi community. During my incarceration also I got a lot of support.
Jehangir, the editor of Parsiana, in fact came to Tihar jail, despite being nearly blind in one eye.
Since the time I am out of jail, he continues to be extremely supportive of me.
So the community is supportive, because write ups are being carried in Parisiana regularly.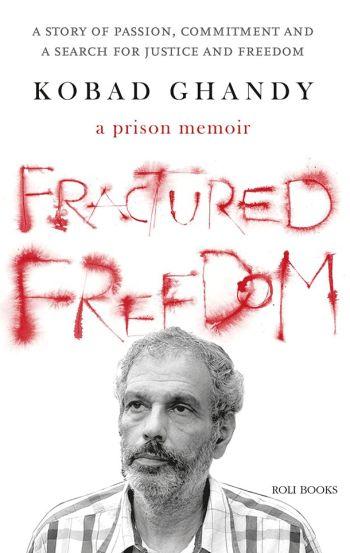 Speaking of your school mates at Doon School — Kamal Nath, Naveen Patnaik, Sanjay Gandhi, Ishaat Hussain, Gautam Vohra. How have they reacted to your ideology, jail term and release? Have they distanced themselves or have been sympathetic to you?
(Laughs). Actually earlier I wasn't in touch with these people.
First, college and then till 1972, I was in the UK. I wasn't in touch with all of them.
After I returned, I was involved in my activism work.
The only person who was in touch with me and even came to visit was Gautam Vohra.
A maverick Leftist who has met Castro, Che Guevara and hwent on a march against the Vietnam War, he still has this spirit.
He was one person who during my entire stay in different jails was in constant touch with me, throughout.
Practically every week I would get a nice postcard from him.
Once he came all the way to Jharkhand to meet me in jail. He has been consistent in his views.
To some extent because of him others have come forward to support me.
He tried contacting Kamal Nath and a few others who didn't respond; the others have.
He even gathered money for my eye operation when I was in Tihar.
He helped build the atmosphere and support for me.
Ishaat initially wasn't in touch though he was my closest class friend.
As I have written in my book, he said he pursued CA because of my father and me.
Later he met me often in the UK and that was all. We lost touch since.
He apparently asked Gautam if I'd be willing to meet. Since then we meet every month. He is cooperative and sympathetic.
Gautam initiated a class WhatsApp group. Everyone is extremely well-read, progressive, even though some are pro-Modi, yet there is no negativity.
They are open to discussions and I found a lot of progressive discussions. Of course, there is a lot of humour too.
Navzer Taraporewala is always sending us jokes. He lives in Malaysia and is extremely well-read.
He has read Noam Chomsky and all. Where for a Parsi he has read all this, I wonder (laughs).