Written by 
Shaju Philip
 | Kochi | Posted: November 2, 2014 6:01 pm | Updated: November 3, 2014 8:16 am
Chaos and tension prevailed in Kochi for two hours on Sunday evening after police took into custody 50-odd men and women who came to participate in 'kiss of love' in a protest against moral policing.
The agitators managed a few kisses in public, but a celebration of lips and cheeks was spoiled by right-wing Hindu and Muslim organizations, whose activists turned violent against the protest. Police had chased away the people _ comprising aspiring kiss groups, conservative protesters and curious onlookers_ as the situation took a violent turn.
Although arrested and removed, a section of participants in the kiss carnival managed to engage their lips inside the police van and later at the police station. They were arrested on charges of unlawful assembly and disturbing peace at public place, but were released on bail.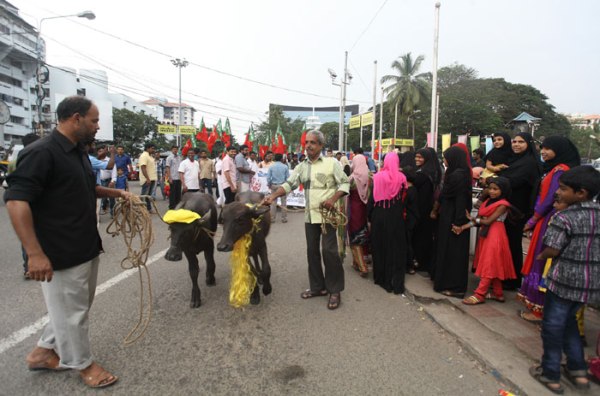 The kiss of love was floated in social media by a group of youngsters known as free thinkers, in protest against Bharathiya Yuva Morcha attack on a hotel in Kozhikode last week, alleging immoral activities. The attack followed after Congress-run TV channel telecast news about the immoral activities, showing kissing incidents. This video and attack triggered protest in social media in a manner evolving into a protest by organizing kiss of love.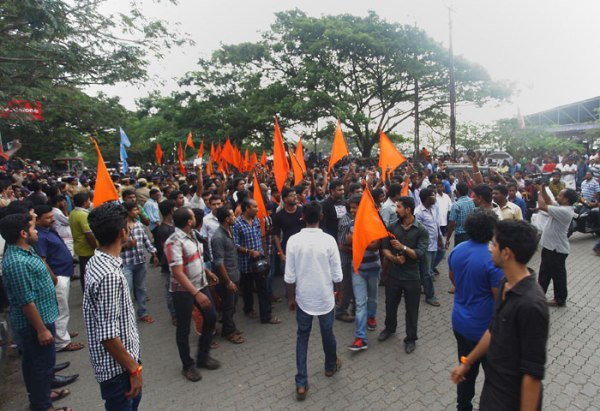 Police had earlier denied permission for conducting the kiss of love, a public kissing spree, and warned that they would act tough if the incident created any law and problem. Several Hindu and Muslim organizations had come out against the kiss of love.
Shiva Sena activists came in large numbers, and raised slogans that the event was part of love jihad. In several parts of Kochi, Shiva Sena erected postures saying that kiss of love agitation was a new form of love jihad. Besides, it would create sexual anarchy in Kerala.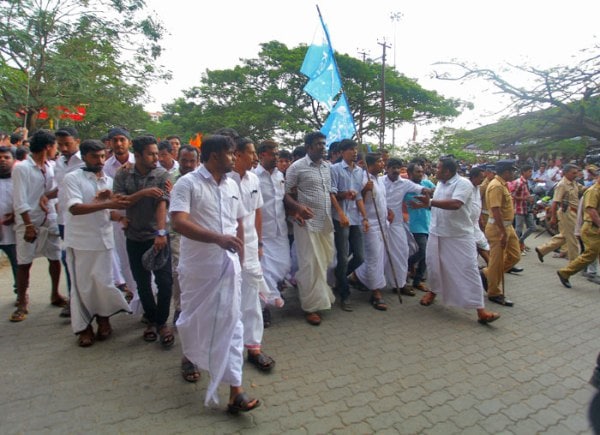 Others on the Hindu side were activists of Yuva Morcha, ABVP and Bajrang Dal, while Muslim side had activists of conservative Sunni youth outfit SYS and rightwing Muslim political party Social Democratic Party of India. Activists of Hindu and Muslim organizations were moving at marine drive protesting in small groups, howling at young men and women who looked as participants of the kiss of love.
Although the event was planned in the Marine Drive at 5 pm, thousands of people had occupied the ground expecting to witness the kissing festival. As the anti-kiss event groups moved to the ground raising slogans, organisers moved to a nearby college ground to conduct the programme. A few of them kissed each other, but soon they were taken into police custody.
In the meantime, Shiva Sena men attacked the youths who came to pledge support for the programme. After 50-odd organisers were taken into custody, another small group came to the ground and kissed publically, inviting the wrath of Shiva Sena /Yova Morcha activists. At this stage, police resorted to lathi-charge the crowd to avoid clashes.
The event had invited an avalanche of reactions in facebook, pro-and anti, in the last few days.
– See more at: http://indianexpress.com/article/india/india-others/kerala-at-least-50-taken-into-custody-for-organising-kiss-of-love/99/#sthash.TuI3skZI.dpuf