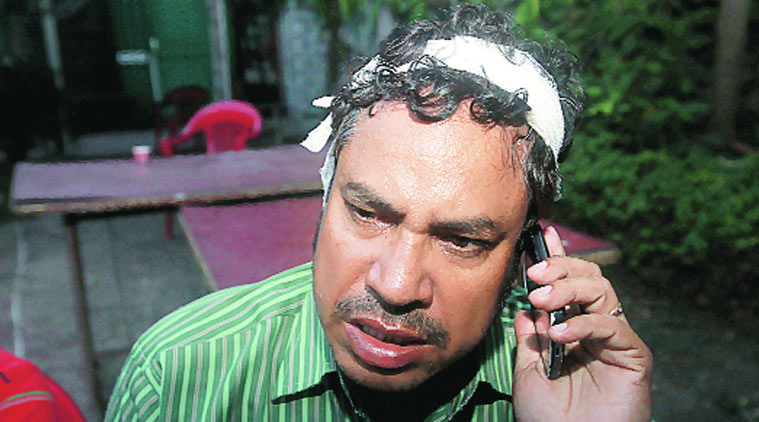 'I am not anti-Islam. But my free thinking is not accepted by fundamentalist Muslims'.
Masum Akhtar, a newspaper columnist and the headmaster of a madrasa in Kolkata's Metiabruz area, was attacked by suspected Muslim hardliners on March 26. Speaking to The Indian Express soon after being discharged from the hospital, Akhtar said he feared for his life and would approach Chief Minister Mamata Banerjee for help.
Akhtar was treated for head injuries after a mob beat him with iron rods. "My life is in danger. I am physically brutalised and mentally traumatised. There is no place for free thinking in the society," he said.
The provocation for the attack, he said, seems to be a class he took earlier this month, in which he spoke about Islam. "I am afraid some students misinterpreted my teaching and circulated that in the area, after which the attack was organised," Akhtar said.
Akhtar said he had also written an article on the battle of Karbala in the Dainik Statesman last year, giving a historical perspective to the event. After that, he started receiving threatening calls from those who would mock him: "Are you trying to become another Salman Rushdie or Tasleema Nasreen? You will be eliminated."
Akhtar then wrote an article in the Ananda Bazar Patrika in the wake of the Burdwan blast. He said that if any madrasa was found to be involved in illegal activities, strong action should be taken against it.
Officer in-charge of Rajabagan police station S Bhattacharjee said that no arrests had been made so far. "I have received a counter FIR in which local Muslims have alleged that the teacher had been hurting the community's feelings through various religious statements that go against Islam," Bhattacharjee said.
On March 26, Akhtar made a call to the police after a mob surrounded his school. Police arrived at the scene, but when they were trying to get him out, the mob pounced on him.
Akhtar said he had been told by the police that "maulvis and imams in Metiabruz area as well as other parts of the city have ruled against me and I should be careful".
"The fight is between true Islamists and the distorted ones. I am not anti-Islam. But my free thinking is not accepted by fundamentalist Muslims who are doing a great harm to the religion," he said.
http://indianexpress.com/article/cities/kolkata/kolkata-madrasa-head-attacked-for-trying-to-be-a-rushdie/