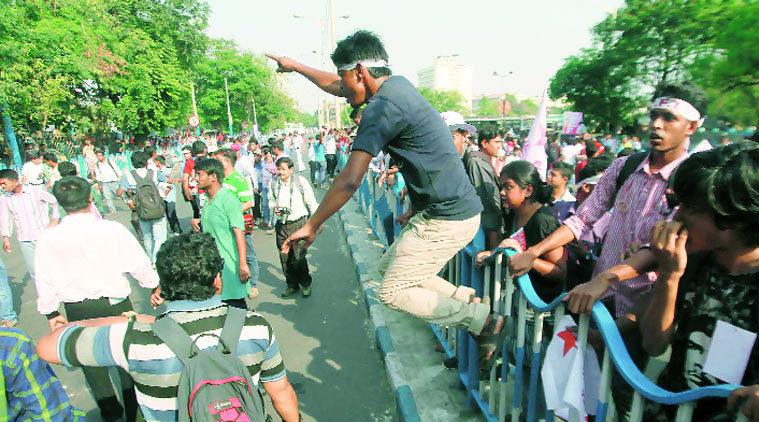 SFI activists at the law-violation programme. (Source: Express photo by Subham Dutta)
A rally taken out by the Students' Federation of India (SFI) members Thursday turned into a clash between the protesters and the police in which over two dozen SFI activists and nine police personnel were left injured.
The rally was organised to commemorate the second death anniversary of SFI leader Sudipta Gupta (who died in police custody in 2013 while being taken to Presidency Jail) and to protest against the growing number of cases of violence against women in the state.
The activists, who started the rally from College Square, had also scheduled a law-violation programme at Rani Rashmoni Avenue.
Around 3 pm, the first barricade put up by police at Esplanade was brought down, leading to an argument with the police.
The situation soon turned into a scuffle, prompting the police to use force.
The supporters of SFI alleged that the police lathicharged them. "Without any provocation, they lathi charged on the participants of the rally. Nearly 25 of the members have been injured who had to be taken to the Calcutta Medical College for treatment," said Ritabrata Banerjee, national general secretary, SFI.
Later, Leader of Opposition in the state Assembly Surya Kanta Mishra and Left Front chairman Biman Bose visited those injured at the hospital. "It is a barbaric torture on peaceful protesters. But we will continue with our movement," Mishra said.
Kolkata Commissioner of Police Surajit Kar Purakayastha, however, denied the police lathicharged the protesters and blamed the latter for the violence.
"There was no lathi charge. We had expected it to be a peaceful law-violation programme and a symbolic breaking of barricade. But they attacked the policemen with sticks and pelted stones and bottles. Nine police officers including four female officers were injured. The additional OC of Amherst Street police station has sustained severe head injury," he said.
The CP added that there have been no arrest so far but since the police personnel were injured, they have initiated a case and are probing into the matter.
In response to the alleged lathicharge, the SFI would now observe a Protest Day on Friday and block roads between 1 pm and 3 pm at major crossings in the city including Maulali, Hazra and Jadavpur 8B Bus Stand., it is learnt.
http://indianexpress.com/article/cities/kolkata/sfi-activists-break-barricade-lathicharged/