Edited by Samira Shaikh | Updated: September 26, 2012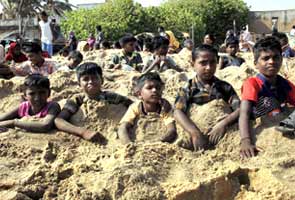 Chennai: 
Tamil Nadu police
has been slammed by a fact-finding team that probed the handling of protests against the Kudankulam nuclear plant, specially calling its 'descration' of a church "dangerous and deplorable". The police has rejected the findings.The team, led by former
High Court judge
Justice Kolse Patil has said that the use of force against the peaceful protesters was unjustified. Police had lathi-charged the protesters who wanted work on the nuclear plant to be stopped. The team also found that police, while trying to control the agitation, looted and damaged private and public property. The fact-finding team was formed after demands from the Chennai Solidarity Team for Kudankulam and Teachers Against Nuclear Energy.In the most damning finding, the team said that the desecration of a church by the police was a "dangerous and deplorable act". There were allegations that
police officers
had barged into the St Lourde's church looking for protesters there. The Archbishop of Madras-Mylapore had alleged that the policemen "insulted religious symbols".
Justice Kolse Patil's team also said that charging the protesters with sedition and waging war against the state was irrational and that police action had created "fear psychosis" in the area.
Tamil Nadu Police though said that they had acted "responsibly" and had been attacked by villagers.
A protest against fuel loading in the nuclear power plant that had been going on for several days in Kudankulam was broken up by police after the Madras High Court gave its green signal to operationalise the plant. Police who had cordoned off the area around the plant had been taken by surprise after the protesters approached the plant by walking along the beach, leading to a stand-off. The protests are still continuing.
Related articles