The comedian's words echo what others have been saying. And there is the Supreme Court's chequered history with power.Ajaz Ashraf 17 Nov 2020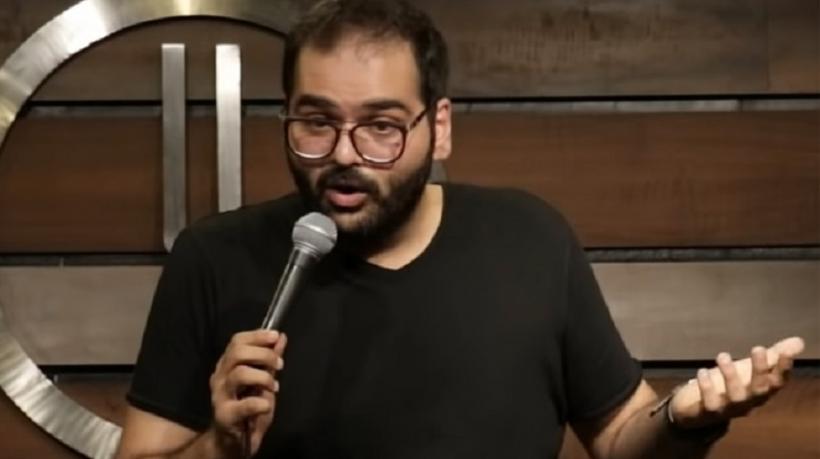 Image Courtesy: Telegraph India
Comedian Kunal Kamra has turned into a "Laughing Gandhian," a category the Hindi film Lage Raho Munna Bhai invented in 2006. We have always admired Kamra's capacity to make us guffaw, whether watching his performance in auditoriums or on smart phones, with his satire on public personalities and social behaviour. Kamra distils the truth in comical yet meaningful ways. He exaggerates to shine the spotlight on India's reality, without the unbearable heaviness typical of academia. He dissents with humour, and so do we when we laugh at his lines, often delivered deadpan.
From 11 November, the day on which the Supreme Court bench of Justice DY Chandrachud and Indira Banerjee granted bail to Republic TV anchor Arnab Goswami, Kamra has adopted the Gandhian technique to express dissent. He refused to apologise for the tweets that prompted Attorney General KK Venugopal to grant permission to applicants wanting to initiate contempt proceedings against him. Venugopal justified his decision thus: "I believe it is time people understand that attacking the Supreme Court unjustifiedly and brazenly will attract punishment under the Contempt of Courts Act."
Under the Act, a person convicted of contempt can be sent to prison for a maximum six months. Yet Kamra did not repent. He, instead, released an open letter to judges and Venugopal, claiming that his alleged disparaging tweets expressed his "view of the Supreme Court of India giving a partial decision in favour of a Prime Time Loudspeaker [Arnab Goswami]." His letter expressed the Gandhian philosophy, which says an individual must always strive to uphold the truth, in the service of which he or she is justified to disobey laws (or norms) as long as he or she is willing to suffer the punishment for doing so.
A segment of social media users was convinced that Kamra had unjustifiably attacked the Supreme Court through several of his tweets on 11 November. One of these said, "DY Chandrachud is a flight attendant serving champagne to first class passengers after they're fast tracked through, while commoners don't know if they'll ever be boarded or seated, let alone served *Justice*."
These are arguably harsh words. The substantive content is in the second part of his tweet, which alludes to the fast-tracking of Goswami's special leave petition for bail, filed on 9 November and listed for hearing on 11 November. Goswami was released from jail the same evening. The Supreme Court's alacrity was in sharp contrast to those who languish in jail; their petitions neither heard nor speeded up. They are the supplicants who are unsure of whether they will be "boarded or seated, let alone served justice".
That two categories of petitioners exist in the Supreme Court has also been pointed out by the Supreme Court Bar Association president Dushyant Dave. In a letter to the Supreme Court's Secretary-General, Dave wrote, "While thousands of citizens remain in jails, languishing for long periods while their matters filed before…Supreme Court are not getting listed for weeks and months, it is, to say the least, deeply disturbing as to how and why every time Mr. Goswami approaches the Supreme Court, his matter gets listed instantly." Dave cited the example of former Union Minister P Chidambaram, who failed to get a "speed listing" of his case and, therefore, spent months in jail.
Kamra's charge against the Supreme Court was echoed by Raihana, wife of Siddique Kappan, the Kerala journalist who was arrested on his way to Hathras, Uttar Pradesh, where a Dalit girl was allegedly brutally gang-raped and killed. Raihana said, "After hearing that Goswami was granted bail, I am forced to think that my husband was denied due justice…Justice is not for all, only for some." In Kappan's case, his lawyer Kapil Sibal was asked by the Supreme Court to approach the High Court and posted the matter for further hearing four weeks later, on 16 November. And this even when, according to the Live Law website, Sibal informed the Supreme Court that "no court in the State of Uttar Pradesh would grant bail" to Kappan.
On 16 November, Kappan did not get bail from the Supreme Court, which will now hear the matter four days later. The irrepressible Kamra, in response to the denial of bail to Kappan, tweeted in Hindi, which roughly translates thus: "Taking all evidence and witnesses into account, this Court yet again crosses the limit of hypocrisy."
Kappan apart, not only has the Supreme Court failed to dispose of habeas corpus petitions filed by hundreds of Kashmiris who were detained after Article 370 was read down on 5 August 2019, its judges have been shockingly cavalier during their occasional interventions. When Iltija petitioned the Supreme Court to meet her mother and former chief Minister Mehbooba Mufti, then under detention, and to also move around "freely", the bench headed by then Chief Justice Ranjan Gogoi wondered what was the need for her to roam around as it was "cold in Srinagar".
Gogoi, after retirement, was nominated to the Rajya Sabha. On 12 November, Kamra tweeted, "Don't even call it [his tweets] contempt of court call it contempt of future Rajya Sabha seat." His remark suggests that Supreme Court judges who heed the Union government's wishes are granted post-retirement sinecures. This perception was precisely why the Rajya Sabha erupted with the slogan of "shame on you" when Gogoi took oath as its nominated member. Rajya Sabha chairman M Venkaiah Naidu ordered that the slogan would not go on record. Through subversive humour, Kamra has archived the outcry against Gogoi's nomination in cyberspace, and the anguish over the honourable leaving the Supreme Court to walk down Parliament Street, a point he makes in one of his tweets.
The Supreme Court's offhand response to Iltija is one of many such instances. For instance, when Communist Party of India (Marxist) general secretary Sitaram Yechury filed two habeas corpus writ petitions asking for the production of Mohammad Yousuf Tarigami, the communist MLA detained in Kashmir, the Supreme Court did not issue notice to the government. Instead, it permitted Yechury to travel to Srinagar "for no other purpose" than to meet Tarigami. In a media interview, Yechury said, "I found it [the order] very strange. Habeas corpus means bring the body. So instead of bringing the body, the petitioner was asked to visit the body, come back and report on the status in an affidavit to the court."
Worse was the example of former Kashmiri MP Saifuddin Soz, against whose detention a habeas corpus petition was filed in the Supreme Court. In its reply, the Jammu and Kashmir administration said no detention order had been served on him. On the next day, Soz tried to step out of his house but the security forces prevented him from doing so. We do not know whether the Supreme Court has asked the government to explain its lie. Contrast this with Justice Chandrachud finding faults with the Bombay High Court's denial of bail to Goswami, and his arrest by the state government.
This is not to accuse Justice Chandrachud of duality of approach. He is required to serve justice in all cases assigned to him. Perceptions regarding the idea of justice vary—for instance, lawyer Sriram Panchu, writing in The Hindu, thought the Supreme Court should have not wasted time on Goswami, as his bail application was due to be heard by a Sessions Judge on 12 November. Nevertheless, Chandrachud is widely regarded for his liberalism and legal acumen, which were evident in the Aadhaar, Bhima Koregaon and Sabarimala cases. In all these cases, though, his views constituted the Supreme Court's minority opinions, which are of only academic interest.
It is curious why Kamra mentioned Justice Chandrachud in his tweet, even though it was a two-member bench which granted bail to Goswami. Perhaps Kamra did so in the hope that Justice Chandrachud's liberalism would have him nudge his brother judges to iron out the Supreme Court's contradictory approach to liberty.
Venugopal has taken exception to one of Kamra's tweets in which the Supreme Court, painted in saffron colour, is flying the Bharatiya Janata Party flag. Venugopal, while sanctioning the prosecution of Kamra, wrote, "This is a gross insinuation against the entirety of the Supreme Court of India that the Supreme Court of India is not an independent and impartial institution and so too its judges, but on the other hand is a court of the ruling party, the BJP, existing only for the BJP's benefit."
But the charge that the Supreme Court has a BJP bias has been made by others as well. Earlier this year, when the Supreme Court did not stay a High Court order pertaining to the internecine battle between the two factions of the Congress in Rajasthan, former Union Minister Ajay Maken remarked, "When you go to the court these days, we do not expect a favourable decision from the court… It [Rajasthan drama] is not a legal battle, it is mainly a political battle and legal battle is just part of the entire political battle." Read what Alok Prasanna Kumar, of the Vidhi Centre for Legal Policy, wrote: "For a court that has often been criticised for being too activist in the past, it has now done a 180-degree turn, and appears incapable of addressing even the most basic kinds of fundamental rights violations especially when they related to the Narendra Modi government."
Former Justice Kurian Joseph, explaining why judges held a sensational press conference in January 2018, said, "Someone from outside was controlling the CJI [Dipak Misra]…Starkly perceptible signs of influence with regard to allocation of cases to different benches, to select who were perceived to be politically biased." In India, each ideology has been assigned a colour. Given this backdrop, it will seem Kamra has been faulted for his candour, not for the message his tweet conveyed.
In the United States, judges are known to tilt towards either the Republicans or Democrats. In India, judges are perceived by their relationship with power, whether they bend before or stand up to it. Reams have been written on how judgements were pronounced to favour Prime Minister Indira Gandhi's regime during the Emergency. The most shocking of these judgements was arguably the ADM Jabalpur case, in which the Supreme Court ruled that people did not have the right to file a habeas corpus petition during the Emergency. One of the judges who passed this order was YV Chandrachud, father of DY Chandrachud. Years after the Emergency, Chandrachud Senior said, "I regret that I did not have the courage to lay down my office and tell the people, well, this is the law." In 2017, Chandrachud junior, writing the judgement in KS Puttaswamy, ruled that the ADM Jabalpur judgement was flawed.
In 2020 India, the BJP represents power. Its ideology has the colour code of saffron. Kamra thinks the Supreme Court has been saffronised because it has not stood up to today's government, as it did not during the Emergency. Kamra's point has been echoed by others, including former Chief Justice of the Delhi High Court AP Shah. In a public speech, Shah said, "We seem to have regressed once again, and desperately need a wake-up call in order to avoid another Emergency-like disaster."
Kamra's tweets are a wake-up call for the judiciary to reclaim the ground it has lost. It might have been harsh of him to say that honour has left the Supreme Court or that it is the "most supreme joke" of the country. Comedians exaggerate the existing reality to pack a bite, to be heard, particularly when sober warnings go unheeded. In his public letter, Kamra said, "The Supreme Court of India hasn't yet declared my tweets anything as of now, but if and when they do, I hope they can have a small laugh before declaring them Contempt of Court."
Kamra is willing to suffer the punishment due to him, in the hope of bringing about change. He is willing to rebel and laugh through these troubled times—and make us, including judges, laugh with him. This is why he is a "Laughing Gandhian." You need to doff your hat to his courage, whether you agree or disagree with him. The less courageous like us can only mutter: Lage Raho Kamra Bhai.
The author is an independent journalist. The views are personal.