Suranya Aiyar believes it is important to take a stand to oppose the Centre's alleged attempt to 'rub out history'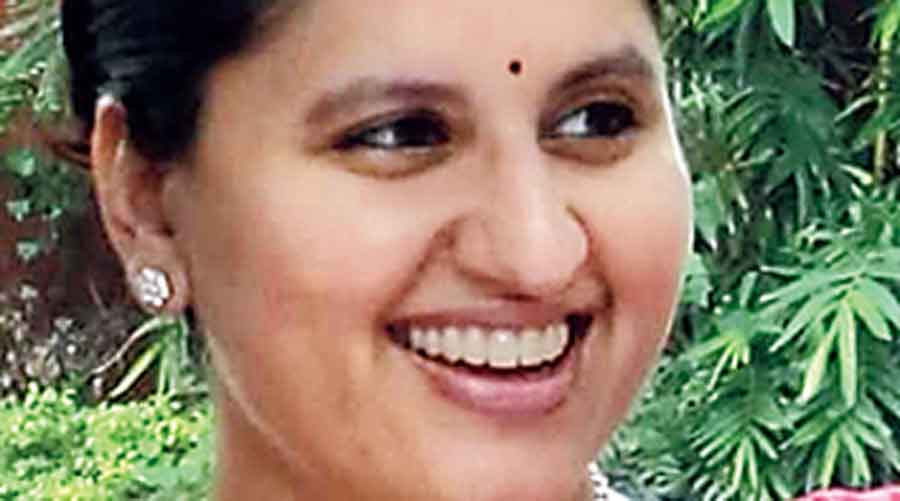 ---
Pheroze L. Vincent   |   New Delhi   |   Published 25.01.22,
---
Suranya Aiyar, a lawyer whose grandfather was killed in action in the Second World War, believes it is important to take a stand to oppose the Centre's alleged attempt to "rub out history".
Aiyar, also a child rights defender and a public health activist based in New Delhi, has appealed to people to play the hymn, Abide With Me, in their homes during the Beating Retreat ceremony on Saturday that marks the end of the Republic Day celebrations.
The Christian hymn, widely used by military forces as a requiem tune and known to be a favourite with Mahatma Gandhi, has been dropped from the ceremony for the first time. There was an aborted attempt to replace the tune with Vande Mataram last year.
Aiyar said the hymn was close to her heart not only because of the sentimental association of it with her grandfather but also because it embodies Gandhi's ideals. She is also collaborating with artistes to have it rendered as a Hindustani classical piece this week.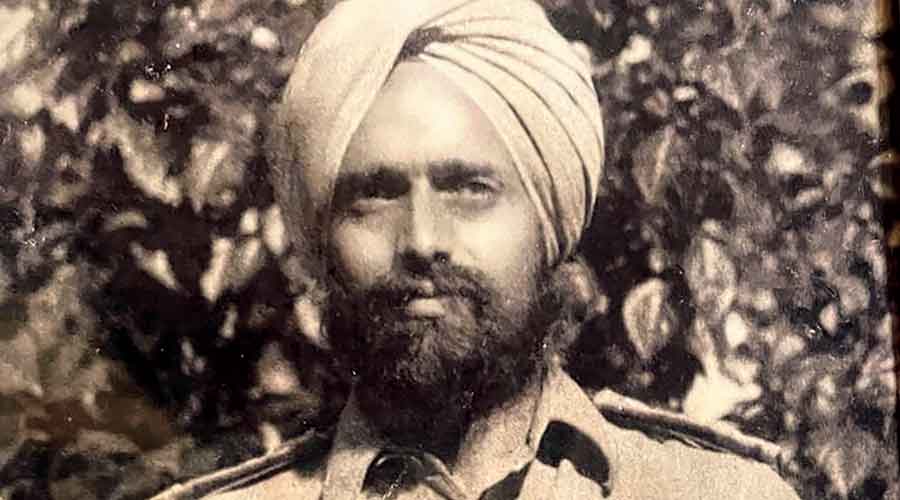 Aiyar told The Telegraph: "At the end of the (Beating Retreat) ceremony when they would play Abide with Me, one felt Gandhi was with us and telling us to abide with him to further the ideals that he gave to us.
"To have this dropped seems to be out of malice for Mahatma Gandhi and just another attempt in the series of actions by this government to rub out our history and to change the symbols, sentiments and feelings around our freedom struggle and how our nation was forged. It is a cavalier move and is insulting to the fallen soldier — which is a sacred and universally revered idea across nationalities, regardless of where the battle was fought."
Iiyar added: "We are asking people to play Abide With Me from their phones or any other device in their gardens, balconies, terraces, or at the entrance of their homes on January 29 at sunset…. It has been translated into Hindustani by Dastango (lyrical Urdu story-teller) Mahmood Farooqui and is being set to music by a large group of artistes on Indian classical instruments. We hope it will be sung by a classical singer soon, so that it can be there for people to enjoy and celebrate on January 29."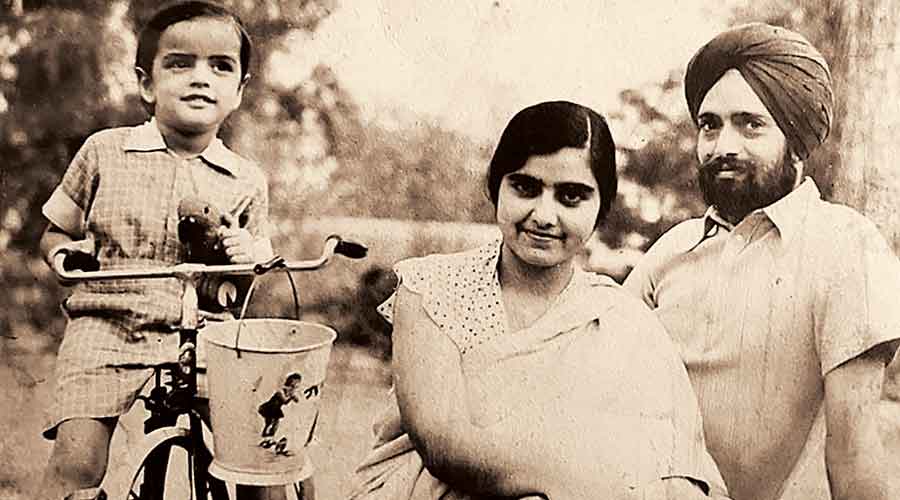 Aiyar's uncle Tejbir Singh, grandmother Teji Vir Singh, and grandfather Maj. Vir Singh. All three are no more.The Telegraph
The hymn, written by Scottish Anglican Henry Francis Lyte, was published in 1847 and is usually played to the tune of William Henry Monk's Eventide. It is a prayer to God to remain with one through life and death.
The hymn has been replaced with Kavi Pradeep's Ae Mere Watan ke Logon, composed by C. Ramachandra, which was released in 1963 after the Sino-Indian conflict.
Aiyar's grandfather Major Vir Singh of the erstwhile 14th Punjab Regiment was killed in action in February 1945 during bombardment by the Imperial Japanese and Free Indian forces near the town of Nyaung-U in Myanmar.
"He was 36 years old. My grandmother, Teji Vir Singh, was 27 years old, with my maternal uncle, Tejbir, who was seven years old, and my mother, Suneet, who was a babe-in-arms of five months…. We grew up seeing our grandmother cry whenever reminded of him until she passed away in her 80s, as if he was killed just the day before. The fallen soldier is of importance to me, and I found the Beating Retreat ceremony very moving for that reason," she said.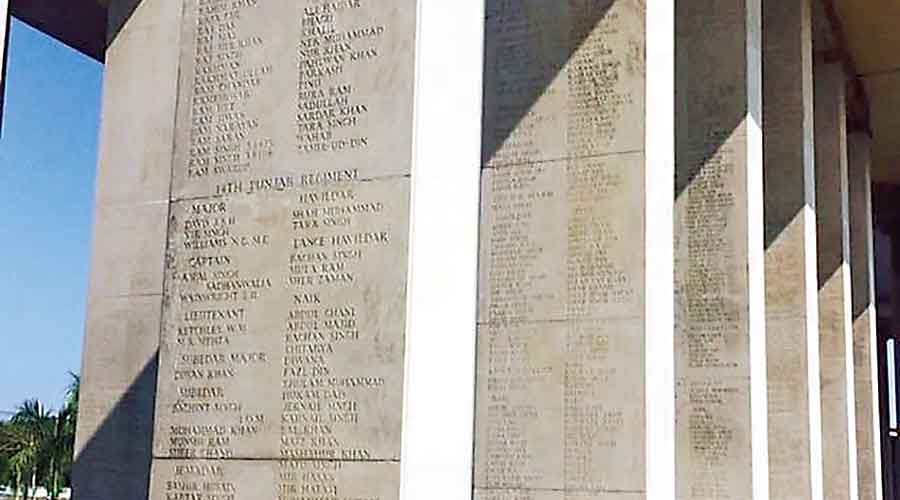 Memorial column with the names of Aiyar's grandfather and other deceased of his regiment at the Taukkyan War Cemetery, Myanmar.The Telegraph
Aiyar added: "There are universal feelings and sentiments which art, music, poetry and prayer express.… It touches the heart no matter where you come from and in an exquisitely composed Abide With Me — even if you don't know the language — anyone who hears the music as played in Beating Retreat can feel the pathos and the love…. Nobody has any objection to new imagination or creativity. But the removal of Abide With Me is not for any of these reasons. It is simply being removed because it was Gandhiji's favourite hymn."
On the justification attributed to government sources that the replacement was made to retain only Indian tunes (in the brass band display which has western roots), Aiyar responded: "The reason this has been cancelled is not that it is a colonial import. It was cancelled because the government is trying to import its own ideas, and malice against the ideas of the people who gave their lives for freeing India from its colonial rulers. This is aimed at rubbing out, desecrating and confusing the memory of Mahatma Gandhi for all of us."
She added: "The BJP, RSS and the Far Right believe they have a monopoly over patriotism, love for India…. We are doing this because we don't believe they have any monopoly. We too are patriots, proud of our freedom struggle and our great leaders led by Mahatma Gandhi who were able to bring this gift to us. I don't believe there is anyone in the gallery of the Right wing that did for us what these leaders did."