Khan said a caller threatened to "blow him up with a bomb" and asked him to "withdraw the petition from court".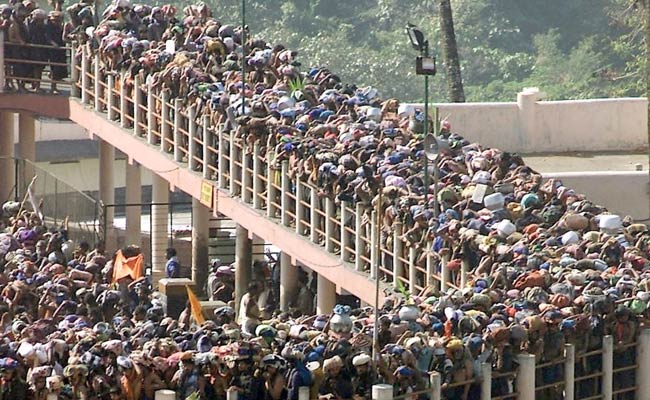 A lawyer who is leading the campaign for the famous 
Sabarimala 
temple in
Kerala
to allow entry to women, has received 500 threatening phone calls, many of them from
the US
, in recent days, the
Supreme Court
was informed today.
Naushad Ahmed Khan, President of the Indian Young Lawyers' Association (IYLA), said the calls included threats to blow up his house and warned him to drop his petition in the Supreme Court.
Earlier this week, the top court, in response to Mr Khan's appeal, said the ban on women worshippers appears to be unconstitutional. Judges said today that they will decide on Monday on what sort of security should be given to Mr Khan; for now, he has been given a guard by the Delhi Police.
The top court has asked the Travancore Devaswom Board, which manages the famous Sabarimala temple, to clarify why it prohibits women from entering the shrine dedicated to Lord Ayappan. But Kerala government authorities and temple officials are standing firmly by the decades-old tradition that says women of reproductive age cannot enter the shrine because if they are menstruating, they are "impure".
 "Khan said he was also targeted on social media. His name, picture and phone number showed up on Twitter, with a message in Malayalam, asking 'Why is this man showing so much enthusiasm for something which millions of Sabarimala devotees do not want? Who is behind this man?'"  –
The hilltop temple only allows entry to girls aged under 10 and women over 50.
Kerala Temple Affairs Minister VS Sivakumar said earlier this week that the government "will protect the faith and custom" of the temple.
Scores of women took to social media last November, joining a campaign launched as #happytobleed, after the head of the temple said he would consider allowing women to enter if there was a machine to check if they were menstruating.
An estimated one million Hindu pilgrims flock every year to the Sabarimala temple in the Western Ghats hills to pray to the deity Lord Ayyappan who meditated at that spot, according to Hindu mythology.
"The chief deity in the temple is a celibate. So allowing women to worship in the shrine is a sin," said the temple's chief priest Thazhamon Madom Kandararu Rajeevaru.http://www.thenewsminute.com/article/lawyer-files-complaint-receiving-death-threats-over-sabarimala-pil-37665