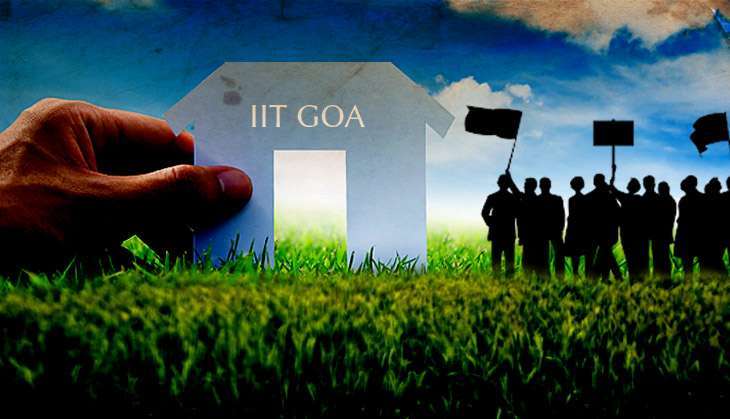 The Indian Institute of Technology Goa, which was opened this year, faces an uncertain future as the village where it planned to have its permanent campus has resolved to not allow it there.
VOICES OF PROTEST
The campus was planned on the Bhagwati Moll plateau in Loliem, a village in South Goa's Canacona block. At a special gram sabha convened on 26 October, an overwhelming majority voted to that they would conserve the plateau and allow only agricultural, pastoral and such activities it.
Nearly 500 villagers present passed 6 resolutions to this effect; only 4 villagers opposed the resolution. Of the 9 panch members of the Loliem-Pollem village panchayat, 7 voted for the resolution and one was absent. The sarpanch, Bhushan Prabhugaonkar, who is the ninth member, opposed the resolution as he is in favour of the IIT.
A committee of IIT professors and bureaucrats from the Ministry of Human Resource Development had approved the permanent campus' location at Loliem. Meanwhile, classes commenced from a temporary campus in August 2016.
The six resolutions, which cover three other plateaus besides the one where the IIT is planned, say that the plateaus are "inalienable agricultural resources" that need to be conserved "for future generations, especially in view of the impending threat of climate change and its impact on monsoons and production of food". They resolved that "no real estate or other construction projects will be allowed at any cost".
The resolutions do not specifically mention IIT, as a different gram sabha has been convened in early November to discuss it. However, villagers against the IIT said that the resolutions already passed – of not allowing any construction on the plateau – makes the upcoming sabha irrelevant.
FUTURE PLANNING
"Forget IIT, no project can come on the plateau," said Denis Fernandes, who leads a group of Loliem residents against the IIT and any other real estate project in their village.
Fernandes said that on 27 October, officials from the IIT and Goa's technical education department visited the village and tried to convince some panch members and villagers of the benefits of IIT.
"However, they were unable to answer most of our questions. For example, for our water crisis, they assured that they would build two water tanks. But where will the water come from? Not just today, but 25 years later? We are fighting not just for us but for our future generation," Fernandes told Catch.
UNCERTAINTY PREVAILS
The Goa government can appeal the gram sabha resolution in the court of the Director of Panchayats.
Vivek B Kamat, Goa government's director of technical education, said that it is "too premature" to comment.
Responses are awaited to an email questionnaire sent to the public relations office of IIT Mumbai, which is providing support to IIT Goa.
Interestingly, IIT Goa has its temporary campus at the state government's Goa Engineering College, which is also where the National Institute of Technology (NIT) Goa has been 'temporarily' stationed since 2011.
NIT's permanent campus too was proposed in Loliem but got scrapped because of protests from villagers, a fate the IIT may also see.
http://www.catchnews.com/environment-news/citing-climate-change-loliem-village-rejects-plans-for-iit-goa-campus-1477645665.html/fullview