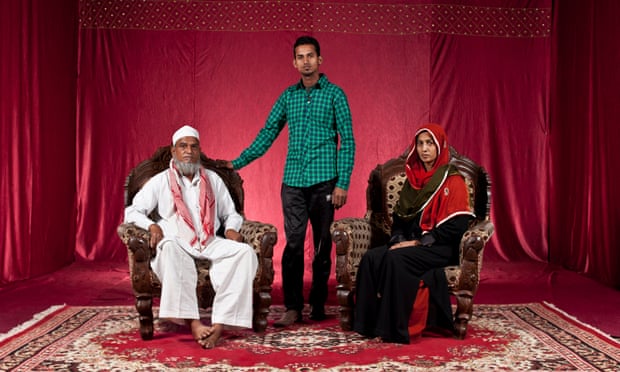 It was just past midnight on 3 December 1984 when a pesticide plant at the heart of Bhopal, India, exploded. It was the worst industrial disaster in history, killing at least 3,000 people in the days following the incident and about 15,000 subsequently, and exposing tens of thousands to poisonous gas.
More than 30 years later, the site stands almost untouched. The factory, once owned by Union Carbide, is still filled with debris and broken bottles from the explosion, piles of industrial waste degrading in the open and even the tank which caused the disaster discarded on the factory floor.
It is a human and environmental tragedy that has formed the basis of a new exhibition opening in Brixton – Bhopal: Facing 30 – by the photographer Francesca Moore, who travelled to Bhopal on two occasions last year.
The first aspect of Moore's show documents the entirety of the dilapidated wall surrounding the 60-acre site of the factory through a series of 200 photos. The second part, a series of family portraits, captures 30 families whose lives were forever changed by the disaster.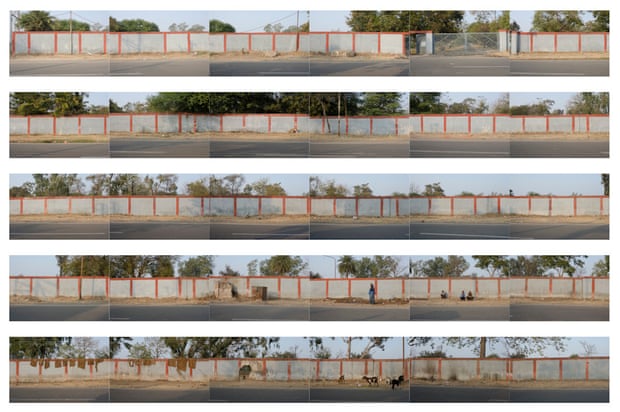 "In India they are told that it's all fine, that's it's been remediated and that there's no problems with the site any more, but it's just not true," said Moore. "The factory inside is like a ghost town. Those running the factory all just got up and left while some areas still have mercury levels several million times in excess of WHO guidelines."
Moore, who previously worked as a photographer for charities in developing countries, has recreated the entire perimeter of the Bhopal wall around the Brixton gallery, each of her photos connecting together. Falling down and riddled with holes, the 6ft wall is still the only barrier between the people of Bhopal and the carcinogens that have never been removed from the site.
In some pictures, children are seen climbing through the holes to play cricket in the factory grounds. There are homes, shops and a nursery built directly against the wall, and several slums 20 or 30 metres away from the factory site.
Moore said: "A lot of people I spoke to said they wished they had died instantly in 1984 because the amount of suffering they have had since has made their lives hell. Long-term there are a lot of TB and respiratory issues because of gas exposure, and one of the worst affected things has been people's reproductive systems – you see so many second- and third-generation birth defects from children born to gas-exposed mothers. And people would tell me about the high rates of cancers and tumours, all the things you'd associate with exposure to carcinogens."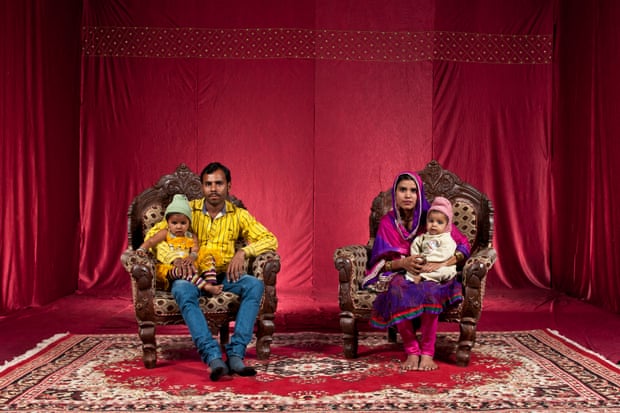 Her hours spent meticulously photographing every inch of the wall made Moore interested in expanding her project to the people she encountered along the way. She decided she wanted to create a series of family portraits of people in Bhopal, bringing together all those who were alive at the time of the explosion and those who had been born since and suffered its effects. After returning to the UK, she secured Arts Council funding for the project and went back to Bhopal a few months later.
"I wanted to take photos that would capture the human element of the continued effects of the disaster, to highlight the injustices that had gone on in the past 30 years, but I didn't want these pictures to be about their ailments," she said.
Moore set up a photography studio in a tin hut in Bhopal, draped the interior in rich red material, laid a carpet – a sign of affluence – on the floor, and got two ornate "king chairs" made for the families to sit on. Over the next three weeks, with the help of the local community, she invited families to come dressed in their best clothes and have a portrait taken.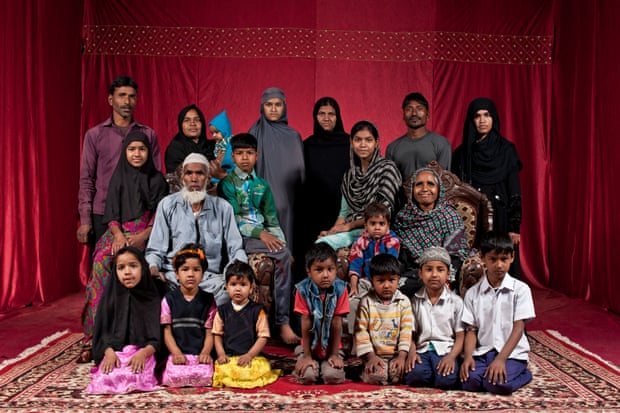 "These families have all been represented as victims since 1984, so I wanted to allow them to portray themselves with dignity because very little of how courageous and brave these families have been has been captured. The idea was to show these people are as important for anyone who works for Union Carbide or the Indian government."
She intended to take only around 80 photos, but was inundated with families and ended up shooting over 200. Her subjects were between 25 days and 100 years old. It had been both a "wonderful but also sometimes horrific experience," Moore said.
She said she had met many women whose husbands had died suddenly after complaining of stomach aches, children with throat cancer, and a mother with two children who had a vast tumour in her stomach. If it was operated on she would have a 10% chance of survival.
Moore eventually chose 30 portraits for the exhibition and an accompanying book. Following its display in Brixton, the show will be taken to Mumbai next year, which Moore said would hopefully draw attention to the continuing injustice.
"The $500 (£330) compensation money was only given for those who died instantly in the explosion, nothing for the long-term health effects," she said. "It's not justice till it's cleaned up."
Bhopal: Facing 30 is at Photofusion from 5 November until 4 December.
http://www.theguardian.com/environment/2015/nov/06/bhopal-facing-30-exhibition-francesca-moore?CMP=share_btn_link