A 'love jihad' ends in peace for couple but many others feel wounded for life
A year later, the love jihad story has fallen flat: the woman and the man, Kaleem, are living together at an undisclosed location in Meerut and are set to get married.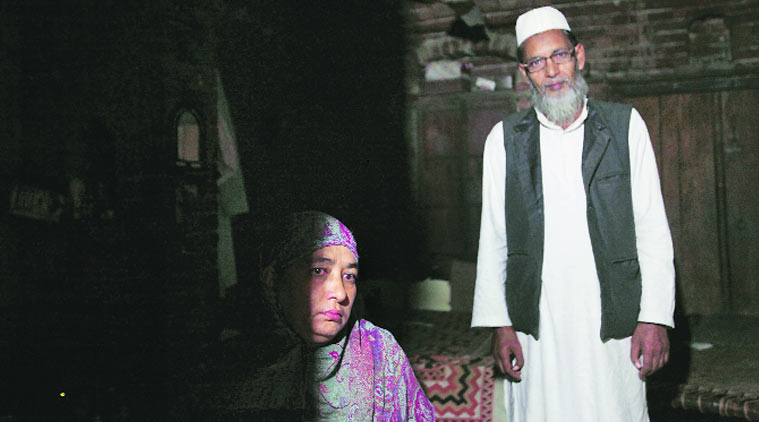 Sanaullah and Samar at Sarawa village; they were named in the abduction and rape case filed by the woman. Oinam AnandHe was Muslim, she was Hindu. He was accused of raping her and keeping her in illegal confinement. His Muslim brethren allegedly did worse — they 'abducted' her, 'gangraped' her, and 'forcibly converted' her to Islam. It was a sensational 'love jihad' story, one that thrust Sarawa village in Meerut into the spotlight in August last year, making it the centrepiece of political campaigns for by-elections in western UP. A year later, the love jihad story has fallen flat: the woman and the man, Kaleem, are living together at an undisclosed location in Meerut and are set to get married.
Speaking to The Indian Express on phone, Kaleem's lawyer Zulfikar confirmed, "Yes, they are living together and will get married soon. They fear for their lives and don't want to meet or talk to anyone."
It's a dramatic end to a story of several twists and turns. It began in the last week of July 2014, when the woman, 21, who taught at a madrasa in Sarawa, went missing, after which her father filed a complaint . When she returned on August 3, she registered an FIR accusing Nawab Khan, the village pradhan, and Sanaullah, a property agent, of abducting and taking her to two madrasas, where she was allegedly gangraped and forcibly converted to Islam.
Sanaullah's wife Samar Jahan and the woman's friend, Nishat, were accused of helping Nawab and Sanaullah. Six others were arrested, including Kaleem (he got bail two months ago).
In October 2014, she fled her home, landed at the police station and denied her charges, saying she had made them under pressure from her parents. The district court sent her to Meerut Nari Niketan as she said she feared for her life. Last month, she was released after a high court order to decongest Nari Niketans. In her deposition, she said she wanted to live with her lover, not her parents.
Her father says he does not know where she is. "I've heard she is living with that Kaleem somewhere in Meerut. Even if she is an adult, how can they let her live with the accused when they are not married?"
Sources say the retraction of the allegations does not change the legal status of the case. The trial is still on. While the couple are looking forward to a new start to their lives, the four villagers named in the original FIR say they have been scarred for life.
Nawab Khan, 43
"Allah ka shukr hai," says Nawab Khan of the turn of events. The pradhan got out on bail on August 20 after a year in jail, during which his eight children dropped out of school as his family lived on borrowings. "I have to repay my debts before I can send them to school. But who will repay me for the humiliation I have suffered, for the tears my wife and children have shed?" he says.
Khan says the Tyagi community, to which the girl belongs, foisted the case on him in "revenge". After he was elected in 2010, he says he had run-ins with the Tyagis. In 2011, he says they sued him over repair work on a mosque but lost the case; later, he got a pillar, build on a road by the girl's uncles, removed. The next pradhan elections are due soon and Khan is contesting again.
Sanaullah, 48; Samar Jahan, 44
"They used to call me Chhota Osama," laughs Sanaullah, as he recalls the time he spent in a Meerut jail on charges of being the alleged mastermind in the case filed by the woman. His topi and beard — and the fact that he was the last to be arrested – had earned him another sobriquet, "cleric on the run". "Perhaps my looks made it convenient for them to label me a mastermind," he says, adding he is no cleric either. "I am a farmer and property dealer," he says, though he holds the title of hafiz, given to those who have memorised the Quran. In jail, he taught the Quran to other inmates. He says he has no enmity with the woman's family and believes he was arrested because "Nawab, their main target, is a cousin".
On August 3, 2014, when the police came looking for him, Sanaullah was in Delhi. "My mobile phone was not working, so I called my family from a PCO. When they told me the police had come to arrest me, I got scared and stayed back in Delhi," he says. He was arrested on August 13, 2014, and got out on bail on May 23 this year. His wife spent a longer time in jail — arrested on August 3, 2014, she was released on bail on September 22 this year. "That day, the police knocked our door at 4 pm, asking for my husband. I told them he was out of town, but they came again and asked me and my father-in-law to come with them. Then they put me in lockup," she says.
For someone who could "barely step out of home and would lose my way even in the lanes of the village", spending over a year outside of home "was unimaginable". "I would tell my children to imagine I had gone on a long vacation abroad," she says.
Sanaullah and Samar Jahan's son Irfan, 20, was a BA student when they were arrested. He dropped out of college, and his five siblings out of school. "Sab khatam ho gaya," he says. He has a diploma in computer programing and plans to start working "to support my father". The eldest daughter, Tehzeeb, then in Class VIII, dropped out to "take care of the home" while her mother was in jail.
Nishat, 20
Nishat and the 21-year-old woman studied in the same school and were friends till Class XII. The girl enrolled in a college in Hapur while Nishat stayed home. Nishat sits in a corner, smiling to herself; her mother and brother Asif speak on her behalf. "She is not mentally sound. She had a swelling in her brain because of an infection, and has been suffering from depression for two years," says Asif, who runs a transport business.
Nishat smiles and says she "liked" it in jail. "She is like a murti. Place her anywhere and she will sit there comfortably," says Asif.
Nishat spent eight months in jail and was released on bail five months ago. Her mother, Vasila, says she has a court hearing every 15-20 days. "Her reputation has been tarnished. How do we find her a match now?" she asks, adding Nishat was engaged before her arrest but the boy's family called it off.
See more at: http://indianexpress.com/article/india/india-news-india/a-love-jihad-ends-in-peace-for-couple-but-many-others-feel-wounded-for-life/#sthash.Ggf5AnDC.dpuf