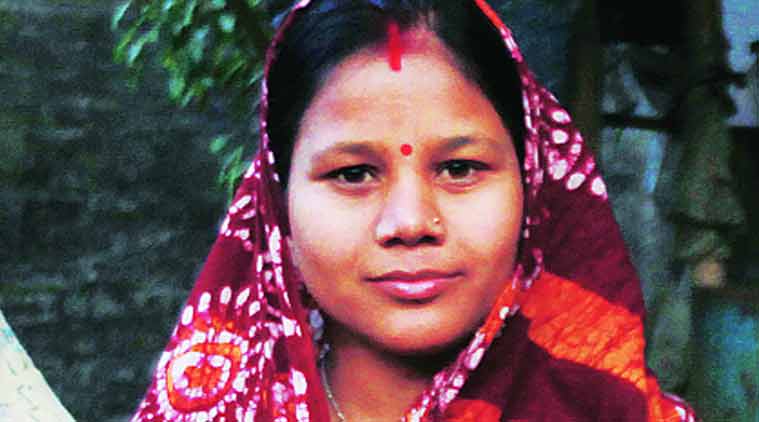 Rebeka Khatun is now Meenakshi Naskar in Lakshminarayanpur, South 24 Parganas. (Express Photo by: Subham Dutta)
The din over the 'ghar wapsi' reconversion campaign in the north and west may have dropped many decibels after Prime Minister Narendra Modi underlined "the undeniable right" of an individual's choice of religion. But in the east, the RSS and its affiliates are experimenting with another conversion programme — where, instead of hounding a Hindu-Muslim couple, they are actively facilitating their union. The only condition: the bride, in this case, is a Muslim who becomes a Hindu after a "suddhikaran" (purification) programme.
In West Bengal, especially in districts where the BJP has made significant electoral gains — at the expense of a crumbling Left and Congress — the Hindutva brotherhood, from Vishwa Hindu Parishad to Hindu Samhati, Hindu JagranManch to Bharat Sevashram Sangha, have stepped up a campaign they call"Bahu lao, Beti bachao" (bring a daughter-in-law, save a daughter), saying this is their answer to "love jihad."
In sharp contrast to their hounding of Hindu woman-Muslim man couples, these groups actively "shelter, arrange" the marriage of Hindu man-Muslim woman couples.
VHP leader Badal Das, who is in charge of his organisation's role in the campaign, estimates that at least 500 Muslim and Christian women have "become Hindus through marriage" in the last one year.
All women have adopted Hindu namesand their families have been "advised" to join the BJP for their "own safety".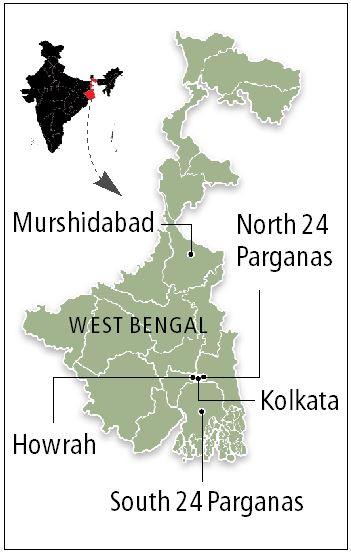 Hindu Samhati chief Tapan Ghosh said they were "fighting the menace called love jihad… Muslim boys trap Hindu girls into marriage… our effort is to rescue the victims of love jihad and bring Muslim girls to Hindu homes".
Achintya Biswas, Jadavpur University professor who heads the VHP goldenjubilee celebrations committee, said: "If a Hindu boy can reconvert a Muslim girl to Hinduism, it is considered a pious act. We want to break this trend of a Hindu girl getting married to a Muslim boy."
One such woman who had to undergo "suddhikaran" to become a Hindu is 21-year-old Rebeka Khatun, now Meenakshi Naskar. She lives in Lakshminarayanpur, South 24 Parganas.
She does not respond immediately if you callout Renu, her nickname, or Meenakshi. She was given these namesby her husband's parents and the Hindu Samhati which arranged her marriage to Madhumangal Naskar last year. They married "after one year of courtship".
Also read: Meet the Parivar behind these marriages
Madhumangal's father, Haradhan Chandra Naskar, did not object. He and his familyjoined the BJP. Her father, Mosaraf Sheikh, was also told to join the party for the "safety and security" of the couple.
"I was told to convert to Hinduism if I wanted to marry him. I eloped since my community would have never allowed a Muslim girl to marry a Hindu boy. Madhumangal approached the Hindu Samhati. They assured us they would settle everything if I converted to Hinduism. I agreed," she said.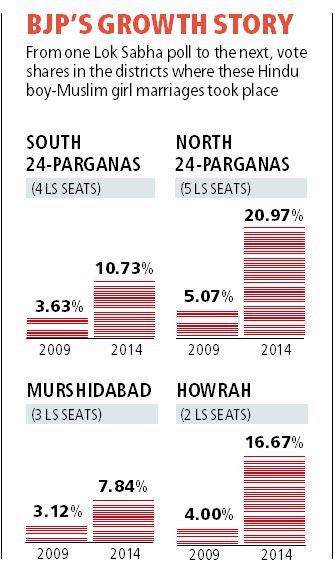 "We were kept in a shelter in Kolkata by the Hindu Samhati. After a few months, I came here. I declared myself a Hindu and submitted an affidavit. His parents organised a 'havan' for my 'suddhikaran' (purification). I married him as per Hindu rituals," she said.
Father-in-law Haradhan, the village healer, said: "I asked her father to remain on goodterms with the BJP. I was a member of SUCI but I am now in the BJP. Her father comes to meet her at night since others in the village might not approve."
Father Mosaraf Sheikh said: "Initially, we resisted. But my daughter eloped and embraced Hinduism. She is happy now."
First Published on: March 13, 20152:50 am
http://indianexpress.com/article/india/india-others/love-jihad-gets-a-bengal-reply-bahu-lao-beti-bachao-purify-muslim-brides/