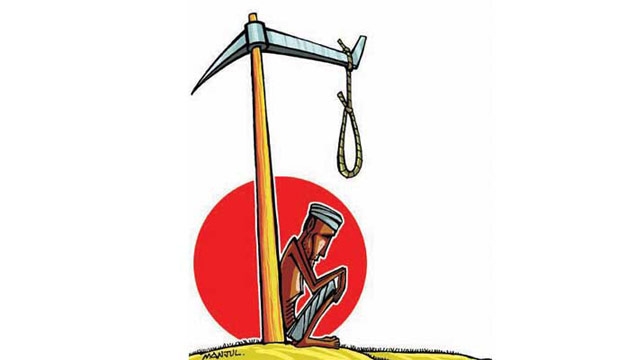 As many as 3,228 farmers committed suicide in Maharashtra last year, highest in the last 14 years, Union Agriculture Minister Radha Mohan Singh said on Friday. Both the Centre and state governments are implementing various schemes to make farming viable and prevent farmers' suicides due to agrarian reasons, he added.
"As reported by the Maharashtra government, 3,228 farmers have committed suicide and it is the highest since 2001," Singh said in a written reply to the Rajya Sabha.
Maximum suicide cases were reported from Aurangabad at 1,130, followed by Amravati (1,179), Nashik (4,59l), Nagpur (362), Pune (96) and Konkan (2), he said.
"Out of these 3,228 cases, 1,841 cases are eligible for ex-grtia payment, while 903 cases are ineligible. 484 cases are pending enquiry. About Rs 1 lakh has been given to the hiers in respect of 1,818 suicide cases," Singh said.
The centre has sanctioned Rs 3,049.36 crore relief funds for tackling drought in the state for this year, he added.
In order to prevent farmers' suicide, Singh said the state government is implementing various schemes and both short and long term measures for tackling drought situation. Under the 'Baliraj Chetna Abhiyan Scheme', the district committee headed by the collector has Rs 10 crore per year at its disposal to take up awareness campaign, de-addiction, health counselling, revival of social support system and such activities to reduce the distress level of farmer families.
The village level committees, headed by sarpanch, has Rs 1 lakh per year at its disposal to help farmers families in situation like meeting health and education expenses, loan installments which cause acute financial distress.
Under the Vasantrao Naik Sheti Swawlamban Mission, the state government is restructuring various schemes to prevent farmers' suicides in the state. Even at the centre, Singh said various programmes like soil health card, organic farming, irrigation and crop insurance are being implemented.
"The strategy of Government of India (GoI) is to focus on farmers' welfare by making farming viable. Farm viability is possible, when cost of cultivation is reduced, yields per unit of farm are increased and farmers get remunerative prices on their price," he added.
Maharashtra is facing drought for the second straight year due to poor monsoon.http://www.dnaindia.com/india/report-maharashtra-3228-farmer-suicides-in-2015-highest-in-14-years-2185678