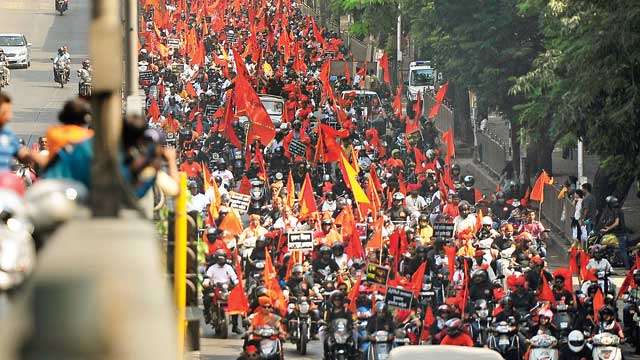 Hailed as the cradle of the Indian renaissance, Maharashtra hasn't overcome its primordial and divisive caste proclivities
This country is broken into a thousand pieces,
its cities, its religion, its castes.
Its people, and even the minds of the people
— all are broken, fragmented.
—Bapurao Jagtap
(This Country is Broken, translated by Vilas Sarang)
Medha Khole, a senior scientist at the India Meteorological Department (IMD), lodged a police complaint accusing her cook Nirmala Yadav of concealing her caste and posing as a Brahmin woman for a job. Khole said she required a married cook from the Brahmin community to prepare food on special occasions like the Ganesh festival and during the puja in memory of her deceased parents.
Bhalchandra (Bhau) Kadam, a popular Marathi theatre and film actor, was at the receiving end of his Buddhist-Dalit community when Kadam installed an eco-friendly tree Ganesha idol, which some Ambedkarites claimed went against the 22 vows prescribed by Dr Babasaheb Ambedkar for his followers while renouncing Hinduism and adopting Buddhism. One of these includes not worshipping Hindu Gods like Ganpati.
Since last year, Maharashtra's caste cauldron has been on the boil after members of the dominant Maratha community organised a series of silent Maratha Kranti Morchas. Demands included quotas and preventing the misuse of the Scheduled Castes and Scheduled Tribes (Prevention of Atrocities) Act, 1989. Non-Marathas, including Dalits, retaliated with similar Bahujan Kranti Morchas.
The darkness, as the cliché goes, lurks at the bottom of the lamp. Maharashtra, hailed as the cradle of the Indian renaissance, having produced social reformers like Mahatma Jyotiba Phule, Ambedkar, Rajarshi Shahu Maharaj and Gopal Ganesh Agarkar, has not been able to overcome its primordial and divisive caste proclivities.
Despite the march towards a globalised economy, where old barriers are breaking down and new reference points are being created, the inhuman and unnatural system of caste may be a bit like the law of thermodynamics — something that cannot be destroyed but that which changes form.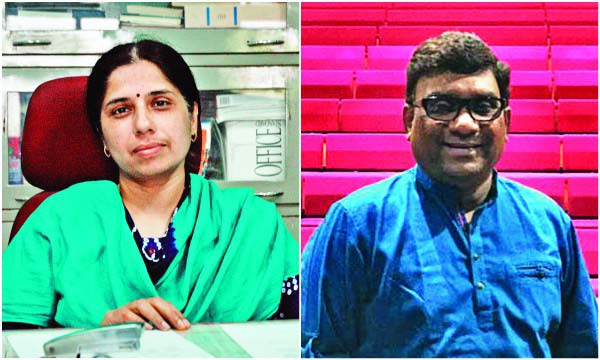 (Left) Medha Khole; (Right) Bhalchandra (Bhau) Kadam
Superior by default
"We need to question the notion that caste has been rooted out from the educated sections. These people take recourse to many substantive ways to reinforce the caste system," noted Deepak Pawar, assistant professor, department of civics and politics, University of Mumbai. Though inter-caste and inter-religious marriages take place, such couples are in a minority, he adds. Such matches are also difficult in a rural milieu.
"There is a section of Brahmins that has become more vocal after the BJP came to power… as the organisations providing ideological support to it are seen as those of Brahmins or pro-Brahmin. Conservative Brahmins who were in hibernation have secured a new lease of life. They feel Brahmins are superior by default," said Pawar.
Hari Narke, professor and head of the Mahatma Phule chair at the Savitribai Phule Pune University (SPPU), noted that while Khole had the right to observe sovale (purity rituals) in the confines of her home, she could not discriminate on grounds of caste or gender.
"Bhau Kadam has accepted his mistake. He has his personal freedom but it was morally wrong to install a Ganesh idol while being a follower of Babasaheb," said senior Dalit activist and litterateur Arjun Dangle, while adding that any threats to him, including those for expulsion from the community, were wrong.
"Since Buddhism is part of an Indic tradition, some Hindu customs remain part of it. The growing hardline sentiment among Buddhist Dalits is harmful. They are within their rights to protest against Bhau Kadam, but the aggressive manner in which his apology was forced is wrong. The decline of the Ambedkarite movement and politics has left the youth with little constructive to do, which leads them to this path," noted an Ambedkarite intellectual.
He pointed out how the Dalit-Ambedkarite movement, which was once a potent social, intellectual and political force and birthed an avant-garde genre of literature, had been weakened. The Dalit middle class largely remains passive about socio-political movements, is more interested in religious and cultural affairs and seeks upward socio-economic mobility instead of providing intellectual leadership to the movement.
However, there are some who disagree. "The Constitution grants freedom to practice one's religion but not for deviousness. Bhau claims to be a Buddhist and also tries to pass off as a Hindu," said Ambedkarite blogger MD Ramteke.
He explained that the first qualification of an Ambedkarite was rejecting the (Hindu) gods and religion which forced them to suffer for ages. "Bhau Kadam's case is that of double standards. In case of devious behaviour, some backlash from the society is but logical," said Ramteke.
"The Khole episode shows how Hindus are divided… However, many Brahmins came out against Khole's behaviour," said Republican Party of India (RPI) leader Avinash Mahatekar.
Reasons for resurgence
Pawar noted that social media served as a medium of casteist expression and for buttressing existing notions. "On one hand, we see inter-caste and inter-religious marriages while on the other hand, social attitudes are becoming more rigid," he said.
Pawar explained that despite the universalisation of education, the decline of liberal arts and social sciences had contributed to the present state of affairs. "Hence, Ambedkar's followers talk about him without reading his works while educated Hindus working in the IT sector still cling on to superstitions," he said.
The spatial integration across classes and communities in shared living spaces like chawls and lower and middle-class housing are being replaced by gated communities where people belong to just one class. "People are unable to think outside the rigid confines of their caste," he rued, adding that niche Dalit newspapers often targeted those like Kadam who celebrated Hindu festivals.
Activists admit that like the protagonist in Baburao Bagul's famous short story Jenvha Mee Jaat Chorli Hoti (When I was forced to conceal my caste), cooks and domestic help are often forced to lie about their caste or religion to get employment.
Writer-activist Sanjay Sonwani said the new moral order and popular media post-liberalisation had chosen to project only middle and upper-middle class culture while rejecting the plight of the poor and working classes. "This combined with consumerism has created an economic, cultural and social gap which feeds such feelings," he explained.
Warning signs?
Stating that such incidents were warning signs for Indian society, which is progressing towards becoming a nation than just being a geographical entity called a country, Yuvak Kranti Dal founder Dr Kumar Saptarshi said this indicated that caste, which was unique to Indian society, was re-surfacing.
Saptarshi said that the "Khole incident has proved that impact of Manusmruti and the ego of upper castes still prevails while the Kadam incident has shown that followers of Dr Babasaheb Ambedkar are not influenced by him in the real sense."
Mahatma Gandhi had successfully argued that India was one nation and the basis for this argument was the rich, old culture it possessed. After attaining Independence, the process of doing away with erstwhile princely states and reducing the gap between different castes and communities to evolve as a society is going on.
Saptarshi, however, noted that such stray incidents were to be welcomed since they "ring a caution bell to remind all of us to march on the journey of nation-building which would result in creating a modern nation."
Saptarshi said that it was interesting to note that Maratha organisations were condemning Khole and organising protests since the victim was a Maratha. But in Bhau Kadam's case, Saptarshi said, "these organisations are not coming forward so strongly to condemn the boycott on Kadam because he is not a Maratha. Obviously, this is bringing to the fore the strong clutch of caste on our society."
Brahmin bashing?
Terming the entire episode as uncalled for, Moreshwar Ghaisas, the in-charge of Ghaisas Guruji Ved-Paathshala in Pune said Hinduism or religion per se did not define any rituals for sovale or purity.
Ghaisas said Khole had provided yet another opportunity for Brahmin bashing. "Those accusing Khole of being casteist are silent on the Bhau Kadam episode," said Ghaisas, adding this was because Brahmins did not have a nuisance value and would not retaliate violently. This led to them being subject to attacks after stray examples like that of Khole.
Ghaisas said bringing religion into the public domain leads to such tensions and boosts caste-related egos. He said true religion does not provide any scope for such tensions on the basis of caste.
Social dumbing down
"Peoples' understanding of caste and religion is shallow which prompts such behaviour. Khole's choices came from her outdated religious values, which overtook the scientist in her… the reactions in the Bhau Kadam case reveal a hardline neo-religiosity too," said Sonwani.
He added that while Ambedkar, an organic intellectual, had stressed on the spirit of inquiry, some of his followers were becoming rigid and hide-bound. "There is a rise in intellectual shallowness and education is not working as an antidote," he lamented.
INDIAN RENAISSANCE
Maharashtra has a rich tradition of social reform and has produced icons like the warkari saints, Mahatma Jyotiba Phule, Savitribai Phule, Dr Babasaheb Ambedkar, Rajarshi Shahu Maharaj, Tarabai Shinde, Justice MG Ranade, Maharshi Vitthal Ramji Shinde, Gopal Ganesh Agarkar, Raghunath Dhondo Karve.
Much before the Italian Marxist Antonio Gramsci propounded his theory of cultural hegemony, Mahatma Phule tried to break with the culture and iconography of the upper castes and create an alternate value system for Bahujans (a conglomeration of non-Brahmins) through his Satyashodhak Samaj
http://www.dnaindia.com/india/report-in-the-shadow-of-caste-2547684