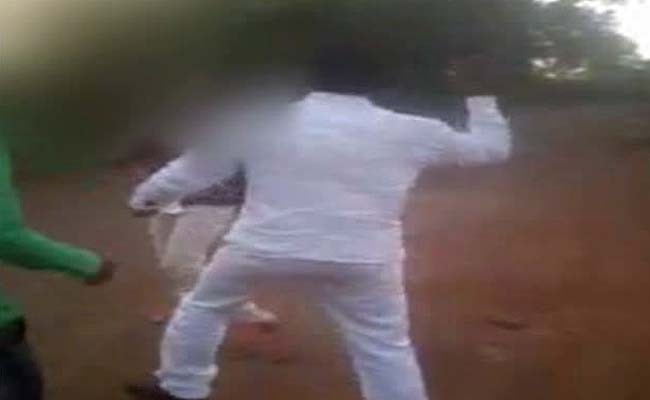 The Latur police have arrested three persons, who donned the role of moral police, for mercilessly beating and robbing a young couple near Ankoli village under Murud police station in Latur district. The police said they will make some arrests in connection with the case.
The hooligans apparently belong to Ganimi Kava, a local organisation known for links with political leaders, as it has printed pictures of heavyweight leaders on its booklets and calenders.  The incident actually happened on November 30 last year, but no arrests had been made since the youngsters who were beaten up had not filed any complaint with the police. The hooligans who had beaten up the young couple and filmed the act had apparently shared their video on what'sapp groups in a bid to shame them and warn other youngsters of a similar treatment.
After ABP Majha, a Marathi channel, which showed the clip by covering the faces of the youngsters being thrashed, the Latur police today made three arrests. The arrested include Nitin Godse, Sandeep Godse and Amol Khandare. "They have been charged under relavant sections of the IPC and Information Technology Act," said  police inspector Gajanan Bhatlawande. The three have been remanded to police custody till January 21. The police said at least two more persons who were not involved in the incident would be  arrested soon.
He said hooligans who accosted the young couple, robbed them and thrashed them. "The boy is 17 years old. Today, he came forward and lodged the complaint. We have not yet taken the statement of the girl," said PI  Bhatlawande.
The police said the young couple were roaming on the road leading to Ankoli village which is located about 10-12 kilometres from Latur city. They were not found indulging in any indecent act. The duo had come to the road on motorcycle. At least, 10-12 residents walked past, but none mustered the courage to ask the "moral police" to stop them very letting loose a barage of expletives and thrashing the couple.
The act of the Ganima Kava members, especially, slapping, punching and kicking the girl even as she was crying and pleading with them to let them go, has shocked residents in Latur and beyond. "This kind of moral policing in a progressive Maharashtra is simply shocking. The government must step in aggressively to curb such moral policing before it assumes larger proportion," said Prof Ashok Bane, an  analyst from Kolhapur. Even Pankaja Munde, the Rural Development Minister, who is from Marathwada region condemned the act.