Nauzer Bharucha
,TNN |
MUMBAI: Slum enclaves in prime localities of the city have turned out to be gold mines for private developers.
In an irony of sorts, some of Mumbai's most expensive luxury residential skyscrapers have been built on slum land as part of the state government's controversial slum rehabilitation scheme, popularly known as SRA. These slum sprawls are mainly located in south and central Mumbai where high-end apartments sell for between Rs 25,000 and Rs 50,000 a sq ft.
For instance, India's tallest twin residential buildings, Imperial Heights, at Tardeo in south Mumbai, were built as part of a slum rehab scheme. At Worli, a Ritz-Carlton hotel is coming up on a slum sprawl.
Twenty years after it was introduced to rehouse eligible slum families free of cost in new buildings, the scheme has allowed builders to rake in super-normal profits. For those who have ventured into this scheme, the returns are phenomenal. But many prominent builders still stay away from it because they do not want to deal with extortionist slum lords, political goons and sometimes, the underworld.
The government's largesse is extra generous. The public land on which the slum is located is virtually given away for a pittance to the developer, who pays just 25% of the plot's ready reckoner rate. The cross-subsidy scheme mandates that the developer who manages to procure consent of 70% of slumdwellers, must rehabilitate them free of cost in new buildings in a portion of the plot. As compensation, the builder receives additional construction rights to build luxury towers and sell them in the open market.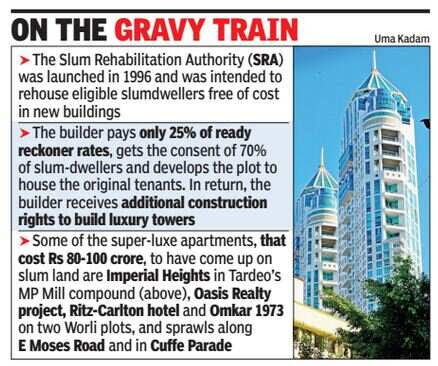 To entice high network income individuals to invest in properties on slum land, slum redevelopers and their marketing team go the whole hog. Like this brochure for an upcoming slum redevelopment project in prime Worli: "After a hard day's work, imagine entering a gated complex in the middle of the city, handing over your car to a valet and entering an elevator that opens straight into the living room of your duplex sky bungalow. You flip a button and the curtains part…your butler brings you your favourite single malt…"
In Tardeo's MP Mill compound, a joint venture between the construction firm Shapoorji Pallonji and builder Dilip Thacker redeveloped a large slum on a hill into two 60-storey residential towers. The shanties were demolished and around 2,500 slum families were accommodated into brand new buildings. Each family was allotted a 225 sq ft tenement free of cost by the builder.
Imperial Heights, built on the remaining portion of the slum land, today houses corporate honchos, bankers, top lawyers and expats. Some of the larger apartments were sold for over Rs 60 crore each. Here, domestic help are randomly frisked for tobacco, alcohol and more sinister objects. Facilities include a climate-control swimming pool, a gym, a restaurant, a cigar room, a convenience store and a banquet hall.
At Annie Besant Road, Worli, a 10-acre plot is probably the most lucrative slum redevelopment scheme in Mumbai at present: Oasis Realty, a joint venture between developer Vikas Oberoi and builder Sudhakar Shetty, who owned the now defunct Deepa bar in Vile Parle. The developer rehoused 2,228 slum families in 14 rehabilitation buildings, each 10 to 22 floors high. Last year, Oberoi announced Mumbai's first Ritz Carlton hotel with 238 rooms on a portion of the Worli slum plot. "Globally, the Ritz-Carlton is known for its legendary services and they have splendid properties at the most sought-after locations worldwide. This partnership will enable us to craft an iconic development known for its unmatched quality and finest service standards for guests and residents alike. We are positive that we will add a luxury landmark to the skyline of Mumbai," Oberoi said.
The mix-use development on the Worli slum plot also comprises a residential component comprising two wings, each 67 floors high. Last year, one of the high-value transactions involved actor Abhishek Bachchan, who booked a luxury apartment on the 37th floor of Skylark Towers for Rs 41.14 crore. The rate worked out to Rs 1.06 lakh a sq ft for the 3,875 sq ft flat.
Behind the upcoming Ritz-Carlton at Worli is another large slum project on a 10-acre plot redeveloped by Omkar, now described as Mumbai's biggest slum redeveloper. A premium residential project called Omkar 1973, comprising three skyscrapers, is coming up as part of the free sale component. "A Sky Bungalow at Omkar 1973 comes with an envious view of the city and the Arabian Sea…Lose yourself in the luxury of space and unwind from the day's hectic pace with a relaxing dip in the Jacuzzi and swimming pool while overlooking the city's night lights," says the developer's swanky marketing brochure. The price of some of the "sky bungalows" are pegged at over Rs 80 crore to Rs 100 crore each.
Just adjacent to these high-end towers are new dwellings, cheek-by-jowl, where slum families have been accommodated in 1,309 tenements in ten 23-storeyed buildings by Omkar.
At J Boricha Marg in Mahalaxmi, Lokhandwala Infrastructure bagged the rights to redevelop a seven-acre slum sprawl and rehabilitate 10,000 slum dwellers. A luxury tower, over 80 floors high, has been planned on a portion of the land and some flats were sold for over Rs 25,000 a sq ft.
Perhaps the most lucrative slum pocket in the island city is the 17-acre encroached plot near E Moses Road in Worli with a development potential estimated to be over Rs 8,000 crore. For the past several years, two developers, Lokhandwala and DB Realty, fought over its redevelopment. Last year, the rival builders decided to join hands and redevelop it together. Large slum pockets along the Colaba-Cuffe Parade coastline, where property prices are some of the highest in the city, are also expected to be redeveloped soon with some prominent builders in the fray.
In 2006, a division bench of Bombay high court scathingly remarked that the slum scheme is a "profitable business venture for builders", with the active backing of politicians. Builders have swooped down upon slum pockets located in areas where property prices are high while neglecting similar enclaves in non-prime areas.
A property redeveloper, who did not wish to be identified, said profits from slum projects are astoundingly high. "Against an investment of Rs 300-400 crore for a large slum plot, the developer stands to make a profit running into a couple of thousand crores because of the government incentives," he said.
Real estate sources said the government must review its policy to hand over public land at a rock-bottom rate to the developer executing the slum redevelopment scheme. "It must invite global bids to sell the land to the highest bidder. This will give a level-playing field to all developers instead of a few who have the resources to manage the system," said sources.
Constituted by the state government in 1996 as a one-window agency to facilitate rehousing of eligible slum families with the help of private developers, the Slum Redevelopment Authority's sweeping powers to grant construction permissions and its alleged dealings with some well-connected builders have been raised innumerable times by housing activists with the government.