Documents to shed light on Britain's involvement in Indian army action at Golden Temple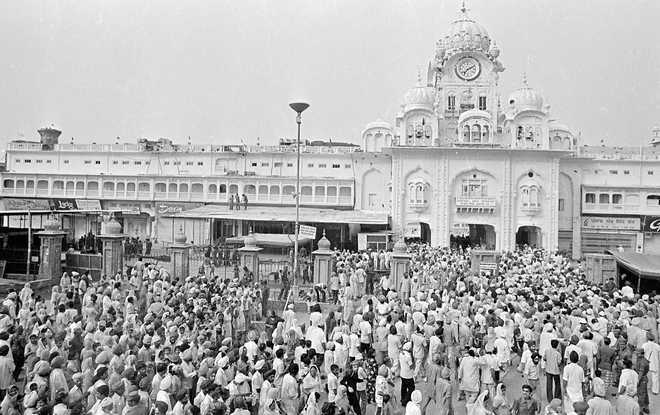 London, June 12
A UK judge has ordered the declassification of documents that are expected to shed further light on Britain's involvement in Operation Bluestar in 1984, dismissing the British government's argument that the move could damage diplomatic ties with India.Judge Murray Shanks, who presided over a three-day hearing of the First Tier Tribunal (Information Rights) in London in March, ruled on Monday that a majority of the files relating to the period must be made public and rejected the UK government's argument that declassifying the Downing Street papers would damage diplomatic ties with India.
The judge, however, did accept that one file marked "India: Political", from the UK's Joint Intelligence Committee (JIC), could contain information that relates to British spy agencies MI5, MI6 and GCHQ (Government Communications Headquarters) and therefore the Cabinet Office was entitled to rely on a technicality that exempts such material from the Freedom of Information (FOI) request appeal.
"We recognise that the period we are concerned with was a highly sensitive one in India's recent history and the strength of feeling it continues to evoke it should also be remembered that the fact that 30 years has gone by is bound to have reduced any prejudice that may have resulted from release of the withheld material," the judgment notes.
The FOI appeal was handled by KRW Law on behalf of freelance journalist Phil Miller, who has been investigating the exact nature of the then Margaret Thatcher-led government's assistance to the Indian Army operation on Golden Temple in Amritsar.In 2014, UK government documents declassified under the 30-year rule to make such material public had revealed that British military advice was given to Indian forces prior to Operation Bluestar. 
Then British Prime Minister David Cameron had ordered a review into this discovery, named as the Heywood Review, which led to a statement in Parliament declaring that Britain's role had been purely "advisory" and the advice provided by the country's Special Air Service (SAS) had "limited impact in practice".But Miller, the author of 'Sacrificing Sikhs: The need for an investigation' report released last year, says only "full transparency" would reveal the exact nature of Britain's involvement. "After nearly four years of asking for disclosure of these files, it is a great victory for a judge to rule that more transparency would not harm diplomatic ties or risk national security," said Miller, who is disappointed that one file has been left out due to a "loophole" relating to the country's intelligence agencies."It is no wonder that many in the Sikh community are calling for a public inquiry, as only that would have the power to disclose all relevant material," he added.
The files that must now be released in full include papers on UK-India relations from 1983 to 1985 – covering a meeting between Thatcher and Indira Gandhi's adviser, L.K. Jha, the situation in Punjab, Sikh activities and the assassination of Gandhi in October 1984. Judge Shanks dismissed the UK government's claim that declassifying these papers would harm relations with India and said "it is worth noting that we have heard no evidence of any adverse reaction from the Indian government resulting from the events of January and February 2014", referring to the Heywood Review.
The UK Cabinet Office has been given time until July 11 to appeal against the First Tier Tribunal's decision. Alternatively, it must make the relevant documents available to Miller for his research by July 12.
The Cabinet Office said it would be issue its response in due course. – PTI
http://www.tribuneindia.com/news/punjab/make-operation-bluestar-related-files-public-orders-uk-judge/604135.html