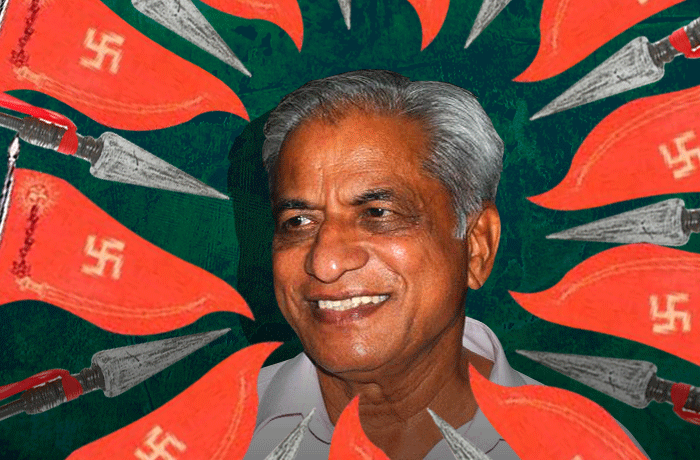 CATCH NEWS
RATIONALISTS UNDER THREAT
The individual
He is a rationalist and has written and spoken extensively on the ills contained within 'holy' teachings
The statements
In 1985, he published a book claiming Shankaracharya advocated the caste system and was against Dalits
Earlier this year, he threatened to burn pages of the Gita which referred to women and lower castes as sinners
He also questioned Rama's status as a deity and a monogamous person
The backlash
A day after Prof MM Kalburgi's murder on 30 August, Bhagwan also received a death threat
He has been placed under police protection since then
Now, Hindu outfits like Bajrang Dal and VHP have filed numerous police complaints against him
The attack on rationalist thinking, writing and public speaking, which culminated in the murder of Prof MM Kalburgi last month, has gained further traction in Karnataka
Another writer, Prof KS Bhagwan, is now being targeted by right-wing forces.
On 23 September, five complaints were filed in a coordinated fashion against Bhagwan in Dakshina Kannada district's Kavoor, Moodabidri, Uppinangadi (two separate complaints) and Vitla police station limits by Bajrang Dal and Vishwa Hindu Parishad activists. They alleged that he had "hurt the sentiments of Hindus through virulent, unsubstantiated speeches".
Bhagwan (70), a retired professor of English at Mysore University, who has also written and translated extensively, received a death threat the day after Kalburgi was killed on 30 August. Since then, he has been under police protection.
Kalburgi's killers, who shot him dead at his residence in Dharwad, still remain at large. But the person who posted a threatening tweet to Bhagwan was arrested in Mangaluru and identified as a co-convenor of the local unit of the Bajrang Dal. He has since been released on bail.
The trigger
The trigger for these renewed threat calls and statements against Bhagwan are his recent provocative remarks against the Bhagavad Gita and Lord Rama at public gatherings, as well as the announcement of a lifetime achievement award by the Karnataka Sahitya Academy a few days ago.
The VHP has threatened to file at least 100 cases againt Bhagwan, "so that he is dragged around the courts and made to answer".
Dakshina Kannada, which boasts of nearly 100% literacy, has become a hotbed of polarisation over the last decade.
Since the complainants have specifically referred to Bhagwan's speech at Gandhi Bhavan in Bengaluru on 19 September, the officials of the central crime branch have got all the cases transferred to the state capital.
Spate of provocative statements
Bhagwan is not considered as great a scholar as Kalburgi, but has maintained a consistent stand and has been writing and articulating it without fear of critics attacking him.
His work in Kannada, 'Shankaracharya and Reactionary Philosophy', a collection of 82 essays published in 1985 created a furore as it claimed that the eighth century philosopher and Hindu reformer advocated the caste system and was against Dalits and education of women.
Bhagwan was roundly criticised then and also received threats to his life from extremist Hindu groups.
At an event in Mysuru in February 2015, he angered the orthodoxy by declaring he would burn certain pages of Bhagavad Gita. His contention was that verse 32 and 33 in Chapter 9 of the Gita describe women, vaishyas and shudras (those considered of lower caste) as 'sinners'.
Bhagwan has threatened to burn pages of the Gita, which refers to women and lower castes as sinners
In April this year, participating in a programme organised by Bahujan Vidyarthi Sangh and Savithribai Phule Prakashan at Davangere, Bhagwan was at his belligerent best. Speaking on the Ramayana, he said Rama was neither god nor followed monogamy as popularly believed (eka patni vrata).
Bhagwan claimed: "Nowhere in the epic Ramayana written by the sage Valmiki is Rama described as god. He was human….When Valmiki himself says Rama enjoyed the company of other women while consuming alcoholic drinks, how can he be called monogamous?"
Angry backlash
Such statements would have gone unnoticed or ignored even a decade ago, but now the media, specially the electronic media, amplifies them. Hindutva forces also seem have become more aggressive after the BJP government came to power at the Centre.
Organisations such as Sri Ram Sene, Vishwa Hindu Parishad and Karnataka Rakshana Vedike have held protest demonstrations across the state and burnt Bhagwan's effigies.
The editor of Dainik Sanathan Prabhat condemned Bhagwan's statement on Rama and said, "Would he (Bhagwan) be able to provide evidence to what he blabbers if he is prosecuted in a court of law?"
The detractors of Bhagwan have also turned their ire on Karnataka Sahitya Academy for selecting him among the five awardees for lifetime achievement, saying, "It is a deliberate attempt to glorify a mediocre writer… not because of his worth, but because of his anti-Hindu stance."
An online petition opposing the award to Bhagwan has gathered over 8,000 signatures in 24 hours and demands that the academy drop his name from the list. The awards are to be presented by Siddaramaiah at Dharwad on 7 November.
Wave of support
Bhagwan has received support from a cross sections of people, including chief minister Siddaramaiah, who has promised to ensure the writer's safety.
The Federation of Indian Rationalist Associations has decided to appeal against the complaints and the investigation launched by the police, saying it clearly amounts to infringement on the freedom of speech, as enshrined in the Constitution.
Bhagwan speaks
Bhagwan, who taught at the Maharaja's College, Mysuru, and has translated the works of Shakespeare into Kannada remains unfazed by the threats.
He says the rationalist forces which were active in 1980s and 1990s have weakened over a period of time and intolerance has grown. "Fundamentalists have gained confidence since Narendra Modi took over as Prime Minister. They think his government will safeguard their interests. But I feel our Prime Minister is a very honourable man," he says.
Bhagwan does not blame the BJP alone for the rise of right-wing extremism, and says he does not see any difference between one political party and the other.
http://www.catchnews.com/india-news/multiple-firs-and-a-death-threat-after-kalburgi-rationalist-bhagwan-targeted-1443119244.html