Author Shripal Sabnis hastened to clarify that he has expressed regret and not tendered a public apology as certain quarters were demanding. –
Written by MANOJ MORE | Pune | Updated: January 14, 2016 2:10 am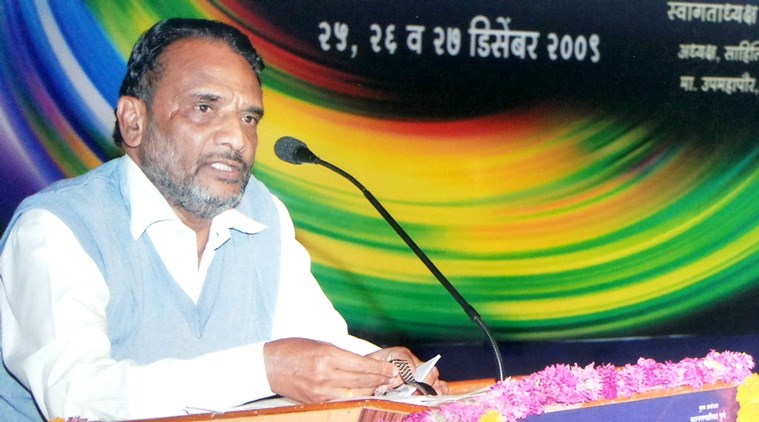 Author Shripal Sabnis hastened to clarify that he has expressed regret and not tendered a public apology as certain quarters were demanding.
After steadfastly sticking to his guns since the controversy erupted over his alleged derogatory remarks against Prime Minister Narendra Modi, Shripal Sabnis, author and president of the 89th Akhil Bharatiya Marathi Sahitya Sammelan, on Wednesday expressed "regret" but stopped short of tendering an apology. Accepting his "regret," the BJP however said every word Sabnis speaks will be under scrutiny during the Marathi literary meet starting from January 15 in Pimpri-Chinchwad.
"I have written a letter to Prime Minister Narendra Modi on January 5 expressing regret over some remarks I made. After my comment, several people including close friends called up and told me that my use of language against the Prime Minister was not appropriate. Therefore, I wrote a letter to the Prime Minister and expressed my regret to him," Sabnis told this paper immediately after holding a press conference on Tuesday where he read out the text of the letter sent to the Prime Minister. Sabnis fought shy of taking any questions from the reporters at the press conference.
–
In the same breath, Sabnis hastened to clarify that he has expressed regret and not tendered a public apology as certain quarters were demanding. "If some people construe it as an apology, so be it. But it is not an apology. It is a regret… I will continue to stand my ground vis-a-vis what I had said…" he said. Sabnis has been maintaining that he has praised Prime Minister Modi for making efforts to bring peace with neighbours like Pakistan, but had said he does not "agree with the Modi who was the chief minister of Gujarat." Though he expressed "regret," Sabnis said he will not withdraw his comments which created the controversy. Sabnis however said his expressing regret should be enough to settle the raging controversy and hoped that literary meet will be held in a congenial atmosphere. BJP spokesperson Madhav Bhandari though said the regret expressed by Sabnis is half hearted. "It does not seem to be an apology. But BJP hopes Sabnis will not make a controversial comment hereafter especially from the platform of the literary meet. As the president of the sammelan, it will be his responsibility to ensure that there is no new controversy generated through his views." BJP Amar Sable on Wednesday said Sabnis was indulging in word play. "We know he has not apologised, but has expressed only regret. After this, we have dropped the agitation plan against him, but will keep every word of his under watch. We hope he will maintain the decorum required for a president," Sable said, adding that BJP has for the sake the "Marathi literary festival" decided to shun the path of agitation. – See more at: http://indianexpress.com/article/india/india-news-india/marathi-author-shripal-sabnis-regrets-anti-modi-remark/#sthash.6HUl9Xih.dpuf
See more at: http://indianexpress.com/article/india/india-news-india/marathi-author-shripal-sabnis-regrets-anti-modi-remark/#sthash.6HUl9Xih.dpuf