All too often, society turns a blind eye to the primal needs of the differently abled. Hopefully, the release of Shonali Bose's Margarita With A Straw, which puts the spotlight on one woman's journey of sexual exploration, will start a debate on the issue, says Yogesh Pawar
Saloni Lobo sits at Sunday mass staring at the Madonna with baby Jesus. "I keep asking Her to give me strength," confides the Pune resident. "I feel dirty, like a sinner." This mother of two is dealing with both a spastic son, Walter and husband, Anthony who has taken to the bottle. "If it weren't for my school-going daughter Sunaina I'd have killed myself. But I know I have to live for her."
She remembers how the joy with which Anthony greeted the arrival of Walter into their lives 17 years ago, withered in two. "When doctors diagnosed his involuntary spasms and contractions as spasticity Anthony began spending more and more time at his garage and hit the bottle. When Sunaina was born he took the fact that it was a girl very badly and even stopped going to church. He's never hit or treated her badly but stays aloof and I feel bad for my 12-year-old. I can see how hard she tries to get his attention. She always topped the class and is great on stage too."
The commerce graduate spends all her time attending to son Walter. "Ever since he hit puberty its got tougher," she admits. Its not only the shaving him regularly, being added to her chores of helping him with all his ablutions, bathing and feeding. "I realise he feels sexual urges when I see him erect while bathing or dressing him," the Pune resident pointed out and added, "I asked his doctor for medication to kill his sex drive but was told it wasn't possible. I don't want him to be arrested for publicly masturbating, attacking women on the street or some such trouble and pray long and hard about this."
She couldn't take him to church too without embarrassing episodes. "I tried teaching Walty (that's what she calls him) about appropriate behaviours on good/bad touching, hugging, kissing etc, through role modelling from what the counsellor at his special school said, so that he doesn't go naked or masturbate in public but it began getting really difficult around 16." It came to a point where because there was no one to leave her wheelchair bound son with, she stopped going out completely. "It was then that I began stimulating him for release. I know it sounds gross but I think of it like blowing his nose and cleaning him. I've used this weekly practice as a reward to stop 'bad' behaviour and it works."
What worked for Walter wracked her with so much guilt that she began suffering from asthmatic attacks which were not being treated with medication. "At the psychiatrist I broke down and told her what I was doing. She says I'm brave and shouldn't feel guilty. But I still do and keep asking Mother Mary to give me courage."
Doubly challenged…
The stench from the Mumbai's largest garbage dump at Govandi on which the slum is built is a sharp contrast with the domestic scene in the Sheikh's tin-walled household. Amaan, a picture of concentration, plays with his hair, makes spit bubbles and stares at floral patterns on the bed sheet, stealing glances at his mother peeling garlic.
When asked to look up to wipe off dribble, a childlike innocence of a five year-old spills from the the 19-year-old's eyes. "Itte masoom bachche ko itni be-rehami se maare sab logaa milke (He's so childlike. Wonder how everyone could gather to hit him?)," says the mother Zulekha who pointing out the blackish blue marks across his back and shoulders, choking up. Amaan simply shrugs her hand off and stays busy with the flowers.
Its been a week since he was beaten up by neighbours in this Govandi chawl for sitting naked on his doorstep, masturbating. His young sisters Mohsina and Arefa who were returning from school saw the crowd and tried called their mother who had gone out to get groceries. "Mein waqt pe nahin pahunchti toh maarich daalte unho sab jallad. Yeh toh chalo paagal hai hee, par woh logaan bhi paagal hain kya? (Had I not reached in time they would all probably killed him for sure. I know he's mad, but what about his attackers? Are they mad too?)."
She's never been to school, but her husband Jamaluddin who collects junk to sell wholesale has been to a madarassa for a few years remembers taking Amaan to Sion hospital when he was seven. "Woh log bolein bachche ko (Ottis) Autism hai. Idhar thode thode din mein lao phir usko Mahim ke school mein bhejenge. (They diagnosed him as Autistic and wanted me to come for follow-ups. They also wanted me to take him to school in Mahim)," he recounts.
Given his financial condition, he could never do it. "Uski Ammi toh akeli kidhar bhi jaa nahin sakti aur mein  kaam chhod ko jaaon toh ghar mein sab kya khayenge? (His mother can't go alone and if I stopped working and went what would we eat?)."
Tougher on girls…
Bangalore-resident divorcee Arvind Hosamane is at his wit's end. He's raised his spastic daughter Heena all by himself since she was three. Overwhelmed by what she called "an enormous life-long crisis" his ex-wife Zarine and he began fighting regularly and finally parted ways. "Ours was a love marriage and we had married against the wishes of both her conservative Zorastrian parents and my Hindu ones. After Heena was diagnosed with congenital paraplegia my wife left us to go back to Mumbai and severed all ties. My family's reconciled to a point of visits but doesn't want anything to do with Heena who is a striking likeness of her mom."
Arvind, the BPO employee says they had adjusted after finding an elderly fulltime caretaker Padma to be with Heena. "Padma and Heena bonded very well till she turned 11. But the caretaker had to return to her village in Raichur. In the week after I began holding it all together by myself (with some help from a cook and a bai who swept and swabbed), desperately looking for another trustworthy caretaker, Heena began menstruating."
He admits being "overwhelmed and exasperated" with the additional monthly five-day menstrual hygiene routine. "I know it sounds silly, but I hadn't even thought about it till it hit suddenly. Now I'm worried for the first time about her being vulnerable to abuse and worse." He admits bringing up the idea of getting Heena hysterectomised with her doctor at NIMHANS. "They told me its not allowed in law."
He is still averse to suggestions from his parents to send Heena away for institutionalised care. "Call it paranoia if you wish but I fear she may have to deal with cruelty, violence or abuse there and don't want to send her away."
Families of the challenged, like Amaan, Walter and Heena aren't the only ones. India is home to over 21 million challenged people according to the latest census data. While more than half of these are visually challenged there are several orthopaedically, speech and hearing and intellectually (or cognitively) challenged like the trio above. The latter constitute over 2.1 million.
Focussing with films…
In a scenario where not only caregivers and the entire welfare intervention set-up treats them as asexual, the soon-to release Margarita With A Straw (MWAS) has brought the focus sharply on to the issues of sexuality among these differently-abled. Kalki Koechlin who plays a wheelchair bound protagonist Laila with cerebral palsy is a Delhi University student and writer who gets admitted to New York University and moves there with her mother (Revathy). She meets and falls in love with a fiery young activist Khanum (Sayani Gupta). This journey of sexual discovery and the way her family and friends come to terms with it forms the plot of this movie which dares to boldly go into unchartered territory.
Shonali Bose the filmmaker screenwriter and producer who's made MWAS is known for her brave film Amu which explored the suppressed genocidal 1984 anti-Sikh riots. "My aunt Mithu Alur who pioneered work with spastics in India had often suggested the idea of me making me a film on her daughter and my cousin Malini Chib who is an herself a disability-rights activist and author. She's fought cerebral palsy to write the autobiographical One Little Finger typing over two years with only one finger."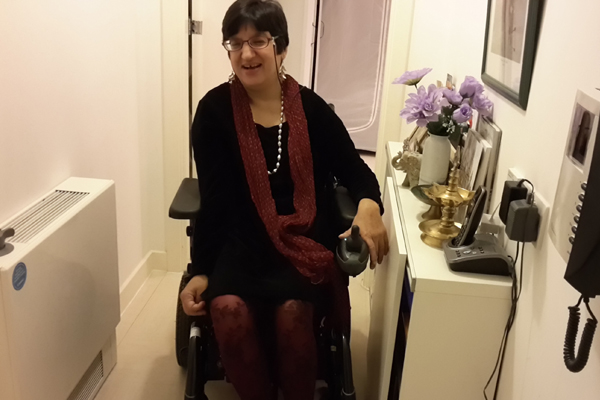 She said it never excited her enough as a filmmaker given that several films highlighting the triumph over disability had been made already. Among those awaiting MWAS' release are a film journalist and her TV producer husband, parents to a 22-year-old autistic son. The Delhi couple remember how Tare Zameen Par (TZP) had raised the bar in the past. "While that film did raise awareness on dyslexia, it also made life quite irritating by oversimplifying disability, in a way, that saw several well-meaning but discomfiting neighbours/relatives/friends began asking us, 'Does he paint?' 'Does he like music?' 'What special talent does he have?' and so on about our son," says the father who admits he shunned going out for a few years when his son began "indulging in 'socially inappropriate behaviour' like plunging his hands into his pants to scratch, or more." It took him and his wife a while to work out a communication and teaching mechanism to explain that this can only be done in privacy. Emotional, he adds, "Earlier he wet his bed due to seizures unable to control his bladder. Now at 22, we often find his pants or the bed wet for other reasons. But it underlines how much he's like any other young man his age."
It is exactly this reaction Bose had she turned 40 and Malini 39. Given how they've played together since early childhood, the cousins are very comfortable with each other, yet what her cousin who is now an executive with Tata Consultancy Services, London said when asked what she'd like for her birthday left Shonali surprised. "She simply said, 'I want to have sex.' It left me wondering over my own reaction. After all, here was a young woman expressing a natural desire. The fact that she's spastic was only incidental to that."
And that's what got her hooked. "No one's explored sexuality of the challenged before. Though I must admit, even that would've been easy. The introduction of the lesbian dynamic is what made the project real, challenging and exciting for me."
Kalki who spent nearly a year with Malini before MWAS was shot says they are now close friends. "We went for movies, partied, drank and even danced together. When I stayed with her in her family home in Colaba I saw her daily life closely. It hit me how cerebral palsy does not mean one doesn't want to have sex or can't have babies." Calling it liberating, the actor who practised on the wheelchair for at least two hours a day for six months, admits, "It helped immensely that she has a sense of humour. It became a nuance Shonali ensured, stood out with Laila too."
Need for policy…
Back in the real world, Developmental Paediatrician Dr Koyeli Sengupta who heads the Autism Intervention Services at Mumbai's Ummeed Child Development Centre underlines the importance of sex education. "The disabled need protection from abuse, unfortunately people with disabilities are twice as likely to be sexually abused. So sex education and proper personal hygiene, using the correct anatomical names is important so that they don't to pick sexual norms from peers, as this could lead to 'inappropriate' behaviour." She laments how this is not dealt with the seriousness and urgency required. "We are not even willing to work with the abled on these issues. The roots of many of our social evils can be found there."
Echoing her concerns Dr Srilatha Juvva of the Centre for Disability Studies, Tata Institute of Social Sciences pointed out how even well-known institutions which care for the challenged sometimes take too moralistic a view of the issue. "Recently one of them rusticated few students because they were touching each other inappropriately in the bathroom. If this is the attitude in institutions where there are trained professionals one shudders to thin what happens elsewhere."
Prejudice against others too…
And such hang-ups are not only the bane for the intellectually challenged. Vangani, far central suburb on the Pune line is home to large population of the visually challenged. Among them, a gay couple Vinayak Marathe and Rudra Kounder who sell knick-knacks like keey chains and padlocks on long distance trains for a living. In Jaunary they were both beaten up by fellow passengers who found their nuzzling offensive. "It was very late in the night and its not like we can see the other passengers. Rudra rested his chin on my shoulders and I leaned in. Before we knew anything people rained blows on us. 'Andha hoke bhi yeh sab faltu cheez soojhti kaise hai tum log ko? (How can you think of such immorality despite being blind),' we were being asked before being thrown out at Badlapur station where we had to spend the night. Why can't they understand that we are also human and have the same hunger and needs that they do?"
One can only hope that MWAS opens a debate on the issue..
http://www.dnaindia.com/lifestyle/report-margarita-with-a-straw-and-the-sexuality-of-the-differently-abled-2076712