The marital rape law was last revised 68 years ago. As the Centre again argues against criminalising it, this 26-year-old is among the petitioners fighting back. SHALINI NAIR on her battle, and the long road leading to it.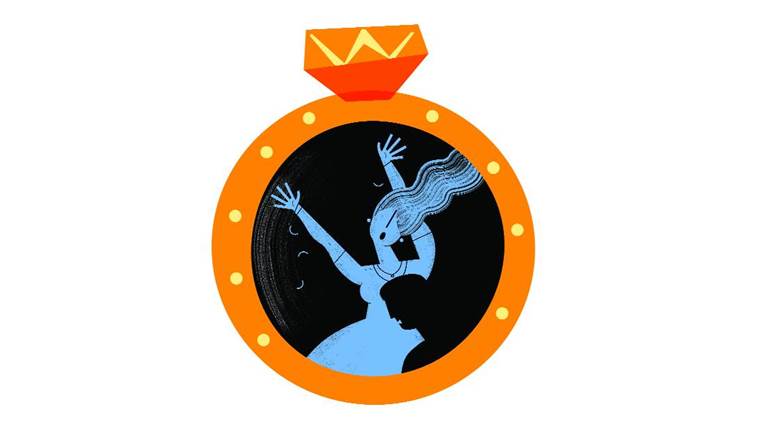 A couple of weeks after her wedding, when she came to her parents' house in Delhi for a visit with her husband, she says she told them what was happening. They told her to ignore it. (Illustration: C R Sasikumar)
Call me Anam," she smiles. "I have always fancied that name." Anam, meaning blessing in Urdu. Sitting in her lawyer's office in a South Delhi colony, wearing jeans and a black top, her smile lighting up her bespectacled eyes, she could pass off as a college student. But there is a reason the 26-year-old won't share her real name.
'Anam' is one of the three petitioners in the ongoing Delhi High Court case seeking recognition of marital rape as a criminal offence. She is the only one party to the case as "a marital rape survivor"; the other two petitioners are gender rights organisations RIT Foundation and AIDWA. No one in Anam's family or among her in-laws, including her husband who has got married again, knows she has filed the case.
Last fortnight, in an affidavit to the court, the Centre explained why it felt that the exception in the rape laws (IPC Section 375) that allows a man to have sexual intercourse with his wife as long as she is at least 15 years old, should stand. "What may appear to be marital rape" to a wife "may not appear so to others", the Centre said.
This wasn't the first time someone had tried to underplay the horror of what she went through, Anam says. Not letting her smile slip, she talks about how her husband forced himself on her every night, at times stopping only after she lost consciousness.
"Thoda kum-jyaada hota hai (It may be more or less… These things happen)," her grandmother told her when she confided in her, Anam says. Her mother and mother-in-law asked her to chin up and bear it. Her elder brother warned her against walking out of her marriage, and when she did, severed all ties with her.
Anam was in the final year of her Bachelor of Arts course when, in December 2016, her Delhi-based family married her off to a small-time businessman of western Uttar Pradesh. At 26, she was considered old enough. She says her ordeal began the very first night. "It was an arranged marriage. I wanted some time to at least get to know him. I told him so. He did not relent and forced himself on me repeatedly until I fell unconscious," she says. For the next month, she dreaded nightfall. "By day, he was hostile to me. At night, he brutalised me. On one occasion, he raped me seven times," she says. Her health deteriorated, and she says she developed severe abdominal pain and infections.
A couple of weeks after her wedding, when she came to her parents' house in Delhi for a visit with her husband, she says she told them what was happening. They told her to ignore it. She says she managed to slip out of home on the pretext of taking her brother's pregnant wife to a gynaecologist. That was the first time she got any medical attention.
"The next day, when we got back home, my husband took the prescription from me but never bought me any medicines," she says.
Anam says she was not allowed to go out on her own and her mother-in-law took away her mobile phone so that she couldn't complain to anyone. She could talk to her parents only from her husband's phone, she claims, and her conversations were recorded.
In mid-January, the couple came to her parents' home for a wedding. "He threatened to kill me if I complained to anyone. I knew I had no support from my family, so I somehow got in touch with a women's helpline in Delhi. I slipped out unnoticed with nothing but the clothes I was wearing," she says.
For the next few months, Anam stayed at Shakti Shalini, a shelter home in Delhi for women victims of domestic abuse. The officials at Shakti Shalini put her in touch with the Human Rights Law Network (HRLN), a group of lawyers who provide legal aid to the disadvantaged. Recently, Anam, who had no documents with her when she fled home, managed to get a copy of her nikahnama from the qazi and filed for divorce, as well as a complaint under the Domestic Violence Act.
Since marital rape itself is not recognised, her divorce petition cites IPC sections pertaining to criminal intimidation and insulting the modesty of a woman. The Domestic Violence Act too, while recognising sexual abuse in a marriage, only offers civil remedy in terms of protection or monetary relief. Marital rape survivors, looking for criminal action, take recourse to IPC sections dealing with causing 'hurt', 'grievous hurt' or the 'cruelty' clause in Section 498A, but the quantum of punishment is way lower than that for rape.
Colin Gonsalves, senior Supreme Court advocate from the HRLN, who is handling Anam's petition, points out that since the act of rape by the husband in itself is not considered a crime, the above IPC sections are often applied only where there are visible injuries on the victim.
"There have been 10 cases of Constitutional law arguments in various common law countries (where laws are established through court judgments rather than statutes) where Supreme Courts and high courts have commented on this unreasonable distinction made between married and unmarried women who are subject to rape. We have cited all those cases to argue how the marital rape exception in India is against the right to equality," says Gonsalves.
The marital rape immunity in the Indian law is a legacy of a pronouncement by Chief Justice Sir Matthew Hale, in The History of the Pleas of the Crown. He wrote, "The husband cannot be guilty of a rape committed by himself upon his lawful wife, for by their mutual matrimonial consent and contract the wife hath given up herself in this kind unto her husband, which she cannot retract."
This went on to become an enduring principle of the common law adopted by Britain and, thereafter, all its colonies. Laws explicitly criminalising spousal rape were first passed by Scandinavian and Communist bloc countries in the 1930s to 1960s, followed by the common law countries such as Australia, the United States, and South Africa. In 1991, the UK got rid of its marital rape exemption in the wake of the R vs R case. Both the Court of Appeal and the House of Lords upheld the conviction of a husband for marital rape, with Lord Keith noting, "Marriage is in modern times regarded as a partnership of equals, and no longer one in which the wife must be the subservient chattel of the husband."
In 2007, South Africa passed a law that said marital or any relationship between the perpetrator and the victim is not a valid defence against crimes of sexual violation. To ensure that judges do not treat such cases with leniency, it further passed a legislation stating that such a relationship should not act as "substantial and compelling circumstance" to deviate from the required minimum sentences for rape.
The Indian Penal Code, however, gives primacy to marital status over consent. The exception in Section 375, which deals with rape, states that sexual intercourse "by a man with his own wife, the wife not being under fifteen years of age, is not rape". Where the two are separated, while an act of rape is recognised, it carries a far lesser sentence — Section 376 states that punishment for rape should be seven years to life; Section 376B fixes the punishment for non-consensual sex with a wife who is separated at only two to seven years.
In its affidavit in the Delhi High Court, the Centre justified its stand to not criminalise marital rape on the grounds that it could "become a phenomenon which may destabilise the institution of marriage apart from being an easy tool for harassing the husbands".
On the contrary, all available data indicates marital rape cases are largely unreported. A 2014 sample survey titled 'Masculinity, Intimate Partner Violence and Son Preference in India', by the United Nations Population Fund (UNFPA) and global research institute, International Centre for Research on Women, shows how women have internalised the normalisation of domestic violence. About 31 per cent men surveyed admitted to perpetrating sexual violence on their wives, whereas only 17 per cent women reported having ever experienced sexual violence. The survey attributes the under-reporting by women to the stigma associated with marital rape.
In its affidavit in the Delhi High Court, the Centre cited India's "unique problems due to various factors like literacy, lack of financial empowerment of the majority of females, mindset of the society, vast diversity, poverty" as the reason to not "blindly" follow western countries in criminalising spousal rape.
Another study, by Aashish Gupta of the Research Institute for Compassionate Economics (a non-profit research group), cites National Health Family Survey data to show that cases of sexual violence by husbands were 40 times higher than incidents of sexual violence by other men. And yet, the reporting of sexual violence within marriage was far lower. Using National Crime Records Bureau data on cases filed under 'cruelty', the 2014 study showed that only 0.6 per cent, or one in 167 cases, of sexual violence by husbands was reported to police, while this proportion was 5.8 per cent, or one in 17, in cases of sexual violence by other men.
Anam's petition has also found support from the Forum to Engage Men (FEM), a network of men for gender equality, which has impleaded in the Delhi High Court case. Their petition seeks that "full personhood of our wives" be recognised, and states, "Marriage is a partnership of equals, however, men have historically assumed 'privileges', including the privilege of having sex at their instance. Most women have been conditioned to accept that."
FEM member Abhijit Das says their petition points out that there are thousands of men who do not want to cling on to their patriarchal gender privileges. "Marriage is an equal-relationship contract and not a one-time consent to everything. This kind of legal exception to the rape laws gives men unequal privilege. We feel this is wrong," he says.
At the shelter home, Anam enrolled back into BA and gave her final-year exams. Now settled into a rented accommodation, she says, "I first took up a job as a salesgirl at a clothes boutique and have now started stitching clothes at home. At some point, I want to set up my own boutique."
Recently, Anam also made a friend. In August, Dolly, the counsellor at Shakti Shalini, put her in touch with a new arrival who had escaped a nightmare similar to hers. A 23-year-old, a mother of three, the woman had fled an abusive husband and child marriage. Anam invited her to stay with her. Anam has found her a job in the boutique where she used to work. The 23-year-old's in-laws keep calling to cajole or threaten her into returning, and it is Anam who fields those calls.
Clad in blue jeans and a chequered red shirt, the soft-spoken woman looks far from a mother of three. "You can use my ghar ka naam (pet name) Karishma," she says. Only her mother ever called her that, the 23-year-old adds. "I have cut off all ties with her for what she did to me."
Since Karishma's "suffering" began when she was 16, her case concerns another contentious aspect of the marital rape exception. The age of consent, as per the Protection of Children from Sexual Offences Act (POCSO Act), 2012, is 18 years. So if an under-18 girl has even consensual sex, the male partner is liable to be prosecuted for rape. But the exception to Section 375 assumes an implied and irrevocable consent of a wife as long as she is 15.
Even the Prohibition of Child Marriage Act, 2006, states that marriage between a girl less than 18 years and a boy less than 21 (the respective minimum ages of marriage) is voidable but not void.
Karishma belongs to a Jaipur-based family. Seven years ago, her elder sister eloped with a boy she loved. A month later, Karishma says, her mother took her and her 14-year-old sister to Alwar on the pretext of visiting their aunt. Karishma says she realised what was happening only when the two were dressed up in wedding finery and ushered into a haldi ceremony. They were being married off to two brothers. Much later, when she got to see their faces, Karishma realised the two grooms were in their 30s.
Their father died long ago, and they have no brothers. Karishma, who was in Class 10 at the time, says her mother wanted to pre-empt any further "shame" to the family.
"On the wedding night, I created a scene, refusing to let my younger sister sleep with her husband. The next day, when we were sent back to our mother's place as part of the rituals, I gave my mother an ultimatum that I would go back to my in-laws only if my sister was not made to. I arranged to send her to Delhi to a relative's place. Now she is set to appear for her law exams," says Karishma, with obvious pride in her voice.
Karishma claims her rebellion came at a price. While she had managed to put off sleeping in her husband's room for a couple of days after the wedding, she was made to give in by her in-laws. "Mein ek khelti-koodti bachchi thi jab meri jabardasti shaadi kara di gayi. Itne bade aadmi ko dekh kar bas dar ke maare reh gayi (I was just a child when I was forcefully married off. The sight of that much older man left me scared)," she says, asserting she didn't resist him out of fear.
Within a year, she had her first child, followed by two others, all daughters. With that, Karishma claims, started the next phase of her ordeal. First came the taunts and then attempts to coerce her into sleeping with her husband's brother or nephew to bear a son. "I couldn't stay at my husband's house any longer. So one night I boarded a bus to Delhi, where a relative put me in touch with the shelter home," she says.
Dolly, the counsellor at Shakti Shalini, points out why Anam's is a case of rare courage. "Despite her family repeatedly asking her to 'adjust' with her husband, within a month of her marriage, she decided to walk out. Most women who face marital rape, even if they have parental support, give their marriage a try for least a year or two. In cases with no support, they endure it for years. When she came to us in January, she was mentally exhausted and it took two months of counselling for her to be able to put her life back on track," says Dolly.
About Karishma, the counsellor adds, "It took her seven years to break the chain of violence. Her mother could not stand by her for fear of her extended family."
Recently, Karishma's sister too made the final break from that forced marriage, Dolly says. "Now a law student, the sister, who had never lived at her in-laws' house, has filed for divorce."
Karishma, who is in hiding and not in touch with anyone from her family, including her younger sister, breaks down talking about her three daughters growing up unwanted with her husband and in-laws. In an attempt to console her, Anam tries to distract her. "Can anyone say she is mother to a six-year-old and two others? She is a child herself. I have to teach her the means and ways of this city," she says, smiling indulgently.
Karishma is Anam's protégé in more ways than one; the fate of Anam's case would decide what legal route Karishma would take. A Supreme Court Bench of Justices Madan B Lokur and Deepak Gupta is hearing another petition, filed by an NGO, that argues that provisions of POCSO, meant to protect minors from sexual abuse, should override the Section 375 exception for wives under 18.
In 1860, the exception for spousal rape was first fixed, with the age of wife at over 10 years. In 1890, an 11-year-old bride, Phulmoni Dasi, died following brutal rape by her husband, Hari Mohan Maiti, who was in his mid-30s. The Queen-Empress v. Hari Mohan Maiti case went to the Calcutta High Court, where Phulmoni's mother deposed how she had found her body, the bedcloth and Maiti all covered in blood. But the British court held that as Phulmoni was 11, Maiti could not be convicted of rape, and he was sentenced to 12 months of hard labour for "causing grievous hurt".
The widespread outrage that followed led to then viceroy, Lord Lansdowne, presenting the Age of Consent Bill, that raised the age in the exception clause to 12 years. The last revision, to 15 years, took place back in 1949, in response to agitations by women groups against early pregnancies. In the almost 70 years since, the rape law marital exemption in Section 375 has remained untouched.
All three petitions in the Delhi High Court marital rape case challenge the constitutional validity of the exception, citing Articles 14 (equality), 15(1) (no discrimination on basis of sex) and 21 (life and personal liberty). The petitions point out that marital rape victims are more likely to have endured rape on a daily basis, which leaves long-lasting psychological scars.
The recent privacy judgment by the Supreme Court is also set to play an important role. It talked about how the right to bodily integrity is a crucial facet of Article 21 while citing the Sucheta Srivastava vs Chandigarh Administration (2009) order, that had recognised "a woman's right to refuse participation in sexual activity".
"Almost all cases of domestic violence that come to us involve rape by husbands. Let alone take the legal route, there are women who quietly endure the torture before they even decide to separate," says Aditi Saxena, an advocate with the HRLN, describing Anam as the most feisty marital rape survivor they have come across.
Anam says she can't understand the silent resignation of others. Explaining why she went to court, Anam says, "Maa baap ne saath nahin diya. Par maa baap ne padayaa hai. Sahi galat ka pata hai (My parents didn't support me. But they gave me education. I know the difference between right and wrong)."
 http://indianexpress.com/article/india/meet-anam-marital-rape-survivor-criminal-offence-delhi-high-court-4847094/