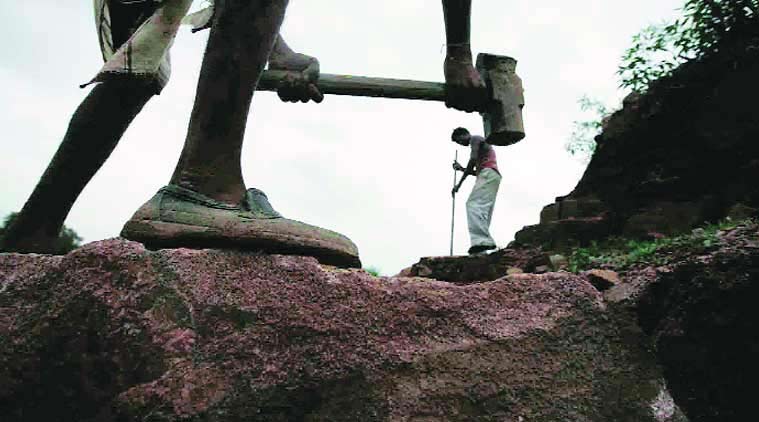 Based on these findings, the panel, under Additional Secretary in the Ministry of Rural Development Nagesh Singh, is expected to make its recommendations in another month. (Representational image)
THE COMMITTEE for revision of wages paid under the Mahatma Gandhi National Rural Employment Guarentee Act (MGNREGA) has found that minimum agricultural wages are higher than MGNREGA wages in 15 states. An upward revision in MGNREGA wages is estimated to require a Rs 4,500 crore increase in its budget.
Based on these findings, the panel, under Additional Secretary in the Ministry of Rural Development Nagesh Singh, is expected to make its recommendations in another month.
As per data being examined by the committee, the minimum wages paid to agricultural workers are significantly higher than MGNREGA wages in Karnataka, Punjab, Jharkhand, Uttarakhand, West Bengal, Mizoram, and Andaman and Nicobar Islands.
The other states where MGNREGA wages fail to match up are Sikkim, Andhra Pradesh, Telangana, Haryana, Madhya Pradesh and Bihar. In Rajasthan and Himachal Pradesh, the minimum wages are marginally higher than MGNREGA wages.
"In the 15 states where MGNREGA wages are lower, we tried revising it to bring it on par with the minimum agricultural wages paid by the respective states. Where MGNREGA wages are on par or higher, we decided to protect it as it is. If a revision is done as per this formula, it is estimated that a Rs 4,500 crore addition to the existing MGNREGA budget would be needed," said an official from the Ministry of Rural Development.
The Indian Express had earlier reported that despite official claims of this year's MGNREGA budget of Rs 48,000 crore being the highest ever, the wage revision, at 2.7 per cent, was the lowest ever. It meant a per day, per person wage hike of merely Re 1 in some states like Assam, Bihar, Jharkhand, Uttar Pradesh and Uttarakhand, and Rs 2-Rs 3 in several others.
This was because the finance ministry, on account of financial implications, rejected the recommendations of the S Mahendra Dev committee, which had proposed to bring MGNREGA wages on par with minimum wages paid to unskilled agricultural workers in the states. The expert panel had said that the Consumer Price Index for Rural (CPI-R), which reflects the current consumption pattern of rural households, should be the basis for revising MGNREGA wage rates, and not CPI for Agricultural Labourers (CPI-AL), which is based on the consumption pattern of 1983.
"The basket of goods for calculating CPI-AL comprises mainly food items. With the implementation of the National Food Security Act, rice and wheat is available for as cheap as Rs 2-3 per kg. CPI(Rural) gives lower weightage to food items, and hence, is found to be a better indicator of wage increase," said a ministry official.
The Nagesh Singh panel has found that based on the second recommendation of the Mahendra Dev committee, if the existing MGNREGA wages are revised as per CPI(Rural), it would mean another Rs 600 crore increase in the budget.
"CPI(R) should be used to revise the wages every year instead of CPI(AL), as the former is more representative of the current rural consumption basket. Also, wage revision should take place every six months, in keeping with the practice for other trades and occupation," said Ankita Aggarwal from the people's organisation, NREGA Sangharsh Morcha. Aggarwal said that with such low wages and delays in payments, MGNREGA fails to provide the livelihood security for which it was enacted.
Jharkhand Chief Secretary Rajbala Verma had recently written a strongly-worded letter to the Ministry of Rural Development protesting against the growing divergence between the state's minimum wage, which is currently Rs 224 per day, and MGNREGA wages of just Rs 168 per day after the wage hike.
http://indianexpress.com/article/india/mgnrega-wages-less-than-minimum-farm-wages-in-15-states-panel-4743412/