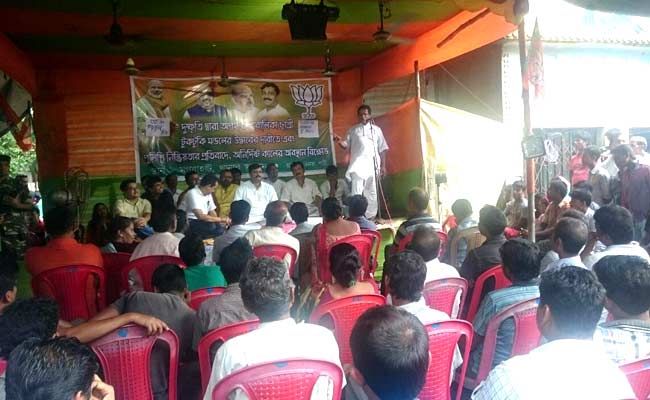 Mograhat:
 Tuktuki Mondal, the 14-year-old girl, who had been missing since May from Mograhat area of
South 24-Parganas district
, on Monday reported to the local police station hours after a
National Commission for Women
team visited her house.
Superintendent of Police
Sunil Chowdhury said the girl turned up at the police station alone around 
7 pm
 and deposed before the officer-in-charge.
She will be produced in a juvenile court 
tomorrow
 before being handed over to her parents, the Superintendent of Police said.
"We will look into all the angles regarding the disappearance of the girl. An investigation is on," the officer said.
It was not known if the girl, missing from her residence at Enayatpur locality in Mograhat for over two months, showed signs of stress.
Earlier in the day, NCW Chairperson Lalitha Kumaramangalam led a three-member NCW team to Enayatpur in Mograhat in South 24-Parganas district where the girl's residence is located. Before visiting Mograhat, the team met the girl's parents in
Kolkata
. Kumarmangalam said that the parents of the girl appeared to be scared and so were the women living near her house at Enayatpur.
The NCW team had also met District Magistrate P B Salim and SP. Meanwhile, IG (Law and Order)
Anuj Sharma
told reporters at the state secretariat here that the girl had left on her own and she was not forcibly taken away. "As per our information about her communication with police, she is not eager to return home," the IG added.
BJP
had organized sit-in protests in the area alleging the girl was abducted on 
May 5
and demanded the arrest of those accused of kidnapping her.
In a late night tweet, TMC National Spokesperson Derek O' Brien described the 'kidnapped girl' case in Mograhat as a hoax. "So the 'kidnapped girl' case in Mograhat turned out to be a #TwitterHoax, pushed by one
TV channel
and the Sangh's online fundoos. Mograhat girl returned home safe, denied kidnapping. Rightwing tried communal card before Eid, Trinamool July 21 event#TwitterHoax," O' Brien said in the tweet.
http://www.firstpost.com/politics/after-being-missing-for-over-two-months-tuktuki-mondal-returns-unharmed-to-mograhat-home-2353604.html