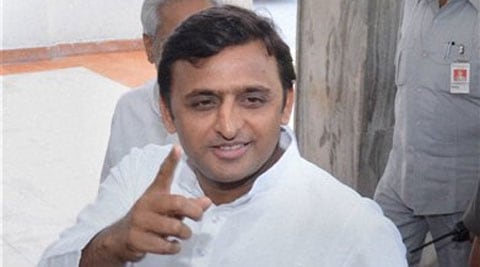 Akhilesh himself had directed his ministers two years ago to declare their assets positively by March 31 of every year. (Source: PTI photo)
SUMMARY
Only three members in both Houses combined have declared assets this fiscal.
All 99 members of the Uttar Pradesh Legislative Council, including Chief Minister Akhilesh Yadav, and 385 members of the Legislative Assembly have not declared their assets and property details for the period 2013-14, according to the UP Ministers and Legislators (Publication of Assets and Liabilities) Act, 1975, which makes it mandatory for members of both houses to submit their details of assets and liabilities on or before June 30 every year.
Significantly, only three MLAs have so far declared their assets, and who include BJP state president Laxmikant Bajpai, Congress leader Rita Bahuguna Joshi and Bahujan Samaj Party's MLA from Salempur Manbodh Prasad.
Akhilesh himself had directed his ministers two years ago (when he came to power) to declare their assets positively by March 31 of every year, in a step towards what the government had then claimed was to "bring transparency in governance".
Principal Secretary, Legislative Assembly, Pradeep Kumar Dubey has issued a gazette notification of list of those ministers and MLAs who have not submitted details of their assets and liabilities. According to the list, Assembly secretariat has not received details from 21 cabinet ministers, 5 ministers with independent charge, 24 state ministers, and 335 members of Legislative Assembly.
Four Assembly seats where by-elections were held along with Lok Sabha polls including Fatehpur, Rampur Khas, Unnao and Vishwanathganj have not been considered because these seats were lying vacant for several months in previous financial year and had no MLA representing them when the fiscal year came to a close.
"Secretariat has not sought details of assets and liabilities also from 12 MLAs who were elected to Lok Sabha in the recent polls," said an official.
Presently, there are 99 members in the Council after the election of BJP's Nepal Singh to Lok Sabha. Cabinet ministers Ambika Chaudhary, Ahmed Hasan, Rajendra Chaudhary and Balram Yadav are members of the same House.