Repoll ordered at four booths in three Maharashtra Lok Sabha seats on April 27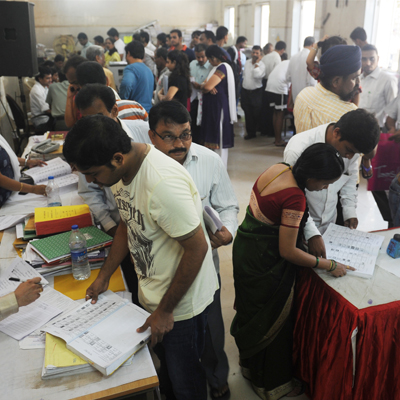 The Election Commission has ordered a re-poll at four booths spread across three Lok Sabha constituencies in Maharashtra on April 27 citing non-clearance of votes cast during mock polls, as it had a bearing on the actual numbers reflected in the EVMs.
Of the three affected parliamentary constituencies, two are in Mumbai North Central and Mumbai North West which went to polls in the third phase of Lok Sabha elections in the state on April 24. While voting for Ahmednagar seat in the second phase was held on April 17.
Election Commission officials said that votes franchised during the mock polls on the affected booths undertaken by the EC were not cleared before the actual polls, resulting in the EVMs showing more votes cast than the actual number.
"We conduct mock polls a few hours before the actual polling starts, which are then cleared before the actual voting begins. But when we started the vote count in the affected booths, we realised that we actually had more votes than we had registered. So it was clear that the votes of the mock polls were also included in the actual poll results," an Election Commission officer said.
The re-polling will take place in Charkop area booth number 243 and Malad West booth number 242 of Mumbai North West constituency.
Re-polls will also be undertaken at Chandivali area, booth number 160 of Mumbai North Central constituency besides booth number 305 of Shrigonda area in Ahmednagar constituency.
Votes can be cast from 7am to 6pm.
This development comes days after thousands of Mumbaikars, including several prominent personalities, were left disenfranchised after their names were found missing from the electoral rolls.
Read more here — http://www.dnaindia.com/india/report-repoll-ordered-at-four-booths-in-three-maharashtra-lok-sabha-seats-on-april-27-1982329