Reported by Tejas Mehta, Edited by Abhinav Bhatt | Updated: August 13,
Kolhapur: 
Shopkeepers and
migrant workers
in Kolhapur from North India were attacked today publicly by workers from the Shiv Sena and
Raj Thackeray
's MNS who were shouting slogans against
North Indians
.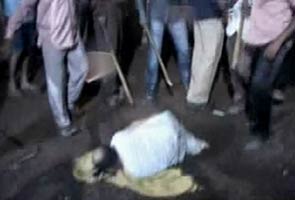 Two mobs of 50 people from each party armed with sticks said they were retaliating for the rape of a young baby on a construction site by a labourer from Jharkhand. An elderly man was kicked to the ground.
The police intervened and broke up the mob with batons but the city, 386 kilometres from Mumbai, remains tense.
Five people have been arrested so far.
The Shiv Sena is headed by Uddhav Thackeray. His estranged cousin Raj Thackeray is chief of the Maharashtra Navnirman Sena or MNS. Both leaders are known for their hate speeches against migrant workers from states like UP and Bihar, in which they allege that jobs are being taken away from Maharashtrians by "outsiders."
MNS men attack Bihar, UP workers in Kolhapur
Vivek Waghmode, TNN | Aug 14, 2013,
The police said MNS members attacked labourers at the construction site.
KOLHAPUR: A group of 15 to 20 Maharashtra NavnirmanSena members on motorcycles went berserk on Tuesday attacking migrant workers from Uttar Pradesh and 
Bihar
 in protest against the alleged rape of a two-year-old girl a day earlier. The girl was allegedly raped by a labourer from Jharkhand.
Three buses were damaged for which four people were arrested. In another case, five people were arrested for attacking a stall-owner from Uttar Pradesh.
Cases were registered against MNS members and unidentified youths at different police stations in Kolhapur. A case was registered at the Juna Rajwada police station against city MNS president Raju Dindorle and 15 party members for rioting, carrying deadly weapons, unlawful assembly, etc.
The police said MNS members attacked labourers at the construction site where the rape accused, Rajendra Babli Singh, worked. Singh, working at the construction site for the past three months, knew the girl's family. On the pretext of playing with her, he took her away and allegedly raped her on Monday.
Admitting to the violence, MNS district president Abhijeet Salokhe said, "We caught hold of around 25 migrant workers in the Gokul Shirgaon MIDC and beat them up. We also told them to leave the city."
Salokhe added, "Our leader Raj Thackeray had told us to take strict action against outsiders who misbehave. He had given the orders when he was in the city five months ago. We have been following his orders since then." The MNS also took out a morcha to the collector's office to protest against the rape incident.
Another case was registered at the Gokul Shirgaon MIDC police station against Dindorle and the same 15 party members under similar sections of the IPC for beating up migrant workers at the MIDC industrial area.
The Juna Rajwada police arrested five people for allegedly beating a stall-owner, Vijaypal Amarsingh (30), at Ravivar Peth in the city. Amarsingh hails from Uttar Pradesh. The suspects have been booked under sections 147, 148 and 149 of IPC.
Four people were arrested for the violence in which three buses were damaged. A Kolhapur Municipal Transport (KMT) buses was damaged at Apte Nagar, while stones were pelted at a Maharashtra State Road Transport Corporation (MSRTC) bus at Phulewadi and a Goa Transport Corporation bus near Rankala lake. Two girls sustained minor injuries during the attack on the KMT bus.
The Laxmipuri police detained three women and registered a case against a mob of 150 men and women agitating in the Laxteertha area where the alleged rape occurred. The police dispersed the protesters after they started pelting stones.
MNS members moved around in groups at the Gokul Shirgaon MIDC area in the outskirts of the city, attacking migrant workers with sticks and ransacking their homes.