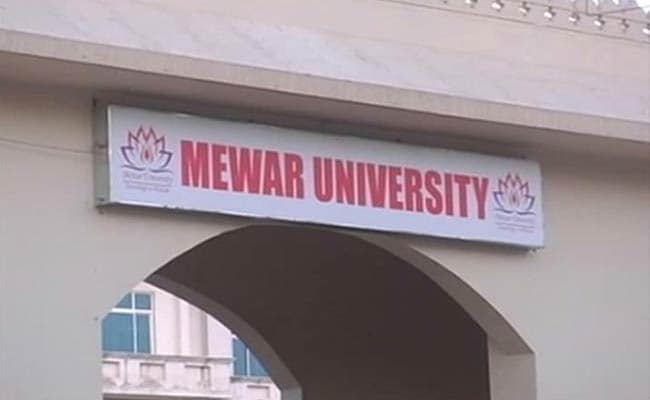 CHITTORGARH: 
 Four Kashmiri students who sneaked meat into their rooms at a Rajasthan university on Monday found a mob at their door and were later arrested – all because of rumours that they were cooking beef.
The meat was not beef at all, an initial test by the police confirms.
But fast-spreading rumours drew a mob of locals to the hostel of Mewar University in Chittorgarh, and the police had to be called in. The young engineering students were taken away by the police and released after they gave a written guarantee that they would not "disturb peace".
Their arrest has caused resentment on the campus and several policemen can be seen patrolling the area. At this university, which offers many technical courses, around 900 of the 5,000-odd students are from Jammu and Kashmir.
"Somebody complained to the warden that we were cooking beef, but it was not beef it was meat…When we heard a mob had gathered outside our rooms, we stayed hidden inside.  The next day the police took us for questioning and treated us well," says Saqib Ashraf, one of the students who were arrested.
The second year engineering student added: "The university also supported us. We are not scared now."
The only offence the students believed they did commit was to bring meat to the campus.
Eating beef is illegal in Rajasthan but the Mewar University, like many in the state, doesn't allow any non-vegetarian food.
"It is difficult to be non-vegetarian on a vegetarian campus but I don't want to get into all that now. I am here to study," said Shaukat Ali, another student who was arrested.
The police defended the arrests saying the situation was controlled before it could escalate. Last year, there were a series of attacks over beef and cow slaughter rumours, including the mob killing of a man in Uttar Pradesh's Dadri, which were cited as examples of "rising intolerance" in India.
Earlier this week, sources in the home ministry confirmed that an advisory was sent in February to state governments, which said that "there is perception among the people of Jammu and Kashmir that their wards are being treated with suspicion and hostility" at colleges. The advisory asked states to "ensure the protection of students from J&K".http://www.ndtv.com/india-news/mob-at-their-door-4-kashmiri-students-arrested-over-beef-rumour-1288112