Almost every day, Modi takes off from Ahmedabad airport in an EMB-135BJ, an Embraer aircraft, for his rallies. The jet is owned by Karnavati Aviation, a group company of the Adani Group. "We record two movements of Modi's aircraft daily. No matter where he goes to address rallies, he always comes back home," said an air traffic control official.

Recently, Modi's aircraft was denied permission to fly by DGCA in Delhi for over two hours, following which he lashed out at the central government for stalling his movement. Ever since, Modi has increased the use of choppers to cover smaller distances. "Mostly, politicians use chopper to reach places where bigger aircraft can't reach," said an ATC official.

Over the past few days, Modi flew in an Augusta AW-139 chopper, owned by the DLF Group, for his rallies in north India, especially in Uttar Pradesh and Bihar. 'Fleet of 3 aircrafts ensures Modi is home every night after day's campaigning',Times of India, April 22, 2014
The Political Culture of Fascism
In an earlier post, I had joined issue with a section of liberal intellectuals, whose 'liberalism' was either rendering them too gullible or simply complicit in the formation of the Narendra Modi phenomenon – which I have no hesitation in referring to as the Indian edition of fascism. The gullibility or complicity of many of these intellectuals also manifests itself in the myopia that grips them when the talk about the impending challenge before democratic politics in India – a brief glimpse of which is provided in the quote above, that indicates the alliance, the power bloc that will rule, were Modi to come to power.
The Modi-formation is 'fascism', in the sense that it takes direct inspiration from the particular history that goes by that name, especially its Nazi episode and knows that even though it cannot replicate the conditions of its existence in India, it can nevertheless use its cardinal ideas. The exaltation of the Nation/ nation-state, the manic obsession with 'national security' to the extent of the destruction of democratic rights, identification and suppression of scapegoats – the Other (the Jew, the Muslim, the homosexual, and all kinds of 'wayward' sexualities – often, all rolled into one) and of course, the intellectuals, artistes and human rights activists. A key aspect of this political culture is the combination of violence with mass frenzy that is sought to be continuously whipped up and directed against the imagined enemies of the 'Nation'.
Developments since then shown that the rise of Modi is, increasingly, by the day, by the hour, unleashing the forces of fascism – witness the Pramod Muthaliks, Praveen Togadias, the Giriraj Singhs, Raj Thakres and the Shiv Sena MLC Ramdas Kadam who assured his audience in Modi's presence, that Modi would destroy Pakistan within six months of assuming power – not to mention Modi's very own Amit Shahs. Those in the media who have been trying to tell us that these are aberrations or even that Togadia and Modi fell out with each other long ago, have no clue about how politics works. They certainly have no idea of how a political machine is assembled and how signals are sent out and received within a political field that is already structured in specific ways. They should know that fascism requires 'stormtroopers' and 'blackshirts'; that fascism is the mindset that knows only one way of dealing with dissent and disagreement – violence; that the Togadias and Raj Thakres are the thugs who will rule the streets and public life if Modi is to become prime minister.
It is not simply threats administered to dissenting individuals but the development of a generalized culture of threats and violence that is the hallmark of such politics, and it is not unusual to see different arms of the state itself surrender to that logic. Witness the following where Modi, already assuming he is going to be the next prime minister, administers this threat to the Election Commission:
Will probe EC's role after elections: Narendra Modi: IBNLive

BJP's prime ministerial candidate Modi has warned the Election Commission saying he will investigate the Commission's role post-elections to see if the poll has been free and fair. Modi said, 'I want to tell to the Election Commission and state Election officials that it will be your real test whether you conduct a free and fair poll in Firozabad. I will monitor this, install CCTV cameras and after the election I will set up inquiry. The EC does not have right to be partisan.'
Within a day of this threat follows the appalling arrest of a respected poet and AAP candidate, Balli Singh Cheema, in Nainital:
AAP Candidate and well known poet Balli Singh Cheema arrested in Nainital: TOI

"A senior police official had stopped Cheema's vehicle on Sunday and found that the vehicle had two loudspeakers against the permitted norm of one," SSP Udhamsingh Nagar Ridhim Aggarwal told TOI. When the police official asked Cheema to produce the papers of the vehicle, he failed to do so, she said.
Cheema was arrested (in a Congress-rules state) for the violation of the code of conduct because he used two mikes instead of one!  This is the generalized breakdown of all norms in politics, where might is right. This generalized breakdown is the effect of the 'Modi formation' – a deadly cocktail of naked corporate power, lies, violence and threats of violence, combined with a propaganda machine which we mistakenly call 'the media'. No arm of the state, including the Election Commission, apparently has any authority left when it comes to disciplining this formation. The Election Commission has not, to my knowledge, so much as taken note of the full-page advertisements featuring Modi in all newspapers on voting day in Delhi and some other places on 10 May 2014. This when the campaign in any form is supposed to have stopped 48 hours before polling begins. Who paid for the advertisements? What is their total cost? Does it get added to the candidate's or party's election expenses (on which there is apparently no cap!) Is the BJP (and Modi himself) then not guilty of the violation of the code of conduct? Are the newspapers who have taken the money and put out the ads unaware of what they were doing?
But no, neither will Modi be booked for excessive election expenses and violation of code of conduct nor will his aide Amit Shah be booked for communal speech. On the contrary, it was Yogendra Yadav of AAP, who was booked for 'paid news' for distributing his own party's paper. It was Yadav again, against whom a police complaint was registered (by Modi-devotee Madhu Kishwar) for spreading communal hatred and making inflammatory speeches.
Such is Modi's insatiable lust for power that he is not satisfied with an EC that is already grovelling at his feet – witness its mild reprimand of Amit Shah. He wants an EC – and by extension all independent state institutions – that will surrender completely before him and his cronies. As an aside, compare this with the toughness with which the EC continues to deal with Azam Khan (who is a crook, without doubt but that is not relevant here). What exactly did Azam Khan say? That the Muslims are nationalists and fought valiantly in the Kargil war against Pakistan. Yes, he went overboard and added that they fought more valiantly than even the Hindus. But seriously, is this a communal statement that bears any comparison to the call for revenge made by the triple murder accused Amit Shah? This is the portent of things to come, if Modi-fascism were to come to power.
Big Media Morphs into Fascist Propaganda Machine
However, this situation has not suddenly arisen out of nowhere. It parallels one of the most significant and frightening developments in the political landscape: the morphing of the Big Media into a fascist propaganda machine. More detailed and systematic studies of this process will soon be available as there are hundreds of people across the length and breadth of India who are closely monitoring the way the electronic media in particular, is indulging in a kind of carpet bombing in Modi's favour. However, some things are evident even at this stage.
Ever since it became evident that Modi was facing a barrage of criticism about his inability to face tough questions in one-to-one interviews, raised by the AAP campaign in particular but also by us and other observers of the media scene, a whole barrage of fixed interviews was relayed. We had linked videos in our post linked to earlier shows that reveal that apart from the famous Karan Thapar programme in 2007 when Modi walked out mid-way in the interview, he had also avoided questions to the point of being rude with other journalists like Rajdeep Sardesai and Vijay Trivedi of NDTV. These videos have been doing the rounds in Facebook circuits as well. But in order to rescue Modi, the electronic media channels went berserk setting up one fixed interview after another with this would-be prime minister. It all started with Madhu Kishwar's friendly, almost deferential, interview in NewsX, which was described by one report in the following words:
Conducted in a dimly-lit environment, the interview (or monologue?) showed Modi travelling down the memory lane in a sort of stream of consciousness where the questions were edited out and the interviewer remained resolutely off camera.
This was followed by an interview by Sanjay Pugalia – who had only recently gone into campaign mode while interviewing Arvind Kejriwal, quite forgetting that he was conducting an interview. In that interview, from the point that Kejriwal mentioned Mukesh Ambani's name, Pugalia lost his composure and let loose a barrage of abuse. With Modi however, he was ready to lie at his feet. Then the Aap ki Adalat programme where another acolyte, Rajat Sharma, whom we have all known from our college days as an RSS faithful, once again fixing the interview in such a way that no uncomfortable questions were or could be asked. At this point, Qamar Waheed Naqvi resigned in protest from India TV, the channel which hosts the show. And so it went, one after the other. Most recently, we had ABP News fix its entire show "ghoshanapatra" according to Modi's diktat. The earlier format was changed and the channel made sure that no known journalist of standing was on the show. Here is an observation by Javed Anis on Facebook ( 23 April 2014):
कल रात एबीपी न्यूज़ पर "मोदीपत्र" प्रसारित किया गया .. मोदी के सामने तीन डरे – सहमे , अजनबी से पत्रकार थे .. मोदी बार – बार इन "बेचारे पत्रकारों" के सवालो को गन्दा, उत्तर देने के अयोग्य ठहराते हुए उनपर अपनी दबंगई का रौब झाड़ रहे थे और अपनी आदत के मुताबिक "I" ,"Me" और "Myself " का बखान करते हुए लम्बी – लम्बी छोड़ रहे थे … "निष्पक्ष" पत्रकारिता की मिसाल पेश करते हुए चैनल ने मोदी के लिए के मूल कार्यक्रम घोषणापत्र" का पूरा प्रारूप ही बदल दिया .. मोदी को 30 – 40 लोगो ( जिसमें किशोर अज़वानी, अभिसार, दिबांग, अभय दुबे, अशोक प्रधान, अरविन्द मोहन जैसे लोग शामिल है ) का सामना कराने के बजाये उन्हें एक बंद कमरे में निरीह से दिखने वाले "तथाकथित पत्रकारों" के सामने पेश करके "औरंगजेब" बनने का मौका दिया .

[Last night 'Modipatra' was telecast over ABP News…three scared looking, unknown journalists sat in front of Modi…and time and again, Modi demonstrated his command and arrogance by dismissing their questions as bad and not worthy of an answer and as is his wont, waxed on his 'I', 'Me' and 'Myself', spinning a yarn about whatever he thought fit…The channel set an example of 'neutral' and objective journalism by fundamentally changing the very format of its 'ghoshanapatra' programme where he would normally have had to face 30-40 people (which normally would include Kishore Ajwani, Abhisar, Dibang, Abhay Dube, Ashok Pradhan and Arvind Mohan); instead he was made to set in this closed room with three helpless looking so-called journalists and given the opportunity of playing Aurangzeb.]
And so it goes on and on. Modi, Modi and Modi is all you see and all you hear – except when the channels decide to look a bit objective and do a story on their favourite punching bag – the Aam Aadmi Party and Kejriwal. Now the tenor of the anchor and the tone of the programme changes fundamentally. Let us take a few random examples. Those who have been watching the television channels over the last few days would have noticed the tone of horror with  which anchors reported on Shazia Ilmi's so-called communalism: "शाज़िया ने तो ज़ुल्म ही कर दिया" ('Zulm' – the word used for Shazia's act means 'tyranny'/ 'oppression') screamed one 'headline' while another shrieked and shouted, "will Arvind Kejriwal expel his leader?' (you guessed right, this is the most self-righteous one with the joker called Ornob). And it went on and on – for two days. Shazia asks Muslims to stop being secular and vote communally. Once again, this kind of madly hysterical rendering of her statement could only have come either from rank illiteracy or malice. Perhaps a combination of both. So let us take a look at what she said. Here is a word of advice to Shazia from a former journalist colleague from a piece (थोड़ा चालाक बनो शाज़िया – Pankaj Srivastava in Hille Le):
शाज़िया इल्मी की बातचीत सुनकर हैरानू हूँ। हैरान इसलिए कि मेरी इस पुरानी साथी पत्रकार को अभी तक राजनीतिक जुमलेबाज़ी में महारत हासिल नहीं हुई।…

लेकिन ठहरिये…बात तो आगे भी कही है शाज़िया ने। कहती हैं कि- "कम्युनल बनिये और अपनों को वोट दीजिए। अपने बारे में सोचिये। अरविंद केजरीवाल आपके अपने हैं। उनका साथ दीजिए। डरने और हराने का सिलसिला खत्म कीजिए, लड़िये और जीतिये।"

बताया जाता है कि ये वीडियो तब बना जब शाज़िया मीरा सान्याल का प्रचार करने मुबई गई थीं!

दिमाग चकरा गया है। ये कैसी 'सांप्रदायिकता' है जो मुसलमानों को किसी मुसलमान को नहीं अरविंद केजरीवाल और मीरा सान्याल का समर्थन करने के लिए प्रेरित कर रही है। ऐसा भी नहीं कि आम आदमी पार्टी किसी 'सांप्रदायिक एजेंडे' पर काम करी है। यह तो एक ऐसा 'संप्रदाय' रचने की बात है जिसमें हिंदू-मुस्लिम का साझा हो।

[I am amazed listening to Shazia Ilmi's statements. Amazed because this former journalist colleague of mine has not yet learnt the art of making statements in politics…

But wait a minute…Shazia has said something more. She says: "become communal and vote for your own people. Think of yourselves. Arvind Kejriwal is your own. Support him. Stop this business of fear and defeating and start thinking of fighting and winning."

It is reported that this video was made when Shazia was campaigning for Meera Sanyal in Mumbai.

The mind boggles. What kind of communalism is this that asks Muslims to vote not for Muslims but for Arvind Kejriwal and Meera Sanyal. And it is not even the case that AAP is working on any communal agenda. This is indeed a call for creating a new 'community' which is a common property of Hindus and Muslims.]
Need we say anything more? Shazia and AAP have subsequently issued a statement to the effect that 80 seconds of the larger video have been selectively taken out to launch this vicious propaganda.
Equally telling is the fact that when all this was being played over and over on TV channels, Righteous Ornob's Times Now – the latest recruit into the Modi Propaganda Machine chose to completely ignore the physical attack on Somnath Bharti by BJP thugs the next day in Benaras. Most channels – with the exception of CNN-IBN did the same. Times Now of course took the cake – its running text at the bottom of the screen merely said "Somnath Bharti Heckled in Varanasi". Heckled? He was physically attacked, but for the propaganda machine, that was not news.
The bottom line is this: What was once merely 'bias in reporting', often conflating news with opinion, has now acquired an altogether new and dangerous dimension. The Big Media is no longer 'media' in the sense that we understand it. It is now a full-blown propaganda machine of Modi-fascism. One need only look at the complete black-out of the massive turnout in Benaras at the time of Kejriwal's filing of his nomination.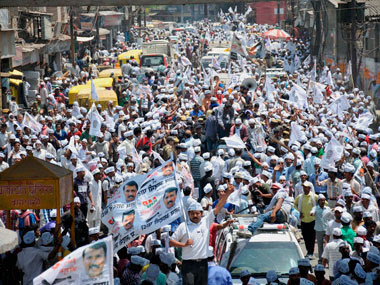 Benaras AAP turnout
The only time one gets some idea of a party like the BSP, for example, is when Ravish Kumar takes us on his tours across the Hindi heartland – where voters are angry that their party has been blacked out.
There is no 'wave' once you leave the highway – which is as far as the propaganda machine manages to reach.
Read more here — http://kafila.org/2014/04/24/modi-fascism-and-the-rise-of-the-propaganda-machine/