Manisha Sethi: Modi has long used fake terror threats to project himself as the Hindu Hriday Samrat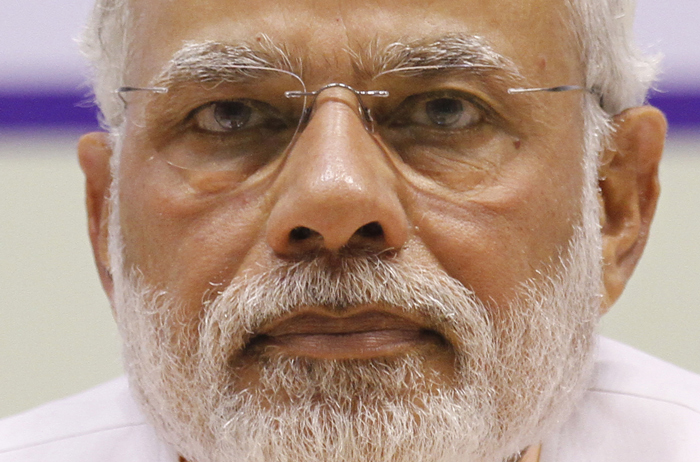 PHOTO: GETTY IMAGES
First there was love jihad. On TV every afternoon and evening, lumpens, ideologues and sophisticates alike rattled off figures of thousands, if not lakhs of gullible – and presumably idiotic – Hindu women being seduced into converting to Islam.
When love jihad was squeezed and spent for all its worth, along came cows, the other staple in the Hindutva arsenal. Goans can eat beef, as can residents of Meghalaya; Malayalis too shall pass. Only Muslims can't. Shouldn't.
In the perverted semiotics of the Sangh Parivar, "Sabka  Saath, Sabka Vikas" was never meant to be more than a gift-wrapped version of "pseudo-secularism". It was offered to liberals who frenziedly embraced it to show how the BJP under Narendra Modi had transcended its narrow exclusive worldview.
It was merely the mad fringe that had to be contained. And surely the tough-man-on-the-job would reign it in. For didn't he have a "development" agenda? (Never mind, too, that the mad fringe was opening debates in the parliament on behalf of the ruling party.)
Loud and clear
Over the past few days, many of these liberals have been despairing about the worsening communal atmosphere in the country. Some feeling betrayed — their delicate sensibilities hurt by the surfeit of crudity — are seen quietly abandoning the ship. The "light of Benaras" seems to have dulled. Still others continue to entreat their hero to speak up and silence the stormtroopers.
But really, he hasn't been silent. Every time his chopper has landed in Bihar, he has mobilised the entire array of tropes of communal toxicity that have been concocted yet. Lalu Yadav was a false Yaduvanshi, he thundered, playing on his beef remark.
Giriraj Singh quickly followed with the warning that Hindus will be forced to eat beef if Nitish formed the government; Sushil Modi promised an anti-cow slaughter law.
Modi's Mian Musharraf taunts were menacing; overuse of 'Pakistan' only evokes mirth: Manisha Sethi
Modi resorted to the old Hindutva strategy of securing a vertical unity across castes by raising the spectre of the Muslim. The prime minister told the OBCs and EBCs that he was one among them (there was a slight confusion over which category precisely), warning them that Lalu and Nitish were conspiring to shrink their share in reservation by including "another community".
The next day, a BJP advertisement threw away all restraint and even named the community: "Daliton, pichchadon ki thali kheech alpasankhyakon ko aarakshan parosne ka shadyantra kya sushashan hai?" (Yes, we can split hairs over whether alpasankhyak means Muslim or not, but its moot).
This raises a question on the constitutional literacy of the prime minister and his party. They seem completely ignorant about how reservations work and what groups are included in the state and central lists.
Thankfully for now, the Election Commission has recognised the corrosiveness of the ad and directed the media not to carry it. That, however, didn't stop the prime minister from repeating the threat of Muslims usurping backward Hindus' quotas in his Muzaffarpur rally.
The die is cast
This is an election in which the media has been bemoaning the "return of caste". Every anchor who must perforce lament how the real question of development has been pushed to the back burner by the Grand Alliance's "backward-forward" divide remains surprisingly untroubled by the prime minister's utterances.
Because make no mistake, 'vikas' itself is a code. A code that allows you to punctuate rank communalism and caste privilege with pious phrases like bijli, sadak, pani, industry.
And then there is terrorism and Pakistan. In what seems like one communal ad per day strategy, the "reservation ad" was followed by a terror-themed ad. It asked: "Why do Jaish-e-Mohammad, Hizb-ul-Mujahideen and other terror outfits find Bihar a safe place? How could Indian Mujahideen's Tehsheen Akhtar move around with the laptop of al Qaida to sow the seeds of terrorism in Madhubani, Samastipur and Muzaffarpur? Why is ISI and LeT spreading its tentacles in Darbhanga, Madhubani, Champaran, Saharsa, Purnia and Muzaffarpur?"
And then, it accused Nitish of going "soft" on terrorism in order to reap votes and appease a community, thus identifying "terrorists" with Muslims.
Again, none of this is new.
In the immediate aftermath of the 26 November 2008 attacks in Mumbai, and just ahead of the general election in 2009, huge advertisements appeared in newspapers with the tag line: "Brutal terror strikes at will. Weak government, unwilling and incapable. Fight terror. Vote BJP."
Campaign of fear
Indeed, Modi's electoral strategies have long included terror threats. Between 2002 and 2007, Gujarat super-cop DG Vanzara eliminated a series of "terrorists" out to assassinate Modi. Among these were Sadiq Jamal in 2003, Ishrat Jahan in 2004, Sohrabuddin Shaikh in 2005 and Tulsiram Prajapati in 2006.
Cases filed under the Prevention of Terrorism Act, or POTA, also surged during this period as scores of Muslims were arrested for plotting to kill Modi or other BJP leaders. The most gargantuan of these was the case known as DCB 6, registered in April 2003. The list of accused men continued to expand well after the chargesheet had been filed and POTA had been repealed.
Manisha Sethi: Modi has long used fake terror threats to project himself as the Hindu Hriday Samrat
All these strategies had the effect of building and burnishing Modi's image as the Hindu Hriday Samrat forever in the firing line of "Islamic terrorists". And forever the embodiment of muscular nationalism. Who can forget his chilling call to an exultant crowd: "what should have been done to Sohrabuddin?" The crowd screamed back: "He should have been killed".
He alone, we were told, would provide us redemption from terrorism, unbothered and unfettered as he was to the niceties of "minority appeasement" or "sickularism".
Even before to the last year's general election, a delegation of BJP leaders met with the then home minister, urging him to take cognizance of media reports based on IB sources that there was a terrorist threat to Modi and other BJP leaders. A simple internet search would yield that the said "media reports" were emanating from Niti Central, a web portal that is part of the larger Parivar.
Most recently, Amit Shah ominously declared that Pakistan would celebrate Diwali on 8 November should the BJP lose the Bihar election. Modi's Mian Musharraf taunts once had a menacing tone to them; the overuse of 'Pakistan' now only evokes mirth.
Like even the most proven formula can never guarantee the box office success of a film, the tried and tested formula of beef, jihad (love or otherwise), Pakistan, 'macho leader' cannot always ensure electoral harvests.
But excuse me now. I have to go and stock up on firecrackers.
http://www.catchnews.com/pov/modi-isn-t-silent-dear-liberals-he-s-shouting-all-toxic-hindutva-tropes-1446313231.html