When Indian journalist Gauri Lankesh was fatally gunned down by unknown assailants on the doorstep of her Bangalore home one night last September, the nation was appalled.
The killing, which Lankesh's supporters believe could only have been politically motivated, silenced one of India's most fearless critics of a rising tide of right-wing Hindu extremism. The 55-year-old was buried with full official honors in her home state of Karnataka, with the state's Chief Minister Siddaramaiah condemning her killing as an "assassination on democracy." The hashtag #GauriLankeshMurder became a top trending topic on Twitter, and people throughout India paid tribute to her life.
But there was another, darker side of Indian politics on full display that day.
"A bitch died a dog's death and now all the puppies are wailing in the same tune," tweeted Nikhil Dadhich, a textile trader from the city of Surat, in Hindi. Though Dadhich's abusive tweet was hardly unique — it was one of a flood of hateful comments posted by trolls on Twitter that day — it stood out in one important respect: Dadhich happens to be one of the 1,859 Twitter users followed by Indian Prime Minister Narendra Modi.
The episode shone a spotlight the cozy relationship between Modi's nationalist government and the hordes of right-wing trolls that have come to dominate the Indian internet in recent years, creating a climate of growing intolerance and abuse, and a unified outrage army for the controversial leader.
The rise of this "troll army" — some of whose members are followed by the prime minister's official Twitter account, and which some journalists allege is coordinated by his party's social media team — has created what Amnesty International India's program director Asmita Basu calls "a culture of excessive online trolling and abuse."
Their attacks on minorities, women, journalists, and anyone who opposes the government's right-wing nationalist agenda have unleashed a wave of hatred that is coarsening India's politics and testing the country's traditions of tolerance, observers say.
"It's being used to create a divide in the social fabric of this country, and that's extremely dangerous," Pratik Sinha, founder of the Indian "fake news"–busting website Alt News, told VICE News.
"A NATURAL FIT"
Twitter is a natural fit for Modi, a leader who favors one-way communication, says Indian journalist Swati Chaturvedi, who has closely followed the social media operations of Modi and his Bharatiya Janata Party (Indian People's Party, or BJP).
Besides his active Twitter feed and Facebook account, Modi also communicates with voters through his radio show Mann Ki Baat (Mind's Voice), an app that gives updates on his life, and the occasional interview with government-friendly media outlets.
But he never holds press conferences, a characteristic that distinguishes Modi from his American counterpart. "Trump also values Twitter a lot — but even Trump holds press conferences," Chaturvedi said.
The one-way appeal may explain, in part, why despite the criticism he has received for following trolls, Modi has made no effort to renounce or even unfollow abusive supporters. When Modi's habit of following trolls became an issue in the wake of Lankesh's killing, the BJP's IT head Amit Malviya issued a statement framing it as freedom of expression, and a reflection of Modi's status as a leader with the common touch.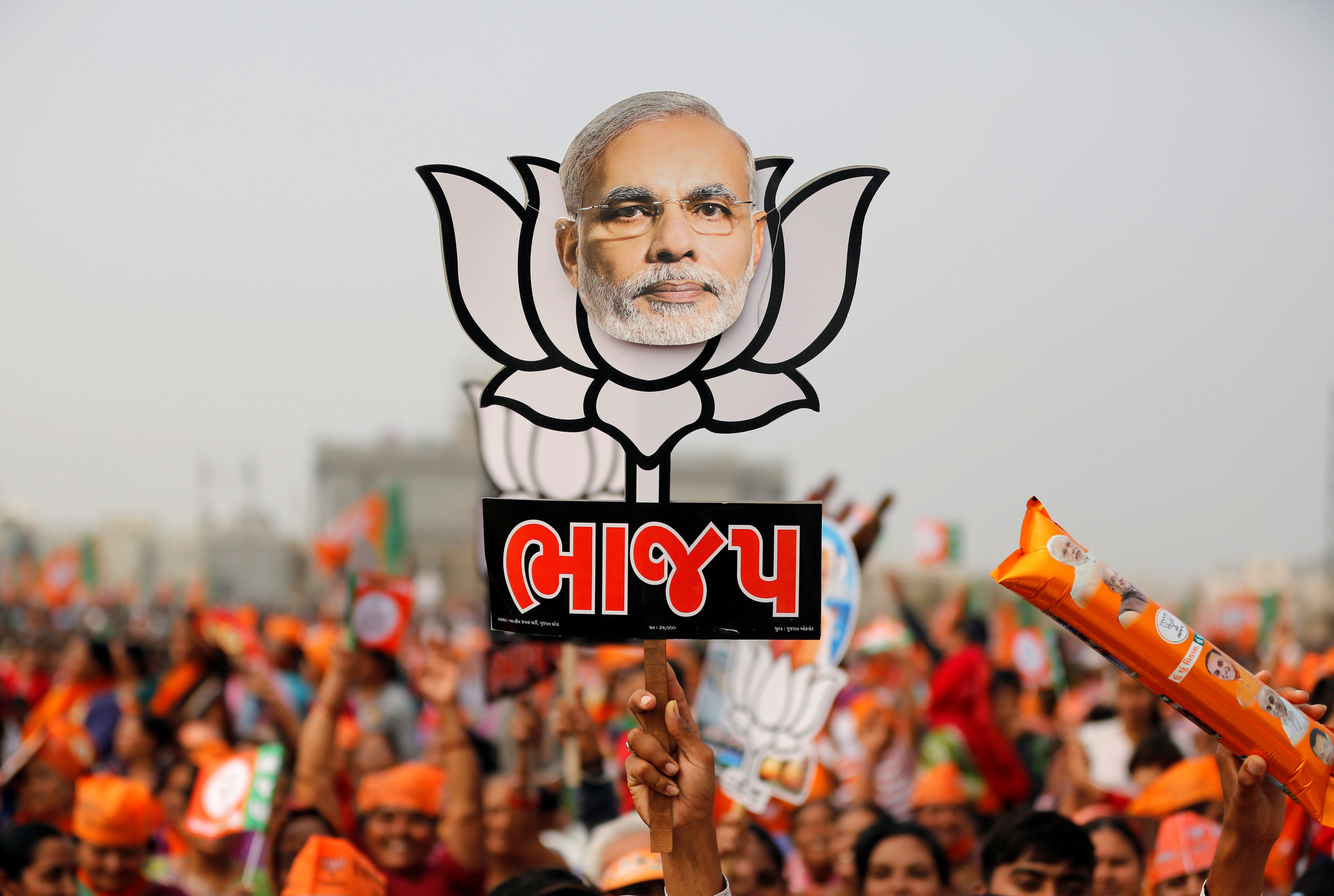 "He follows normal people and frequently interacts with them on various issues," Malviya said. "He is a rare leader who truly believes in freedom of speech and has never blocked or unfollowed anyone on Twitter."
But to Sinha, and many others, the BJP's response missed the point. "It doesn't make sense, because if you unfollow somebody, you're not taking away their freedom of expression," he told VICE News. "They can continue doing what they're doing online, depending on Twitter policies. But there's no reason why a prime minister should validate these people."
"ENTHUSIASTIC ADOPTERS"
Modi — who has nearly 40 million Twitter followers — and the BJP have been enthusiastic adopters of social media. They surged into office in 2014 on the back of an unprecedented social media mobilization campaign, becoming the first Indian political party to harness the power of the technology to bypass mainstream press and connect directly with a new generation of supporters. In the three years since, those supporters have become some of the BJP's most valuable assets, experts said, aggressively pushing the party's messaging online and attacking anyone who opposes their platform.
"Anyone who doesn't agree with them is given special attention, sent death threats, rape threats, sexually harassed."
Today, alongside politicians, business leaders, and journalists followed by Modi are many right-wing trolls, for whom a co-sign from the 67-year-old leader represents an important, if implicit, endorsement of their racist and sexist abuse.
"They write in their Twitter profile: 'Blessed to be followed by PM Modi'," Chaturvedi says.
And this support hasn't been reserved to the digital sphere. Modi even rolled out the red carpet for some of them when he hosted 150 of his most important online supporters at a reception at his official residence in July 2015, shaking hands with trolls who had tweeted insults like "u r product of a rape" against people online.
"It's a way of telling them 'You have my blessing,'" says Chaturvedi, who calls Modi's implicit support of abusive trolls "crazy." "Why would he follow handles that tweet out death threats, rape threats, incitement? There's not a single other world leader that does it — not even Trump."
Chaturvedi, who has written a book on the subject — "I Am a Troll: Inside the Secret Digital Army of the BJP" — argues that the trolls are in fact an integral part of the BJP's political apparatus. She has spoken to dozens of BJP volunteers who told her the troll army's attacks on political opponents are coordinated and directed by the party's powerful social media team, using WhatsApp groups to orchestrate the trolls' messaging.
"They have hit lists of people they want targeted — including political opponents, journalists with a different viewpoint. Anyone who doesn't agree with them is given special attention, sent death threats, rape threats, sexually harassed," she said.
The BJP and the Prime Minister's Office did not respond to multiple requests for comment on this story. But the former head of the party's social media unit, Arvind Gupta, has previously denied Chaturvedi's allegations, saying that the party never encouraged trolling, and had published social media guidelines on its website.
A DEADLY CULTURE WAR
While Chaturvedi says she fears the tensions stoked by the trolls could soon provoke deadly riots, human rights groups warn that the right-wingers are already succeeding in another central part of their culture war: silencing opponents.
"That's when I started realizing, 'Wow, my country's changing for the worse.'"
"With Hindu nationalists trying to purge all manifestations of 'anti-national' thought from the national debate, self-censorship is growing in the mainstream media," says the media watchdog Reporters Without Borders in its latest report on India. And Amnesty International's Basu says the abuse is deterring women and minorities from voicing their political opinions.
"The abuse targets women's sexuality and reduces women to sexual objects, reinforces gender stereotypes, and perpetuates intolerance based on their membership of specific marginalized groups," she told VICE News.
Chaturvedi's book includes the account of one such former BJP supporter, 38-year-old market researcher and brand consultant Sadhavi Khosla, who volunteered her time on the BJP's campaign ahead of the 2014 election. Khosla told VICE News that after more than a year acting as a vocal online cheerleader for Modi, who she thought would bring positive change for India, she gradually became disillusioned with the constant attacks on the party's targets.
"I never thought of these Bollywood superstars from my childhood as Muslims. Suddenly the BJP's right-wing supporters were targeting them as terrorists —– they're Muslims, so they're terrorists," she said. "That's when I started realizing, 'Wow, my country's changing for the worse.'"
Cover image: India's Prime Minister Narendra Modi gestures as he speaks during the Opening Plenary during the World Economic Forum (WEF) annual meeting in Davos, Switzerland, January 23, 2018. (REUTERS/Denis Balibouse)
 https://news.vice.com/en_us/article/zmqaq3/modi-might-be-the-only-world-leader-whose-twitter-use-is-more-problematic-than-trumps?utm_source=vicenewstwitter