'The category of crime and criminals called Maoist or Naxal or #UrbanNaxals is an illegitimate creation of right-wing propaganda media frenzy.'
'It is a fiction repugnant to the Constitution and the law of the land,' argue Vernon Gonsalves and Arun Ferreira.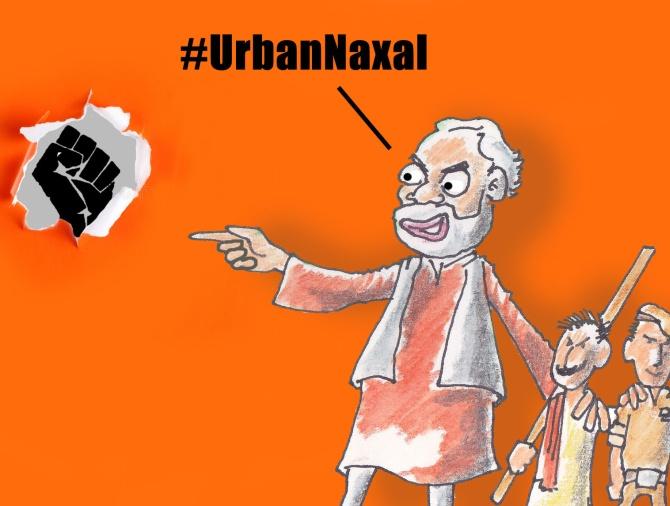 'Urban Naxal' or #UrbanNaxals has long been the favoured pelting pebbles of Sangh Parivar social media operators, first deployed on Delhi Chief Minister Arvind Kejriwal and then put to much wider use against a range of intellectuals, media-persons and others perceived to be unaccommodating toward the BJP-Rashtriya Swayamsevak Sangh agenda.
Arundhati Roy and Barkha Dutt, Prashant Bhushan and Rajdeep Sardesai, Shekhar Gupta and several others have been at the receiving end of such branding.
However, such labelling of well-known personalities being pathetically facetious, the phenomenon remained for long beyond the fringes of serious public discourse.
2018: Government acting in consonance with troll brigade
The year 2018, on the other hand, has seen some change.
The political and police establishment, which had till then shown only low-key approval for the #UrbanNaxals phraseology, started taking active steps which seemed to run in consonance with the cant of the rightwing cyber brigade.
NOTIFY ME WITH SIMILAR STORIES
More like this

'Biggest-ever successful anti-Naxal operation in India'

Post Bhima Koregaon, the road for Indian politics
In Maharashtra, this appeared as the ruling regime's response to the rise of an anti-BJP multi-caste alliance (external link) around the commemoration of the 200th anniversary of the battle of Bhima-Koregaon that vanquished Brahminical Peshwa rule.
Its call to bury the New Peshwai — a figure of speech for the present rulers — seemed too real for the Sangh Parivar to remain without response.
The Sangh's opening gambit of organising violent attacks (external links) by saffron flag-wielding upper caste mobs on the predominantly Dalit congregation at Bhima-Koregaon failed to result in the widespread caste riots and polarisation that it desired.
It in fact backfired and only led to an expansion and consolidation of the opposition, with state-wide protests and a bandh and a demand for the punishment of Hindutva organisation leaders, Sambhaji Bhide and Milind Ekbote, who had been named in the First Information Report.
Diverting attention away from the actual attackers
It was then that the BJP troll teams and right-wing fake-news (external link) Web sites like postcardnews.com immediately launched Plan-B.
It was to divert attention from the actual perpetrators of the violence, onto some of their favourite whipping boys — Gujarat MLA Jignesh Mevani, JNU student Umar Khalid and Pune's Kabir Kala Manch — who had spoken and performed at the Elgaar Parishad programme held a day earlier, 30 kilometres away at Pune.
They alleged that these constituted a Naxal-Maoist hand that was behind the violence, but made no attempt to explain the strange logic of how speeches and songs by those they called #UrbanNaxals could be responsible for motivating and mobilising violent saffron-flaunting mobs.
This thus would have safely remained in the realm of the ridiculous had it not been for the way the government and administration promptly picked up this narrative.
Police machinery takes cue from right-wing propaganda machine
As if on cue, within 24 hours of the right-wing propaganda on #UrbanNaxals, we had police officials mirroring it and telling the Times of India (external link) that 'security agencies suspect that the Bhima-Koregaon episode may have been planned and executed by urban Naxal cadres' and that 'a Nagpur-based senior woman member of a front organisation too took part in the "Yalgar Parishad" — a likely reference to the now-arrested Professor Shoma Sen.
The same report has Maharashtra Chief Minister Devendra Fadnavis giving his nod to a probe in this direction.
This was all being spoken to the press at a time when the only FIR (external link) registered had clearly identified the right-wing Hindutva organisations and their leaders who were responsible for the violence.
It had taken just about 48 hours for the higher echelons of the state machinery to decide to follow the path first plotted by extreme right-wing Web warriors.
With the storyline decided, things started rolling as per script.
By January 8, 2018, the story invented from above was composed into a new FIR(external link), which was registered in Pune city's Vishrambaug police station against the now-arrested Sudhir Dhawale and five others of the Kabir Kala Manch.
Four days later, the Maharashtra Anti Terrorist Squad (external link) registered its own FIR in Mumbai and arrested seven Dalit, Telugu-speaking, worker union activists, claiming to the press that they were Maoists associated with the Bhima Koregaon violence.
By February the original accused, Milind Ekbote, jumped onto the #UrbanNaxals bandwagon and started mouthing the Pune city police's version, blaming Naxals and Leftists (external link) for his own actions being investigated by the Pune rural police.
In March, the Pune city police added the charge of conspiracy to its FIR of January 8, indicating that they wanted to implicate many more people who had not even been present during the Bhima-Koregaon events.
This they followed up with search and seizure operations on April 17 across four cities — Pune, Mumbai, Nagpur and Delhi — and subsequently, the June 6 arrests under the Unlawful Activities (Prevention) Act (UAPA) of five activists from Mumbai, Nagpur and Delhi.
#UrbanNaxals trends at #1
Amidst mysteriously manufactured (external link) letters fueling BJP accusations of Congress funding for Maoists and media hysteria of PM assassination plots, the hashtag #UrbanNaxals soon started trending at #1 (external link) on Twitter.
A term, hitherto the staple of right-wing trolls, became mainstream.
It appeared on official police Twitter handles and at high-level police press conferences, prime time debates and print media headlines.
Its use spread.
Petty trollery rapidly grew to petty tyranny of government functionaries in a number of states, who resorted to the #UrbanNaxal tag to justify the threat of, or the actual application of draconian provisions like sedition or the Goondas Act or UAPA.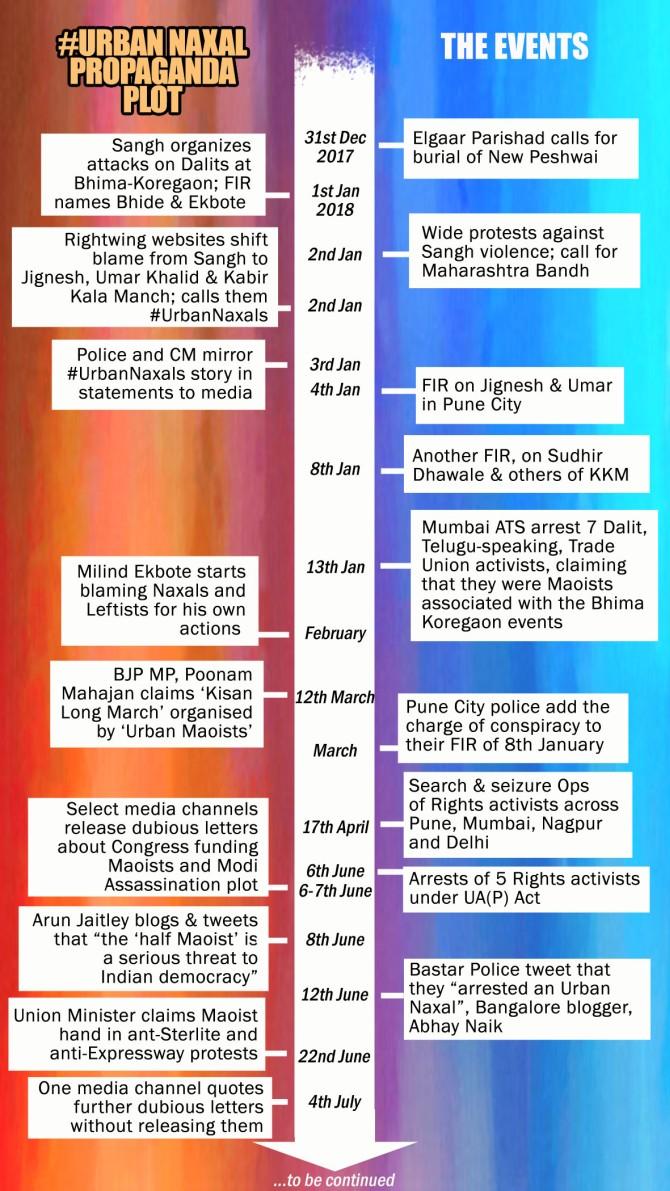 BJP MP Poonam Mahajan (external link), claimed that the March 2018 'Kisan Long March' to Mumbai was propelled by 'Urban Maoists'; the Bastar police(external link) arrested a Bangalore-based blogger and tweeted that they had got an Urban Naxal; Union Minister from Tamil Nadu Pon Radhakrishnan (external link) provided the 'Urban Maoist' justification for the arrest of an advocate for the agitation against Sterlite's polluting copper plant in Thoothukudi (external link), and sedition charges against environmentalists and students for protesting against the Chennai-Salem (external link) expressway.
Undefined #UrbanNaxal is a handy propaganda weapon
Each use of the #UrbanNaxals tag, however, has rarely if ever been justified with reference to the law of the land.
As former additional solicitor general Indira Jaising (external link) rightly pointed out on a prime time programme, 'The word "urban naxal" does not exist anywhere in law. It is something only coined by the BJP.'
The BJP's coining and usage of the term is, however, slippery and changes according to its immediate needs.
The nearest to an authoritative BJP understanding came when, two days after the June arrests, Arun Jaitley tried to define an associated term of his own coinage. He tweeted (external link) that, 'The "half Maoist" is a serious threat to Indian democracy and blogged (external link) that he had analysed this in the Rajya Sabha 'whilst in the Opposition during the UPA II'.
A perusal of the official Rajya Sabha debates of 15th April, 2010 (external link), where Jaitley, as Leader of Opposition, made his analysis, shows a different usage of the term 'half Maoist' then than now.
At that time he had used 'half Maoist' for those in the Treasury benches (external link), like Digvijaya Singh, Mani Shankar Aiyar and even Mamta Banerjee, who he tried to show up as opposed to Home Minister P Chidambaram.
His 2018 blog, however, now uses the term for those who he said, 'have captured the human rights movement in several parts of the country but always lend support to the Maoist cause.'
Different priorities today probably call for an opportunist shift to a different definition.
The definition in the Organiser, the organ of the Rashtriya Swayamsevak Sangh, is patently meaningless. Vivek Agnihotri, author of the book Urban Naxals, in an interview with Organiser says,
'Who is an Urban Naxal? Well. It's not as difficult as it may seem to identify an Urban Naxal. They are mostly invisible and are mixed in crowd. Anyone can be a naxal. You may feel secure that your child is with his professor for tuition but what he is learning is Urban Naxalism. They use doubt as a weapon to create confusion and chaos.'
On further questioning he lists two characteristics, 'First, anyone who is not willing to give any space to Hindu civilisation' and 'Second, legal activism'.
The only thing that comes clear from the Organiser and Jaitley definitions is their deliberate vagueness.
'Urban Naxal' and 'half Maoist' seem merely to be handy weapons with which to browbeat an opponent with their meaning changing to suit time and situation.
UAPA used in violation of Supreme Court rulings
State agencies using the 'Urban Naxal' terminology do not seem to need any definition in law for the labeling, implicating and arresting they have done so far.
Faithfully following the prompting of the Organiser-Jaitley definitions, the police have targeted human rights legal activists whom they see as inimical to Hindutva and government policies and have slapped charges of membership of the CPI-Maoist — a crime under UAPA.
This easy branding and incrimination are made possible by the arbitrary wording of UAPA, which outlaws thought and criminalises association, merely by a notification of the State proscribing a particular organisation.
Such lawmaking obviously runs counter to the very essence of democracy and Constitutional rights.
This doctrine of 'guilt by association' has been unequivocally rejected by the Supreme Court (external link).
The apex court has ruled, 'the provisions in various statutes i.e. 3 (5) of TADA or Section 10 of the Unlawful Activities (Prevention) which on their plain language make mere membership of a banned organization criminal have to be read down and we have to depart from the literal rule of interpretation in such cases, otherwise these provisions will become unconstitutional as violative of Articles 19 and 21 of the Constitution.
It has explicitly held, 'mere membership of a banned organisation cannot incriminate a person unless he is proved to have resorted to acts of violence or incited people to imminent violence, or does an act intended to create disorder or disturbance of public peace by resort to imminent violence.'
It is no one's case that the arrested Bhima-Koregaon five were anywhere involved in violence or incitement to imminent violence.
Their arrest therefore is violative of the Constitutional constraints imposed by the Supreme Court for applying UAPA.
Following the lead of the top court, the Kerala high court (external link) has defined the Constitutional position more explicitly,
'Being a Maoist is no crime… Police cannot detain a person merely because he is a Maoist, unless police forms a reasonable opinion that his activities are unlawful.'
Thus, the category of crime and criminals called Maoist or Naxal or #UrbanNaxals is an illegitimate creation of right-wing propaganda media frenzy. It is a fiction repugnant to the Constitution and law of the land.
However, police officials, who have, with steady circulation of fabricated letters, invested deeply in the project to pump up the fraudulent #UrbanNaxals narrative, will clearly not make any attempt to understand and abide by Articles 19 and 21 of the Constitution.
They are even less likely to try and understand the relevance and implications of Article 19 of yet another Constitution — the party constitution (external link) of the CPI-Maoist.
This article states that 'Every member must be ready to participate and play a vanguard role in class struggle in the form of armed agrarian revolutionary war'.
The Bhima-Koregaon five charged with membership of CPI-Maoist, being in urban professions, are incapable of fulfilling the membership condition of leading 'armed agrarian revolutionary war'.
The CPI-Maoist, which is reportedly (external link) strict in implementing its rules, could not admit such persons as its members.
This itself should be sufficient to question the flimsy basis for the police charges on those arrested.
It also indicates the utter frivolousness of the propaganda that claims there are Urban Naxals around every corner. A party with the above demands of its members is hardly likely to have any members in urban intellectual circles.
This logic, however, is not remotely likely to influence either the Sangh troll brigade or the police authorities who have acted in their wake.
The police continue to fake and leak newer letters with fewer takers, while threatening to take more human rights defenders behind bars.
The cyber gang pushing #UrbanNaxals continues to reach new frontiers of fanaticism.
One follower of Agnihotri even anointed the top woman capitalist of the country, Kiran Mazumdar Shaw (external link) as an #UrbanNaxal.
Agnihotri himself was found calling the United Nations (external link) 'nothing but a hiding place of #UrbanNaxals'.
No limits to the ludicrous in this theatre of the absurd.
http://www.rediff.com/news/column/a-propaganda-tool-called-urbannaxal/20180713.htm