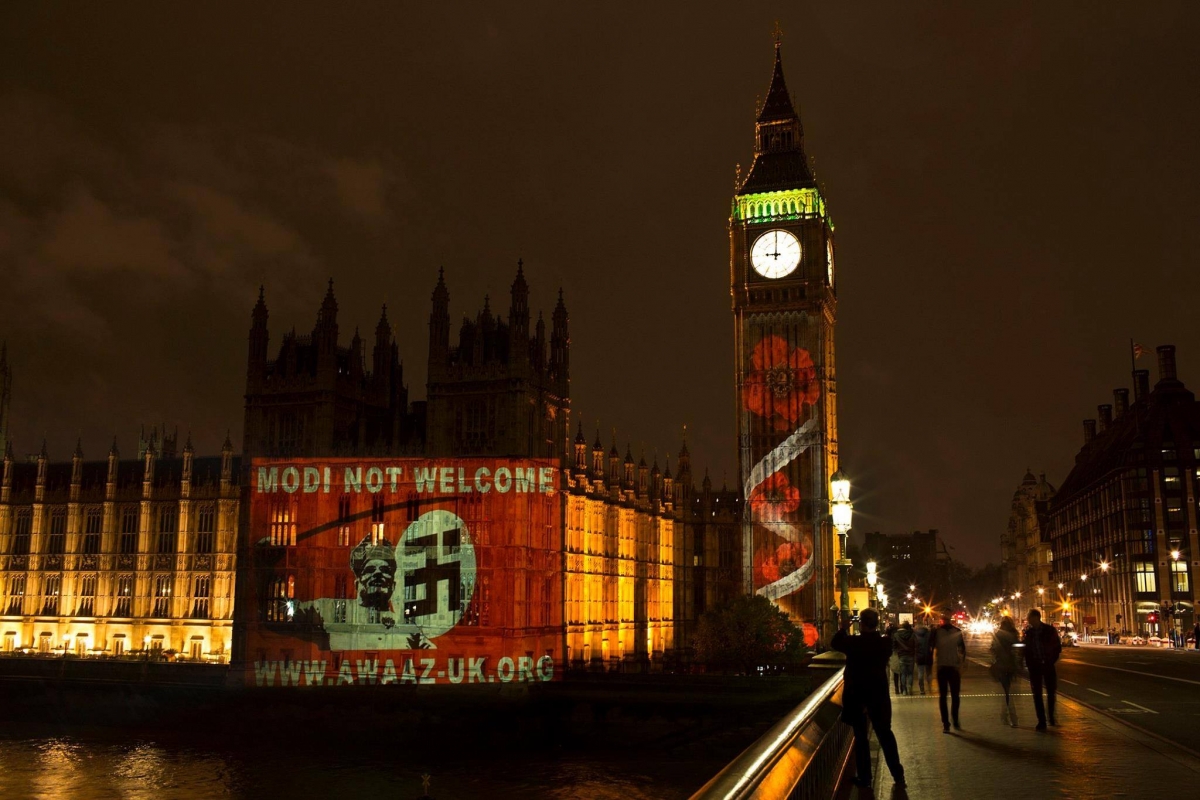 British Indians projected the words "Modi not welcome" onto the Houses of Parliament building on Sunday evening (8 November) in a bold show of protest against the Indian Prime Minister's visit to the UK next week. Narendra Modi will be the first Indian Prime Minister to visit the UK in nearly a decade when he lands on 12 November.
The Awaaz Network have been leading the protest movement against Modi's UK visit, mobilising people to join them in a protest march against the Prime Minister on the day he is scheduled to speak at British Parliament. The projection showed Modi wielding a sword in front of "an OM sign that is tragically being transferred to a swastika", said a spokesperson from Awaaz.
"[Narendra Modi] wants to sell the idea of a 'Digital India', a 'clean India' and a developed and self-sufficient India," a spokesperson for the Awaaz Network said. "The reality is the unleashing of a violence authoritarian agenda that seeks to undermine India's democratic and secular fabric."
As the anti-Modi projection lit up Parliament, Awaaz Network tweeted that the Prime Minister "has overseen the pre-planned killings of innocents in Gujarat". The group are referring to the 2002 Gujarat riots, where inter-communal violence killed more than 1,000 people, mostly Muslims.
A number of different organisations have joined Awaaz Network to support the campaign against Modi, such as South Asia Solidarity Group, Sikh Federation UK, Southall Black Sisters, Dalit Solidarity Network UK, Indian Muslim Federation, Indian Workers Association, Muslim Parliament, and Voice of Dalit International. On Saturday (7 November) Nobel laureate Amartya Sen also urged the UK to question Modi during his visit.
Modi, who was Chief Minister of the west Indian state at the time, was accused of initiating and condoning the violence. It resulted in Britain – along with the US and other European countries – implementing a 10-year diplomatic boycott on Modi, during which he was not allowed to enter the UK. However, in 2012 the Supreme Court of India cleared Modi of involvement in the riots and Britain subsequently lifted the ban on him.
Controversy around Narendra Modi in the UK
Modi's visit to the UK comes at a controversial time in the Prime Minister's leadership as many have begun questioning him about his silence over recent unrest in India. In October more than 40 Indian writers returned top national awards in protest over a "climate of intolerance" under Modi's rule in India. At the same time, more than 40 British MPs have signed an Early Day Motion calling on David Cameron to address human rights issues in India with Modi. Newly elected Labour leader Jeremy Corbyn is among those to sign the motion.
Paul Monaghan of the Scottish National Party (SNP), who sponsored the motion, told IBTimes UK: "While I recognise and respect the right of the people of India to develop their culture and society as they see fit, I would equally, with the greatest of respect, ask political leaders in India to review the circumstances surrounding the hunger strikes and other protests currently being undertaken by individuals fighting for recognition of human rights in that country."
India unrest
There has been ongoing unrest in India over the last few months over laws that are being emplaced to protect cows from slaughter. Modi's Hindu nationalist party, the Bharatiya Janata Party (BJP), has pushed to strengthen laws banning beef in a number of states, causing uproar among other religious groups in India.
Several cases of violence have come to light involving Hindu mobs targeting people they suspect could be harming cows. Modi has been widely criticised for remaining largely silent on the attacks.
http://www.ibtimes.co.uk/modi-uk-visit-british-indians-protest-indian-prime-minister-projection-onto-parliament-1527815