Access information on Events, Protests, Rallys, Teach-ins and more
June 21st Morning – RALLY AT THE UNITED NATIONS
Show Modi that NYC does not stand with him and Hindutva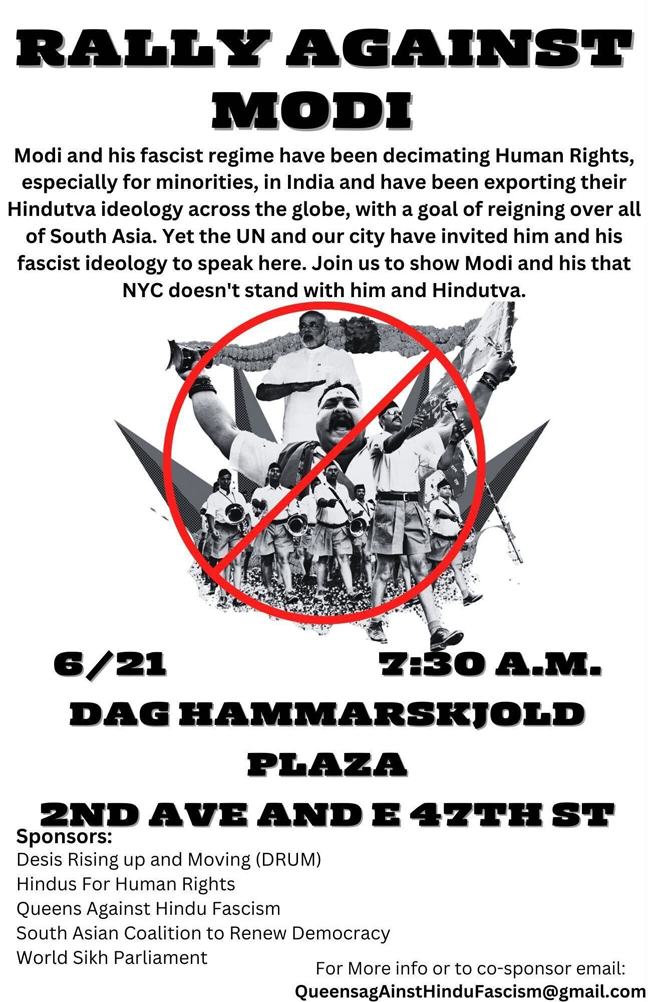 JUNE 21st Evening NYC FUNDRAISER
a gathering that highlights the growing concern about India – the world's largest "democracy" – as it moves steadily towards autocracy.
President Biden has invited Indian Prime Minister Modi to a State Dinner on June 22nd. President Biden said he wants India and the US to build a freer Indo-Pacific. But Modi is the wrong man for the job. Read our open letter to President Biden and sign on here!
Dear President Biden:
As Indian Americans, human rights activists, and concerned allies, we are writing to urge you to engage publicly and meaningfully to push back against the Indian government's escalating attacks on human rights and democracy, especially ahead of Prime Minister Narendra Modi's state visit to the United States.
Despite objective evidence that India's democracy is under critical attack, you have not spoken out about this crisis. In early 2023, Indian authorities conducted retaliatory raids on the BBC's Delhi and Mumbai offices for releasing a documentary about Prime Minister Modi. The week before the Summit for Democracy, the Bharatiya Janata Party expelled Rahul Gandhi from Parliament, the Indian government shut the internet down in Punjab, and the Indian Supreme Court ruled that Indians can be found guilty by association for terrorism. And yet, not one representative from the Biden Administration said anything about even one of these developments. Instead, while sectarian violence gripped India in late March, you invited Prime Minister Modi to speak at the Summit for Democracy. Mr. Modi visits DC at a time when the state of Manipur has experienced heavy communal violence after Modi's ruling party pushed an initiative to undermine Indigenous rights in the state.
Even when confronted with questions by Indian reporters about human rights in India, your administration has only had private two-way conversations about how both of our governments can always improve. Quite frankly, we find it unacceptable to see such equivocation on Indian democracy from an administration that has been strident in its defense of American democracy and the rule of law.
India is one of the fastest autocratizing nations in the world, mostly thanks to the current government. Freedom House said that India is a "Partly Free" country, and has blamed Prime Minister Modi's government for a rise in discriminatory policies, persecution against Muslims, caste-based violence against Dalit and Adivasi communities, harassment of civil society, and the targeting of political opponents. The Varieties of Democracy Institute characterizes India as an "electoral autocracy" and blames India's descent into autocracy on Prime Minister Modi. And the U.S. Holocaust Memorial Museum has said India has been one of the top 15 countries at risk for a mass atrocity event every year since 2017, which reflects the toxicity of Indian politics under Modi.
Given the urgency of this crisis, we ask you to engage directly with Indian-American and human rights civil society leaders to explore solutions to address India's human rights crisis. We also ask you to employ the tools at your disposal to ensure that the Indian government cannot attack Indians' human rights with impunity. As the 2022 Bureau for Democracy, Human Rights, and Labor report details, several government individuals have committed human rights violations that, under U.S, law, would qualify them to be sanctioned under the Global Magnitsky Act. Indian security forces that have engaged in human rights violations should have security assistance rescinded, under the Foreign Assistance Act of 1961.
Finally, we urge you to publicly call on the Indian government to honor its commitments to human rights, including calling on Prime Minister Modi and his cabinet to halt the use of anti-terror laws to arbitrarily detain political critics. You can publicly denounce the rising numbers of political prisoners and the weaponization of the rule of law in India to shut down criticism. Even if you are not willing to personally criticize the Prime Minister, you have ample opportunity to criticize the Indian government's misuse of public trust and public institutions to consolidate power and undermine the will of the Indian people.
As President of the United States of America, you hold a unique position to lead the fight against authoritarianism. Prime Minister Modi will listen to you when you speak. But he and his allies will only change if you take a stand publicly. We urge you to listen to Indian Americans and ensure that one man cannot steal the futures and the rights of our loved ones in India.
Signed:
Organizations
12Ummah
18 Million Rising
Alliance of South Asians Taking Action
Aotearoa Alliance Of Progressive Indians
Asian Children's Education Fellowship
Bangladeshi Americans For Political Progress
Caribbean Equality Project
Center for Pluralism
Center for Security, Race, and Rights
Chicago Coalition for Human Rights in India
Coalition of Seattle Indian Americans
Collective Knowledge Works
Council on American-Islamic Relations
Council on American-Islamic Relations – Minnesota
Dalit Solidarity Forum
Democratic Socialists of America, Religion & Socialism Working Group
Desis Rising Up and Moving
Emgage Action
Ensaaf
Federation of Indian American Christian Organizations
Freedom Road, LLC
Friends of India – Texas
GEMS USA
Global Bahujan Group
Great Truth
GreenFaith
Hindus for Human Rights
Hindus for Human Rights (Australia-New Zealand)
Hindus For Human Rights UK
India Civil Watch International
Indian American Muslim Council
Indian Muslim Association of Carolinas
Insaf Bulletin
Interfaith Community of Treasure Coast
International Campaign for Justice in Bhopal
International Commission for Dalit Rights
International Network of Democratic Indians Abroad
Islamic Education Center of Lexington
Jewish World Watch
Justice for All
Justice For All Canada
LittleSis / Public Accountability Initiative
Muslim Public Affairs Committee UK
MPower Change Action Fund
Muslim Anti-Racism Collaborative
Muslims for Progressive Values
New York State Council of Churches
North American Network of Malayali Muslim Associations
Pax Christi USA
Peace Action Montgomery
Polis Project
Queer Crescent
Religions for Peace USA
Sikh American Legal Defense and Education Fund
Sikh Coalition
Social Harmony Federation
South Asian American Coalition to Renew Democracy
South Asian Network
United Against Racism and Fascism-NYC
Virginia Muslim Political Action Committee
World Sikh Parliament
Individuals
A Syed
Aadita Chaudhury
Abdul Gundru
Abhi Nimmagadda
Abusaleh Shariff
Ajay Kumar
Amar Shergill
Amrita Shodhan
Amritjit Singh
Anamika Haksar Sahu
Anand Patwardhan
Andrew J. Nicholson
Angana Chatterjee
Angela Rudert
Anjalee Dave
Anjali Enjeti
Anjum Rafiqi
Anne Murphy
Antara Dev Sen
Arjun Singh Sethi
Ashok Daryani
Ashwin Rodrigues
Audrey Truschke
Azra Menon
Balaji Narasimhan
Brian A. Hatcher
Cedric Prakash
Chad Haines
Charles Shopsis
Chinnaiah Jangam
Choudhri M Naim
Christine Marrewa-Karwoski
David Lelyveld
David Ludden
Deenu S
Deepa Iyer
Dolly Daftary
Eliza Kent
Filipa Vicente
Gaurav Sabnis
Ghanshyam Shah
Govind Acharya
Halima Khan
Hannah Davidowitz
Haripriya Rangan
Harsh Mander
Harsha Ram
Hassan El-Tayyab
Imama Mian
Indira Hirway
Indu Prasad
J. Barton Scott
Joel Lee
John Clifford Holt
John Dayal
Joseph A. Camilleri
Juliet Schor
K Chida
K Ram
Kalyani Menon
Kamran Quraishi
Karan Mahajan
Kavery Kaul
Kiran Desai
Kumar Rao
Kunal Sen
M. V. Ramana
Madhusree Mukerjee
Malini Ranganathan
Mansoor Nooruddin
Maqbool Patel
Masood Ansari
Mohamed Q. Amin
Mohamed Sageer
Mohammed Siddique Pathan
Moideen Moopen
Mrinalini Mazumdar
Mujeeb Puzhakkaraillath
Naureen Akhter
Navina Haykel
Navjot Pal Kaur
Nayaz Ahmed
Nazia Shariff
Neha Ramu
Nikhil Mandalaparthy
Nilita Vachani
Nirmal Kulkarni
Nityanand Jayaraman
Noor Nisar
Noorudeen Aliyar
Odelia D'Souza
Oskar Eustis
P K Vijayan
Parijat Desai
Parvez Khan
Pieter Friedrich
Prasad Venugopal
Pratip Mandal
Priya Chacko
Pushkar Sharma
Quaid Saifee
Rabbi Bonnie Margulis
Rabbi David Wirtschafter
Rachel Fell McDermott
Rahul P.
Raj Kumar
Rajeev Kinra
Raju Rajagopal
Ram Puniyani
Ramya Vijaya
Rashid Makhdoom
Raza Mir
Reshma Nazir
Rev. Abhi Janamanchi
Rev. Chloe Breyer
Rev. Evangeline Anderson-Rajkumar
Rev. Jennifer Butler
Rosa Maria Perez
Ruth Messinger
S. Ansari
Sadaf Afshan
Safoora Zargar
Sahil Kalyani
Sakina Nayaz
Sami Uddin
Samit Chatterjee
Sanjana Rajesh
Sanjay Kanvinde
Sasi Menon
Shabana Hameed
Shabana Mir
Shagufta Hakeem
Shaifali Puri
Shailja Sharma
Shakeel Syed
Shan Sankaran
Shana Sippy
Shayan Malik
Sheldon Pollock FBA
Shima Nayaz
Shruti Ganguly
Simranjeet Randhawa
Sonia Sikka
Soraya Deen
Steven M. Poulos
Sumathy Vijayakumar
Suvir Kaul
Sylvia Vatuk
Tahir Mulla
Tharackandathil O Shanavas
Trisha Chakrabarti
Valarie Kaur
Varsha Gandikota-Nellutla
Veena Dubal
Victor Begg
Vidura Jang Bahadur
Vijay Iyer
William Sites
Xavier Jeyaraj
Zakia Akhtar
Daljit K. Soni, Esq.
Joyce Flueckiger
Ayesha Mehrotra
Rebecca George
Smera Singh
Prateek Paul
Malini Ranganathan
Vivek S
Alekya kumar
Sam Beera
Elizabeth Mangalwadi
Sarah gecus
Paul Sudhindran
Robert De Rose
Roger Samuel
BabuRao Renikuntla
Rishi bayya
Roshani Thakore
Prakash Kashwan
Jessie Monisha
Yogesh Dayma
Probeshika Dutta
Rahul Sen
Bansri Manek
Wajhiulla Smith-Khan
Riti Sachdeva