April 25, 2014 18:23 IST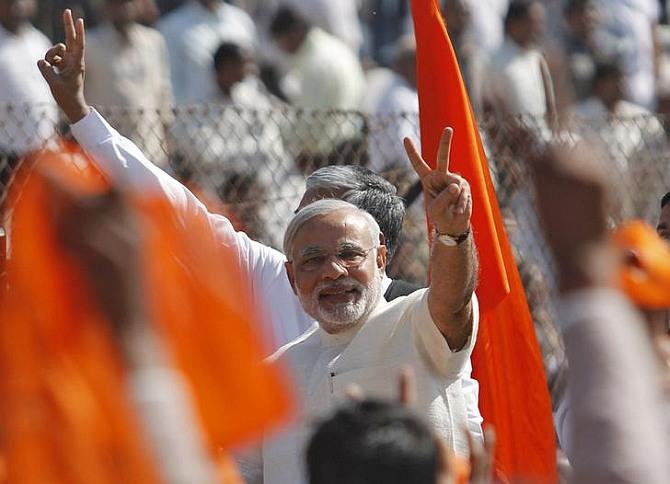 To get such articles in your inbox
Syed Firdaus Ashraf/Rediff.com reports from Lucknow.
Batting for the Congress party, outspoken filmmaker Mahesh Bhatt appealed to voters to safeguard the "unity and diversity of India" by electing the Congress.
Addressing the media along with Rita Bahuguna Joshi, the Congress candidate from Lucknow, Bhatt said, "I am not convinced about the neutrality of (the Bharatiya Janata Party's prime ministerial candidate) Narendra Modi. I feel he is not inclusive enough. Moreover, he does not believe in unity in diversity, which is Mahatma Gandhi and India's ideology."
When asked how he could urge voters to vote for the Congress which has been charged of misruling the country for the last 10 years, the filmmaker said, "It is wrong to say so. I have progressed in the last ten years and so have my maidservant and my dhobi. Everybody has progressed."
His argument was countered by journalists who pointed out that the progress may be applicable to Mumbai, but certainly not Uttar Pradesh, which had been reeling under severe power cuts. "Every part of the country has grown," Bhatt responded, "be it Uttar Pradesh or Assam in the last ten years."
"I can be unhappy with the Congress," he said, "but I cannot give up on its ideology. The Congress may have made mistakes, but their ideology is not wrong. India will not function if you do not believe in unity in diversity."
Emphasising the meeli-juli tehzeeb which he felt, is the Congress's culture, Bhatt said, "Modi talks about Congress Mukt Bharat. I feel this is a fascist ideology. Let me tell you this country can only run on Gandhian ideology; an ideology that does not believe in enmity."
Bhatt's younger brother, film producer Mukesh Bhatt, has been backing Modi. "If you couldn't convince your brother to support the Congress, how can you convince the rest of the country?" he was asked.
Never one to be stranded without a retort, Bhatt replied, "Mukesh has a right to his opinions. Just because he supports Modi, that does not mean he is not my brother."
Rita Bahuguna Joshi, whose father Hemvati Nandan Bahuguna was chief minister of Uttar Pradesh in the mid 1970s, faces a tough contest against BJP President Rajnath Singh in Lucknow, which is considered a BJP bastion.
Read more here — http://www.rediff.com/news/report/ls-election-modis-congress-mukht-bharat-ideology-is-fascist-mahesh-bhatt/20140425.htm