The flagship skilling program PMKVY has been a spectacular failure.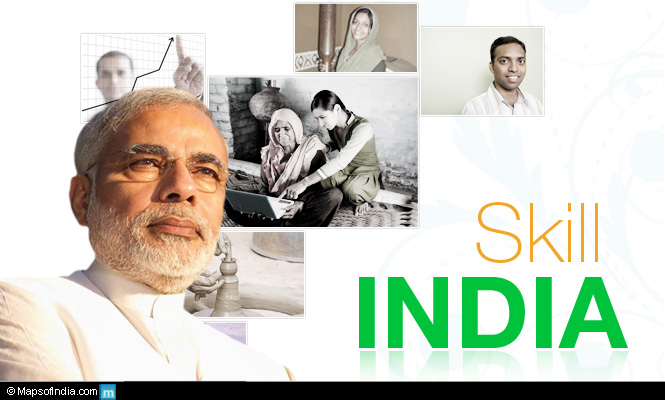 With Rs.12,000 crore funding from the govt., Prime Minister Modi's favourite skill development program has turned into a disaster. Called the Pradhan Mantri Kaushal Vikas Yojana (PMKVY), it has trained 41.3 lakh persons in the past three years. Only 6.15 lakh of them have got jobs, according to a reply given by Dharmendra Pradhan, minister for skill development, in the Rajya Sabha on 28 March this year. That's a placement rate of a measly 15%.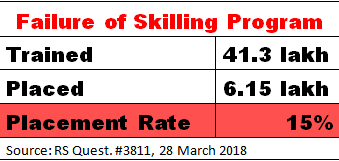 The objective of this much publicised program is to provide "industry-relevant skill training that will help them in securing a better livelihood". An ambitious target of training 1 crore youth was set spanning a period of four years, 2016 to 2020.
The program was actually launched in 2015 but very soon it became clear that it was riven with all kinds of flaws. Private entities were given roles of skill training centers, no track of their work was kept and the whole thing looked like a wreck. Then, the minister in charge Rajiv Pratap Rudy was unceremoniously sacked and the program was refurbished. It took the form of PMKVY 2.0.
It is functioning through over 500 skill development centers spread across 485 districts. Training is provided in over 2000 "job roles" which range from Electronics and Hardware, Apparel, Beauty and Wellness, Agriculture, Retail, Logistics, Leather, Telecom, Security, Textiles and Handlooms, etc. There is partnership with industry, there is use of digital portals for coordination, there is background data on which state or industry needs how many skilled people ('skill gap').
In short all the hallmarks of a modern, management techniques imbued data based, IT driven program of the sort that PM Modi is so enamoured of are present in PMKVY. Yet it has faltered and collapsed. Why?
There was – and remains – a fatal flaw in Modi govt.'s thinking, which is incredible if you really think about it. Skills will be useful only if there are jobs. No amount of skilling of people will help if finally they don't find a job. And, we all know that jobs are scarce in India today. In fact, the failure of the skill program is proof of that.
Modi and his advisers probably got taken in by their dreams of 'Make in India' and Start Up India and MUDRA loans. They started believing that all that was needed was skilled labour because capital was just straining at the leash to get down to productive business in India.
Perhaps they thought that self-employment would explode once people have skills. This seems to be the case because repeatedly Modi and his associates talk of self-employment. In fact they have launched several schemes (about which Newsclick will report later) for promoting self-employment.
But according to the National Skill Development Corporation (NSDC), 76% of those who were placed after undergoing training in PMKVY got wage employment and only 24% could set up there own businesses. According to Rajesh Agarwal, joint secretary in the skill development ministry, just 10,000 of all those trained under PMKVY this year applied for MUDRA loans, meant for self-employment.
Modi and his advisers should have known better. Perhaps they were taken in by the clamour of Indian industrialists that they can't find 'employable' people which actually meant that they were not willing to pay enough to get the right people. Perhaps they swallowed the prevailing thought in the West that your income and your future depends on your skills.
Whatever be the case, Modi and his advisers have made a grave mistake and the country is paying for it.
https://newsclick.in/modis-failures-skill-development-disaster