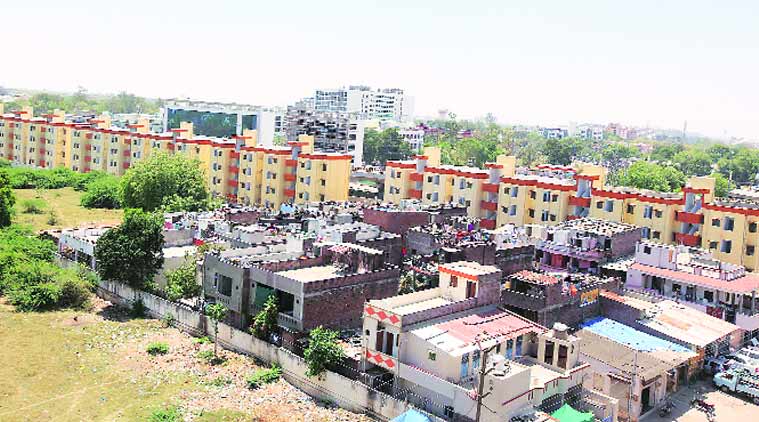 A view of the homes meant for the displaced Muslims. (Source: Express Photo by Bhupendra Rana)
Written by 
Aditi Raja
 | Vadodara | Published on:April 2, 2015 4:07 am
Last November, when authorities razed Vadodara's Kalyannagar and Kamatipura slums, over 450 Muslim families were to be relocated to two housing projects in the city. But they now stare at an uncertain future because residents of the neighbourhood where they were being moved are "objecting", saying they don't want "problem elements" in their midst.
The Vadodara Municipal Corporation (VMC) had planned to relocate the families to Kalali, an upscale neighbourhood being promoted as New Manjalpur by leading developers, and Sayajipura.
According to the VMC department of Basic Service to Urban Poor (BSUP) and JNNURM Housing, some 1,900 homes were demolished in Kalyannagar and another 350 in the adjoining Kamatipura settlements.
Nearly 80 per cent of the evicted families are Muslims. Of these, 730 families from Kalyannagar have relocated to a housing scheme in Tarsali-Dabhoi Road and 656 to Maneja. Some 400 families from Kalyannagar will move to Sayajipura and the rest to a housing project in Kalali.
F J Charpot, executive engineer with the BSUP, JNNURM, said Kamatipura residents petitioned the Gujarat High Court last year, demanding in-situ relocation — as against the VMC decision to shift them to far-flung areas.
"The department filed an affidavit in the HC, stating our intention that as far as possible we will relocate the Kamatipura residents to Kalali, since it was their demand to be close to Tandalja location. According to our original survey, 362 families were to be relocated from Kamatipura after the demolition," Charpot said.
During court hearings ahead of the demolition, residents wanted to shift to Tandalja since they would find better jobs in a neighbourhood dominated by Muslims. But the VMC expressed its inability to shift them there and people suggested Kalali as an option, given its proximity to Tandalja.
According to Charpot, the department prepared a file on allotments for a draw of lots which was to be conducted by Mayor Bharat Shah last week. But there was opposition from Kalali residents and the VMC decided to postpone the allotment lottery, even scout for alternate sites to house the Muslim families.
"The allotment of flats in Kalali and Sayajipura were to happen last week, but as the Mayor did not give us time to conduct the draw, it could not be completed. Now the file has been drawn, based on the HC order in the Kamatipura case. The list includes displaced people from Kalyannagar and Kamatipura. But the draw can be conducted only when the Mayor and elected leaders give us time," Charpot said.
Other VMC officials said the draw of lots had to be deferred because of objections from local residents and builders. "Kalali is fast developing into a prestigious locality with a number of high-end residential projects underway. There is great pressure from developers in Kalali who believe that housing Muslims in the locality will bring down property rates. Given the recurrence of communal tension in the city, residents do not want Muslims to be shifted to these areas," said an official who did not wish to be named.
Last week, residents of Sayajipura, another upscale neighbourhood, handed a memorandum to the Mayor through BJP corporator Dadubhai Gadhvi, objecting to Muslims moving in.
When his comments were sought, Gadhvi said: "The residents asked me to accompany them to register their objection over moving people of Kalyannagar to the area. In the past, incidents have caused tension. Residents are concerned about what kind of people from Kalyannagar will move to Sayajipura. We do not want problem elements."
The opposition on the ground has made the VMC look for other sites to relocate the Muslim families. On Monday, a closed-door meeting was held to explore "alternative relocation".
Municipal Commissioner H S Patel said: "The draw has been delayed. It has to be conducted in the presence of the Mayor and we will have to wait for time from him. But we can certainly try to expedite the process. I do not want to comment about any objection."
For the Muslim families, the future is suddenly uncertain. Activist J S Bandukwala is pushing civic authorities to expedite the relocation. "It is unfortunate that Muslims are not welcome in these places as they are seen to lower the value of upcoming areas. The VMC does not even have one single Muslim representative in the elected wing. That says a lot," he said.
Bandukwala sought a meeting Wednesday with Commissioner Patel. Denied an opportunity to be heard, he sat in protest with the affected residents outside the VMC office. Mayor Shah did not respond to calls and text messages seeking his version.
http://indianexpress.com/article/india/india-others/450-muslim-families-stuck-vadodara-doesnt-want-them-next-door/99/