May 30, 2014 20:53 IST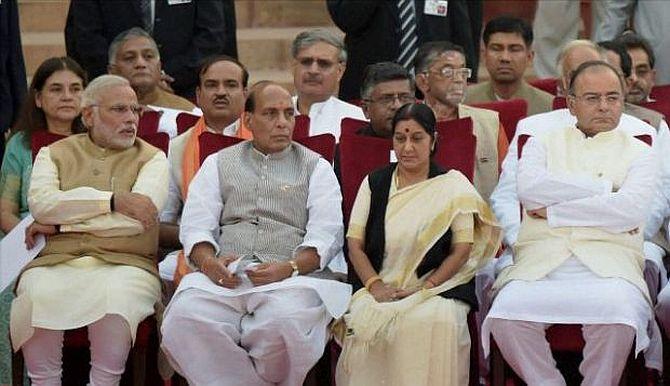 Narendra Modi's victory does not represent a victory of the Indian nation, but only an elite-driven polarising phenomenon. The sooner we — and the BJP — recognise this, the better, says Praful Bidwai.
In style, Narendra Damodardas Modi's swearing-in in the presence of 4,000 invitees at a ceremony unprecedented for its grandiose character, and pomp and circumstance, resembled a King Emperor's coronation more than the installation of the elected prime minister of a democracy.
Never before has an Indian prime minister organised oath-taking on this scale, inviting the heads of South Asian governments, in itself a welcome move, and domestic dignitaries from the worlds of big money and glamour.
Only psychologists can say if this is the result of an intense craving for recognition and approval, an astute political calculation, or just a continuation of the excess and extravagance of Modi's lavish multi-billion-dollar election campaign.
In substance too, Modi's choice of his council of ministers resembles the kind of centralised decision-making around one person found in states where chief ministers command more absolute power than does the prime minister at the Centre.
The new Cabinet is dominated by Bharatiya Janata Party office-bearers and state leaders, and above all, by the triumvirate that took over the party last September, including Modi, party President Rajnath Singh and General Secretary Arun Jaitley, both Modi groupies.
The three men, who have never before held a Cabinet Committee on Security-level portfolio, will now wield powerful CCS positions, with Jaitley holding three portfolios, including finance and defence, which has never happened before. Jaitley was rewarded — despite losing his own election — for defying his mentor L K Advani over Modi's nomination as PM-candidate.
As for Singh, Modi asked him to declare repeatedly that he would have no role in government. This was to dispel the impression that someone other than the supremo might become PM in case the BJP didn't win a majority and its allies demanded someone less divisive: Either Modi would head the government, or the BJP would sit in the Opposition. Modi reportedly extracted this commitment from the Rashtriya Swayamsevak Sangh.
The 34-strong new team comprising Cabinet ministers and ministers of state with independent charge includes only four non-BJP members. They hold relatively unimportant portfolios like food, food processing and civil supplies. All the weighty portfolios have gone to BJP ministers, including human resource development to the inexperienced Smriti Irani, 38. This is a reward for brazenly defending Modi and reducing Rahul Gandhi's victory margin by over 200,000 votes.
The council of ministers is skewed too: It is heavily tilted in favour of the north, especially Uttar Pradesh and Bihar, and the west (Maharashtra, Madhya Pradesh, Gujarat and Karnataka) and against the south and the east (West Bengal, a big state, is not represented at all). It also under-represents certain BJP-ruled states (Rajasthan, where the BJP won all 25 seats) and castes/communities (Dalits, Adivasis, Bhumihars, and especially Muslims).
Two persons have been given independent charge of major portfolios: Prakash Javadekar (environment, and information and broadcasting) and Nirmala Sitharaman (commerce and industry), for their loyalty. General V K Singh, a controversial newcomer, has been given external affairs and the northeast — despite the army's hard-line on these. This doesn't speak of merit, balance or prudence.
Perhaps the Cabinet's sole positive feature is that a quarter of it consists of women, who form just 11 per cent of the Lok Sabha's membership. Yet, the Cabinet bears the strong, indelible impress of a single person, backed by his loyalists and camp-followers, just as the BJP's election campaign did.
If the council of ministers were to reflect the parliamentary system's spirit, based on collective responsibility — as opposed to the dominance of an individual — it should have had greater diversity and plurality, and more checks and balances. But under Modi, that wasn't to be.
Going by business leaders' increasingly strident demands, the government will try to boost economic growth by dismantling or further weakening already feeble environmental and labour regulations, and approving projects regardless of their ecological and human consequences.
Gujarat-style economic elitism and rampant privatisation of public resources will violate the rights of the vast majority of the Indian people, especially the poor and vulnerable.
In some ways, this would reflect the great polarisation wrought by the BJP's election campaign along caste, class and community lines. Apart from the Congress' unpopularity, such polarisation was key to the BJP's victory. It only won 31 percent of the votes polled nationally, and hence represents barely one-third of the electorate.
Contrary to the dominant Modi-media narrative, the people didn't discard 'narrow' considerations of caste and religion to vote for the BJP in large numbers because they believed it would deliver higher economic performance, or fulfil their (especially young people's) aspirations to a better life.
According to post-poll surveys by Lokniti-CSDS, the election saw the greatest-ever polarisation of the upper castes in favour of the BJP, and of the Muslims (who felt threatened by Modi) in favour of its opponents, including the Congress and Samajwadi Party. Nationally, almost 60 percent of upper caste Hindus voted for the BJP while 43 percent of Muslims backed the Congress.
The BJP strongly outperformed the Congress in constituencies with a significant Muslim presence. In constituencies where Muslims form 10-to-20 percent of the population, the BJP won 33 percent of the vote to the Congress' 17 percent, and in seats with a 20-to-40 percent Muslim population, it won 35 percent votes against the Congress' 14 percent.
The polarisation was even sharper in the three biggest states, UP, Bihar and Maharashtra, where the BJP won 116 seats on its own, and 146 with its allies.
In UP, for instance, more than 75 percent of the Brahmins, Rajputs and Banias voted for the BJP. Thanks to their communalisation because of the Muzaffarnagar violence and the BJP's 'love jihad' campaign, three-fourths of the Jats too backed the BJP. This yielded the BJP an unprecedented 71 of 80 seats in UP.
In Bihar, more than 80 percent of Brahmin, Rajput, Bhumihar and Kayastha voters backed the BJP, giving it 22 of 40 seats. The BJP's allies won an additional nine seats. This caused sharp 'reverse polarisation': Two-thirds of Yadavs and Muslims voted for the Rashtriya Janata Dal-Congress alliance. Similarly, the BJP on its own won 23 of Maharashtra's 48 seats.
If the seats won by the BJP in its 'home states' — Madhya Pradesh (27 of 29), Gujarat (all 26), Rajasthan (all 25) and Chhattisgarh (10 of 11) — are added to its tally from the three biggest states, the total goes up to 204 seats, almost three-fourths of its national score of 282.
In other words, the BJP's vote was skewed and highly concentrated in just seven of India's 29 states. True, it made inroads in terms of votes in states like West Bengal, Tamil Nadu, Andhra Pradesh, Orissa, Kerala and Assam, where it was virtually non-existent or had a weak presence. But it won a total of only 14 seats in these.
Vote concentration in a few states allowed the BJP to win an enormously disproportionate number of seats: Each one percent of its vote resulted in 1.68 percent of seats. By contrast, each percentage-point of the Congress's vote translated into just 0.42 percent of seats.
Other factors too helped the BJP and its allies. The voter turnout in 2014 was 8 percentage-points higher over 2009, thanks to first-time or young voters. Where the turnout was 10 to 15 percent higher, the NDA won 86 percent of seats; where the rise was 15 percent-plus, it won 96 percent of seats.
The BJP';s vote-gain among young voters (under 35 years) was an impressive 14 percentage-points over 2009. But fewer women (29 percent) voted for it than men (33 percent). The BJP still suffers from a gender disadvantage among women.
The economic elite too favoured the BJP. Rich and middle-class voters delivered it a gain of 31 seats (of a sample of 125 seats). In contrast, it gained only eight seats from the poor. Thirty eight percent of graduates backed the BJP, as compared to 27 percent of those with only primary education and 25 percent of illiterates — both lower proportions than its overall vote of 31 percent.
The 'Modi factor' undoubtedly helped the BJP because it successfully 'presidentialised' the election and ran a high-voltage 'mediatised' campaign which marginalised all opposition. But even more important was its successful disinformation campaign about the 'Gujarat model'.
Gujarat has far poorer social indices than many states, including Maharashtra, Kerala or Tamil Nadu. But such critical analysis never made it to television. Thus, when asked by Lokniti to name India's most developed state, 54 percent said it is Gujarat, and only 4 percent named Maharashtra. Such is the power of Goebbelsian propaganda!
Besides, for many in the upper-caste elite, Gujarat represents not just their favoured model of growth without equitable distribution, but also Hindu-majoritarianism and authoritarianism, which they admire.
Modi's coronation, then, does not represent a victory of 'the Indian nation', but only an elite-driven polarising phenomenon. The sooner we — and the BJP — recognise this, the better.
Image: Prime Minister Narendra Modi, ministers Rajnath Singh, Sushma Swaraj, Arun Jaitley and others at the swearing-in ceremony of the NDA government.
Read more here — http://www.rediff.com/news/column/praful-bidwai-modis-ministry-bears-indelible-impress-of-a-single-person/20140530.htm