Even the women described as "success stories" by the government, say the Stree Swabhiman scheme has failed.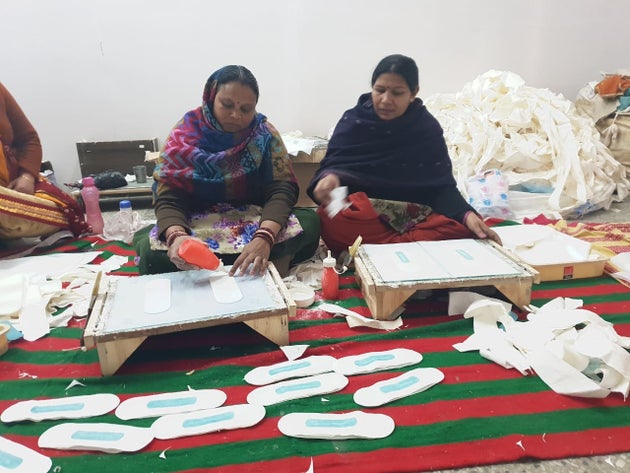 JALANDHAR, Punjab—The much-hyped "Stree Swabhiman" central government scheme, meant to simultaneously boost women's incomes and improve their menstrual health by training them to set up small-scale sanitary napkin manufacturing units, has failed on both fronts.
Rather, the scheme resulted in the production of poor quality sanitary pads that no one wants, and has plunged scores of rural women in debt, thereby furthering their financial precarity, HuffPost India has found. The scheme targeted over 35,000 women who work as village-level entrepreneurs (VLEs) under the Common Service centre (CSC) e-governance project of Ministry of Electronics and Information Technology (MeitY). According to the government, the scheme has been implemented in over 178 districts in 23 states.
The same women who have been used to advertise the success of the scheme say the government's claims are false, and the financial projections used to justify the viability of the scheme are misplaced.
HuffPost India spoke to the women listed on the "Stree Swabhiman" scheme website maintained by MEITY, and visited several such units in rural Punjab, to find that the women touted as "success stories" were struggling to keep their businesses running.
READ:
The Stree Swabhiman scheme is illustrative of the Modi government's failure to fulfill the central promise of its 2014 campaign election campaign: meaningful jobs for all. After the collapse of big-ticket programmes like "Make in India"—which tried and failed to create millions of manufacturing jobs—and policy missteps and outright blunders, like demonetisation, Prime Minister Modi and his ministers have sought to present rural small-scale entrepreneurship schemes such as "Stree Swabhiman" as an alternative to salaried employment.
But by heedlessly promoting "entrepreneurship" without training or safety nets, the Stree Swabhiman scheme reveals that the government is shifting the risks of job creation onto those ill-equipped to bear them—like rural women.
"You can't teach people into becoming businessmen in a two or three-day training session," said Dr. Umesh Menon, a serial entrepreneur and former senior faculty at the Entrepreneurship Development Institute of India, Ahmedabad. "As an entrepreneur, you need to be able to take risks, and if your basic needs are not met, you cannot do that."
"Forced entrepreneurship programmes like these work as long as the subsidy is in place, and fail the moment the reality of loan kicks in," said Dr. Menon, who also works as a consultant on entrepreneurship for the United Nations and World Bank. "These women are then left high and dry with stock they cannot sell."
False case studies
Parameshwari Ranga Reddy, the government website claims, set up the first sanitary napkin manufacturing unit at Turkayamjal village in Ranga Reddy district of Telangana in September 2017, when the scheme was still being tried out.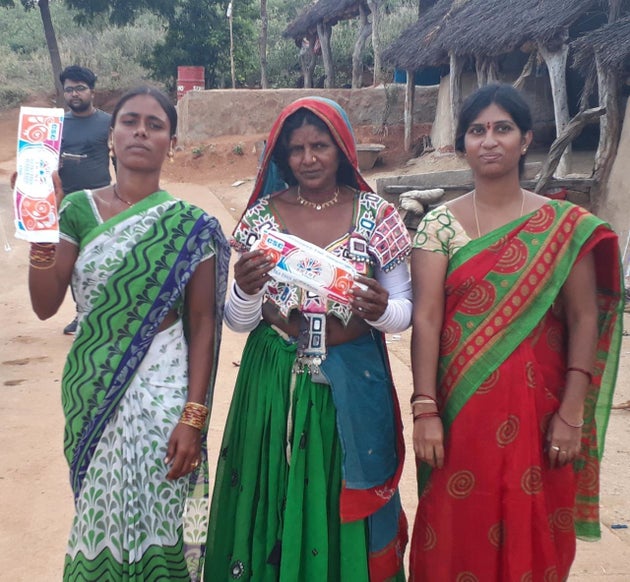 Her unit, the government claims, employs 15 women who produce 500-600 napkins a day that they supply to "40-50 nearby villages". Parameshwari's unit was so successful, the website claims, that "she organised sessions on 'Pad Pe Charcha' to sensitise girls about menstrual hygiene and the health benefits of using sanitary napkins." ("Pad Pe Charcha" is a blatant reference to the Bharatiya Janata Party's Chai Pe Charcha national political campaign.)
Yet these claims, Parameshwari said, are far from the truth.
As one of the first women to sign up to the scheme, Parameshwari told HuffPost India, she got the manufacturing machines and one month's supply of raw materials for free—but is still struggling to earn a decent living from the scheme.
Parameshwari is also the founder of an NGO called SHINE which claims to work on raising funds for menstrual hygiene, that adopted 100 girls to supply sanitary napkins for a whole year and sought to raise donor funds to pay for these pads—in theory, guaranteeing a ready market for their products.
Yet, Parameshwari soon began to receive complaints about the poor quality of the glue that binds various layers of the napkins. School girls also said the napkins were uncomfortable and not properly absorbent.
"We were initially supplied poor quality glue to paste different layers of the napkins. The product began to receive numerous complaints from school girls pertaining to spoiling of clothes," Parameshwari told HuffPost India. "Even though the quality was improved a few months ago, we cannot find many buyers for the product."
Out of the nearly 11,000 sanitary packs (each pack has 8 napkins) made at her unit over the past year and a half, Parameshwari could only sell 5,000 packets at a profit of Rs 3 per pack—or a total profit of Rs 15,000.
While the official portal of Stree Swabhiman claims that Parmeshwari has employed 15 women and is making 500-600 pads daily, she claims she has only employed five women and is making between 10 and 20 pads in a day.
Flawed finances
Financial projections published on the website of the Ministry for Small and Medium Scale Enterprises, suggest the scheme makes no sense. The analysis suggests that a unit, set up at a fixed cost of Rs 81,340, which employs four workers at a monthly salary of Rs 7,000 per month, producing 1,440 pads a day, will produce an annual profit of Rs 1,11,960—or a profit margin of 15% on a cost of product of Rs 1.37 per pad.
Even if these numbers accurately reflected reality—which they don't—the woman taking on the substantial risk of setting up this unit, and paying four salaries, only earns an annual salary of Rs 1,11,960, or about Rs 9,330 a month. For comparison, the average monthly consumption expenditure nearly 7 years ago, in July 2012—the most recent numbers available from the 68th round of the National Sample Survey—was Rs 10,516 in urban areas, and Rs 5,750 in rural areas for a family of four.
Even the government schools are not willing to take free samples from us as they too prefer branded napkins supplied to them free of cost under CSR initiatives from the multinational companiesAnita Rani, Jalandhar
In actuality, things are even worse: the Stree Swabhiman scheme envisages a fixed cost investment of Rs 1,75,000 to set up the machine, more than double the estimates projected by the MSME Ministry. The cost of manufacturing per pad, Parameshwari told HuffPost India, is closer to Rs 3 per pad—again, double the MSME Ministry's estimate—or about Rs 25 per pack of 8 napkins, which she sells for Rs 28 per pack of 8 napkins.
The lack of demand for her products has pushed Parameshwari to use her NGO to crowdsource tax-deductible donations to fund her production of pads, which she hopes to distribute for free.
In a December 2018 appeal, published on a crowdfunding platform, Parameshwari's Shine NGO sought to raise Rs 1,00,000 to produce 5,000 sanitary packs to distribute for free to women in need. The cost of manufacturing per pad, in Parameshwari's project proposal published online, is a startling Rs 28 per pad—of which her NGO will fund Rs 8, while the donations will make up the remaining Rs 20.
Debt traps
Unlike Parameshwari, who got her machines for free, Jalandhar-based VLE Anita Rani took a loan of Rs 2.68 lakh to open the sanitary manufacturing unit in her village Jamsher, in Punjab. She took the loan under the Prime Minister's Employment Generation Programme (PMEGP), a small loans scheme first launched in 2008, and—as required—put down 5% of the total loan amount, or Rs 13,421, from her own savings.
As a woman in a rural area, Rani is entitled to a 35% subsidy on the scheme—or Rs 93,947—but that money is locked in a fixed deposit for a period of three years, and will only be given to Rani if she can run her business for three years and pay off the loan at an interest rate of 8.5% per year.
Yet much like Parameshwari, Rani said it is hard for her for find a market for her sanitary napkins, particularly now that menstrual health is a major target area for Corporate Social Responsibility (CSR) programmes of large multinational companies.
"Even the government schools are not willing to take free samples from us as they too prefer branded napkins supplied to them free of cost under CSR initiatives from the multinational companies," Rani said. "Majority of the schools in my area are already stuffed with a year-long supply of napkins for its girls."
Also she said that girls from poor families can still not afford it as the pads have to be sold in a packing of 8 and not separately.
"I will not be able to get the subsidiary amount until I repay my entire loan," said Rani, who has been running her business for three months now. She was paying off her loan "with utmost difficulty."
Government inefficiencies
Aarti Behra is another success story listed on the Stree Swabhiman website, which claims she runs a unit employing seven women, who produce between 300 and 350 pads a day in Kumada village in Angul, Odisha, after two days of training provided by the government.
In an interview with HuffPost India, Behra said that she has laid off two workers as there isn't enough demand for her products. While Rani, the rural entrepreneur from Punjab, took a government loan that entitles her to a 35% subsidy after three years; Behra took a personal loan from her family — which means she will have to pay off the entire amount without a subsidy.
For Behra, the biggest flaw in the scheme is the requirement that the women procure all machinery and raw materials from the CSC that oversee the scheme on behalf of the Union government.
"Recently, the district coordinator supplied 20 quintals of wood pulp sheets claiming that it is sufficient to make 50,000 pads," Behra said. "It was only after two months I came to know that it only made 37,000 pads."
When she raises the matter with her district coordinator, she was told that she might have used more material than the required proportion.
"How should we know as to whether we have used the material more than the proportion or it was actually supplied less in quantity," Behara said. "Even the trainers who gave us training initially are untraceable. We have not received any technical support thereafter," said Behra who has reduced her manpower from 10 to five women due to less demand for the product.
"The machines does not bear any name, manufacturer detail or any safety standard mark over it," Rani said. "Also, there are no prices listed on the raw material packings or the address of the supplier."
Chandigarh-based Jaspal Singh, State coordinator for Punjab's Common Service Centres, admitted that his organisation had not provided any bills for the goods they provided.
"We have informed her about the cost of machinery and raw material but if any VLE wants detailed invoice of every machine, he should write to us," Jaspal told HuffPost India.
Wrong product?
Experts suggest that the biggest flaw in the Stree Swabhiman scheme is existential—namely, rural women are basically manufacturing the wrong product.
"For sanitary napkins, the private sector players are quite strong with very strong distribution networks," said Dr. Menon, the entrepreneurship expert. "In this case, the government has not offered proper extension support to these women."
In effect, the project is premised on the hope that tiny manufacturing units, employing between five and ten women, will somehow compete for shelf space with consumer giants such as Unilever and Procter & Gamble.
Arunachalam Muruganantham, whose quest to manufacture cheap and safe sanitary pads inspired the movie Pad Man, declined to comment specifically on the Stree Swabhiman project. Muruganantham said he had not been consulted on the scheme, but noted that such projects need a great degree of investment and support by the government.
"The governments across the world are known for having a 'military' approach towards their citizens," Muruganantham told HuffPost India. "Schemes like 'Stree Swabhimaan' need a 'motherly' approach, which the incumbent government has failed to adopt."
HuffPost India has written to the Ministry of Electronics and Information Technology and will update this story if they reply.
https://www.huffingtonpost.in/entry/modis-stree-swabhiman-scheme-was-to-create-jobs-but-put-women-in-debt