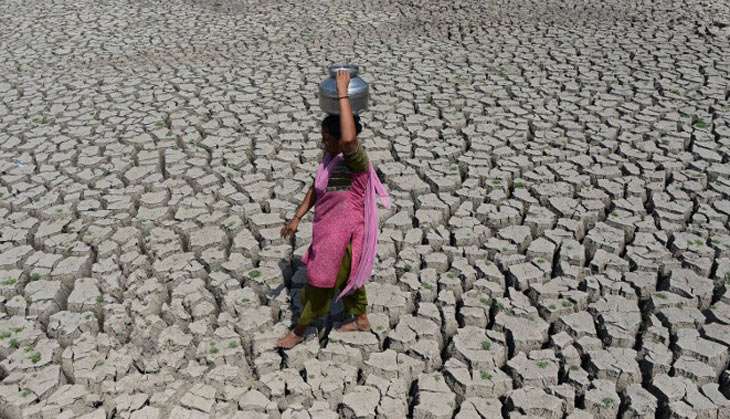 The drought in 2015-16 affected nearly one-third of India's population. These are the government's own numbers, which it revealed to the Supreme Court.
The SC, which was hearing a public interest litigation filed by Swaraj Abhiyan on drought relief, delivered a historic judgement on 13 May, asking for a slew of measures for ensuring food security and employment guarantee.
A recent survey of drought-hit regions in the country, however, finds that most states have not followed the SC orders.
States have failed on all fronts – providing distress employment, cheap foodgrains, and meals to children.
The survey was conducted by ActionAid India in June. This is the second such survey on the condition of people living in drought after Swaraj Abhiyan's survey conducted in 2015. (There are no government figures available on the drought-affected).
But this is also the first survey conducted after the Supreme Court's judgement.
Ideally, the directions should have been implemented, but the results are to the contrary.
In fact, it was found that the order had reached only about 5% of the village panchayats surveyed by ActionAid India.
The survey paints a dire picture:
33%
Or one-third of all surveyed persons couldn't access cheap foodgrain under the National Food Security Act.
Supreme Court order said 5 kg of foodgrain per month should be provided to all persons living in drought-hit areas, irrespective of their income.
In Madhya Pradesh, the survey found that shops were open just three days a week.
100%
All schools surveyed in Maharashtra were found closed during the summer holidays.
Supreme Court had ordered schools to remain open during the summer to serve mid-day meals, which was also supposed to include milk and eggs.
The finding contradicted with the state government's own claims, filed in an affidavit to the SC, that mid-day meals were served through summer.
71%
Of the women in Odisha said that their food intake had reduced due to the drought.
Small and marginal farmers met only 30% of their food requirements for the family.
The mid-day meal scheme was also reported to have failed in Odisha.
40-60% decline in harvest of food from forests due to the drought.
45%
Or nearly half the villages in Rajasthan had not started MGNREGA work when the survey was conducted. This was 37% in MP and Maharashtra.
Only under 10% of the total workers surveyed had completed at least 100 days.
During droughts, the government had promised to provide 150 days of employment.
80% of villages in Madhya Pradesh reported a delay in wages paid.
81%
Farmers in Odisha did not get input subsidies under the drought package.
60% farmers in Uttar Pradesh were left out of crop compensation and input subsidies.
The lowest exclusion was 24% in Madhya Pradesh.
In all the surveyed villages, 60-94% of the farmers had lost their crops.
90%
Or nearly all the cattle in Madhya Pradesh was reported to be abandoned.
This comes to about 12,804 individuals.
Uttar Pradesh reported a 22% loss in cattle.
No state reported a cattle camp in their villages, except Maharashtra and Madhya Pradesh.
END NOTES
The survey was conducted in seven drought-hit states – Jharkhand, Odisha, Madhya Pradesh, Maharashtra, Rajasthan, Telangana and Uttar Pradesh. 279 villages in 30 districts were surveyed.
"The state has been spectacular in its stubborn indifference," Harsh Mander, social activist and a former bureaucrat, said about the survey results.
"As a district collector in the 1980s, I could draw from the exchequer without any limit to help drought-affected. Yes, there was corruption, but at least the duty of the state was fulfilled," Mander added.
"Rajasthan has said that the increased days under MGNREGA will be given by October. How can it help now? States have made a laughing stock of the Supreme Court's order," said Nikhil Dey of the Mazdoor Kisan Shakti Sangathan.
http://www.catchnews.com/environment-news/most-states-did-not-follow-supreme-court-s-order-on-drought-survey-1471525715.html/fullview