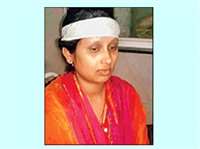 Aarti Gupta wife of Pradip Gupta was admitted to the District hospital for delivery on 13th June where she had a
cesarean
and gave birth to a boy.
However, on the next day while completing discharge formalities Aarti's brother was shocked to learn that
tubectomy
had also been performed. He immediately confirmed this from his sister who had no idea about the operation and clearly no consent was taken from her. The family members created a furore  on learning about this unscrupulous behaviour of the
hospital administration
.
RMO Dr
SS
Gurjar
said that consent from the husband/ family is taken prior to the cesarean and that the
mother in law has signed on a paper which says that tubectomy can be done if a boy is born to Aarti. The mother in law Ramsakhi vociferously opposed this and said that she was only informed about the need for cesarean operation and that is why she signed. RMO said that difference of opinion within the family is often witnessed in the case of tubectomy. 
The matter was directed to the civil surgeon
Govind Singh
who assured of conducting an enquiry on the matter.
डिलेवरी के लिए हुई भर्ती, लेकिन कर दिया ऐसा ऑपरेशन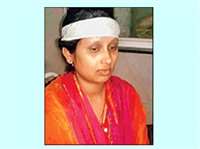 मामला सिविल सर्जन गोबिंद सिंह तक पहुंचा तो उन्होंने मामले की जांच कराने की बात कही है।
शिवपुरी। प्रदेश के आदर्श अस्पतालों में शुमार जिला अस्पताल में कथित तौर पर प्रसूता व उसके परिजनों की बिना सहमति से नसबंदी करने का चौंकाने वाला मामला बुधवार को सामने आया। करैरा की रहने वाली प्रसूता आरती पत्नी प्रदीप गुप्ता को 13 जून को प्रसव पीड़ा के बाद जिला अस्पताल में भर्ती कराया गया। इसी दिन डॉ. मोना ने सीजर किया और आरती ने बेटे को जन्म दिया।
परिजन बेटा होने की खुशी में मग्न थे, लेकिन बुधवार को जब प्रसूता का भाई सत्यम गुप्ता उसे डिस्चार्ज कराने आया और पर्चा देखा तो उस पर सीजर के साथ ही टीटी (नसबंदी) किए जाने का उल्लेख था, इस पर सत्यम ने बहन से पूछा कि क्या उसने नसबंदी भी करवाई है।
जब आरती ने मना किया तो परिजनों के होश उड़ गए और उन्होंने मनमाने ढंग से अस्पताल प्रबंधन द्वारा बिना सहमति के टीटी किए जाने को लेकर हंगामा कर दिया। मामला सिविल सर्जन गोबिंद सिंह तक पहुंचा तो उन्होंने मामले की जांच कराने की बात कही है।
दूसरी डिलेवरी थी आरती की
आरती गुप्ता को करीब ढाई वर्ष पूर्व सीजर से बेटी पैदा हुई थी। यह उसकी दूसरी डिलेवरी थी। बताया जाता है कि आरती के पति प्रदीप डिलेवरी के बाद डीएड परीक्षा होने के कारण ग्वालियर चले गए थे। आरती भी डीएड की परीक्षार्थी थी, लेकिन डिलेवरी के कारण उसने परीक्षा नहीं दी।
मुझसे तो सीजर के कागज पर कराए थे हस्ताक्षर- सास
इस मामले में जब परिजनों को टीटी किए जाने का प्रमाण पत्र अस्पताल प्रबंधन ने थमाया तो प्रसूता की सास रामसखी ने जमकर हंगामा करते हुए विरोध दर्ज कराया, लेकिन इस मामले में अस्पताल के आरएमओ डॉ. एसएस गुर्जर का कहना है कि सीजर के समय पति या परिजनों की सहमति ली जाती है और बाकायदा सहमति फार्म भी भरवाया जाता है।
मामले में भी प्रसूता की सास रामसखी ने सहमति पर हस्ताक्षर किए हैं, लेकिन रामसखी का कहना है कि उसे हस्ताक्षर कराते समय सिर्फ यह कहा गया था कि ये सीजर के कागज हैं और नसबंदी के संबंध में कुछ भी नहीं बताया गया था। सहमति पत्र में लिखा है कि अगर बेटा हुआ तो टीटी कर दी जाए।
इसके नीचे सास रामसखी के हस्ताक्षर भी हैं। इधर हंगामे को लेकर आरएमओ डॉ. एसएस गुर्जर का कहना है कि अक्सर टीटी के मामलों में परिवार में आपसी सहमति न होने से इस तरह की बात सामने आती है।
एक महिला डॉक्टर के भरोसे सैकड़ों प्रसूताएं
जिला अस्पताल में जहां पिछले कई महीनों से विशेषज्ञ डॉक्टर न होने से आईसीयू पर ताले पड़े हैं तो वहीं मेटरनिटी विंग भी इन दिनों सिर्फ एक महिला व प्रसूति रोग विशेषज्ञ डॉ. मोना के भरोसे है। यहां पदस्थ दूसरी महिला डॉक्टर नीरजा शर्मा खुद मेटरनिटी लीव पर हैं, जबकि डॉ. उमा जैन अस्वस्थता के चलते मेडिकल लीव पर हैं।
http://mnaidunia.jagran.com/madhya-pradesh/recruiting-for-delivery-but-doing-such-an-operation-1210585