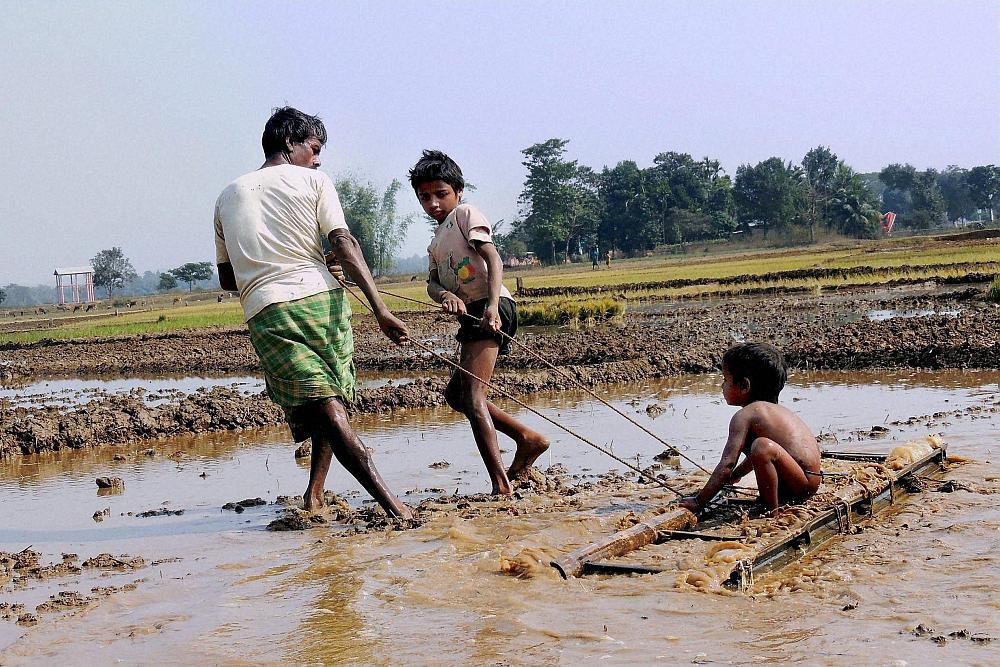 FILE – PTI PHOTO
OPINION
The Meaning Of Vikas
The BJP government needs to understand that "vikas" means growth and development, not growth alone.
The new government that came to power with the promise of "vikas" has launched an unrelenting attack on social welfare programmes and legislations. In October 2014, there was a rumour that NREGA would be restricted to some districts. Though the changes proposed have not been implemented, NREGA is in danger of dying a slow death by starving its funds and creating huge delays in wage payments. The Land Ordinance, dismantling important safeguards in an otherwise debateable Land Acquisition Act, came next.
Most recently, a committee set up to reform the Food Corporation of India, exceeded its brief and made various recommendations regarding the National Food Security Act (NFSA), 2013, including reduced coverage and higher prices. The only basis for reducing coverage is that leakages from the Public Distribution System have not decreased. As it happens, the committee's estimates of leakages are wrong. Corrected estimates show a decline in leakages in many states. For instance, in Bihar, the leakage is 24 per cent (not 60 per cent as per the committee's estimates). Several other studies corroborate the Bihar revival story.
The state government in Rajasthan (also ruled by BJP) has been working hard at diluting people's hard won rights. On the one hand, a regressive ordinance debarring those with less than eight years of education from Panchayat elections was brought in. On the other, it closed 17,000 government schools.
The BJP has successfully created the false impression that India's policies are too "populist", that it has gone overboard in pursuing social goals and is fast becoming a nanny state for the poor. No one bothered to notice that, in fact, India is a "world champion of social underspending", as one commentator put it. Public spending on health and education is 4.7 per cent of GDP, lower than the least developed countries (6 per cent) and sub-Saharan Africa (7 per cent).
If anything, India is in danger of becoming a nanny state for the rich: when the budget for NREGA (employing 25 per cent of the rural population) was Rs 33,000 crore, tax revenue foregone to the gold and diamond industry was Rs 65,000 crore (employing under 1 per cent of the workforce)!
The BJP's empty rhetoric on development is captured well by a recent joke: "Modi government's ninth month, "vikas" expected any time". Interestingly, the Delhi verdict brought a sequel to the joke: "Congratulations, Vikas-purush Arvind has arrived".
In contrast to the BJP, the Aam Aadmi Party (AAP) made the common person's concerns in Delhi (water supply woes in bastis, police harassment, etc) their main agenda. This could have backfired, given the mainstream media's tendency to label any discussion around people's concerns as "populist". Cutting across classes, Delhi's vote for AAP shows that political parties that ignore the poor will ultimately pay the price.
Thankfully the upcoming budget provides a good opportunity for the government to state their commitment to social welfare clearly, and make adequate budgetary provisions. The government needs to understand that "vikas" means growth and development, not growth alone. And that development means a better life for all people.
http://www.outlookindia.com/article/The-Meaning-Of-Vikas/293427