50 Govandi shanties razed; 160 dwellers rendered homeless
Friday, Nov 29, 2013, 8:36 IST | Place: Mumbai | Agency:
DNA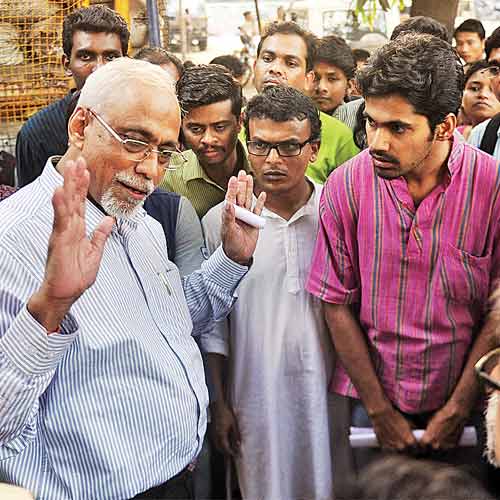 TISS director S Parshuraman talks to student activists outside the
Trombay
police station
on Thursday. – Hemant Padalkar/DNA
More than 50 shanties in Govandi were demolished by the Public Works Department (PWD) with the help of the Brihanmumbai Municipal Corporation (BMC), sparking huge protest from dwellers and activists.
According to activists, the shanties near Aadharwadi bus stop on Nitu Mandke Road, which were demolished, had come up since 2005. Suddenly rendered homeless, 157 residents of the slums have shifted to roadsides with their kids, old-age parents and belongings. "But the BMC came to evict them from the roads even before they could come out of the shock of being homeless. Civic authorities were supported by the police," said a student and activist from Tata Institute of Social Sciences (TISS).
More than 12 activists and students from TISS along with other activists, including Shyam Sonar of the Republican Panther, Vijay Dalvi from Kachra Vechak Vahtuk Sanghthana and Uday Chaudhari from the Communist Party of India Slumdwellers, claimed that the shanties were set on fire while demolishing them. "This must be to ensure that we don't return. But the authorities did not think how difficult it is to build a home. They even resorted to lathi-charge. A pregnant woman and another lady who had recently undergone surgery were beaten up," said a shanty owner, who was protesting outside Trombay police station where the residents and activists were detained.
In September, Maharashtra State Human Rights Commission had served notices on the PWD, BMC and the commissioner of police, asking them not to take action against the shanties before submitting an affidavit on their status. "But government agencies have failed to adhere to the orders given by the commission", said one of the activists.
TISS director Dr S Parshuraman soon reached the police station. "Our director informed us that we have not been arrested – the impression which we were given by the police earlier. But till now (9pm), we are still at the police station since the officers are waiting for their seniors to come before releasing us. We are asking for food and water for the people if they are not letting us go," said Suraj Pawar, another student activist.
Policemen from Trombay police station said shanty dwellers had encroached upon PWD land and the issue had been going on for four months.
TISS director has asked the student activists to bring all the homeless slum dwellers to their new campus for three days, until the authorities make some arrangements for them.