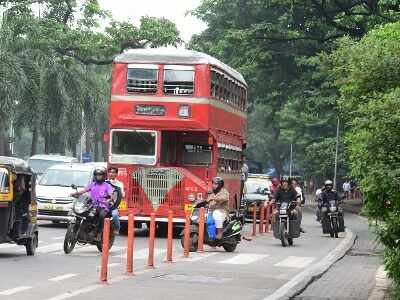 Jennifer Mirza
Citizens fighting to save BEST, whose services were municipalised on August 7, 1947, celebrated 'BEST Day' on Tuesday and released a revival plan

I have been using the BEST service for almost 70 years now, and I hope to do so for at least a few more years. Which is why I am so concerned about the crisis that the operator is facing. I hope it will be resolved so that many more Mumbaikars can use this inexpensive and convenient mode of travel.
I loved BEST tram rides so much that my grandfather, who came to live with us after he retired from the forest department, made it a point to take me and my brother, David, for a tram ride on the weekends, when he went to visit his son who lived in Dadar (close to Dadar TT, which stood for Dadar Tram Terminus), or for a special treat to Byculla Zoo.
The tram ride on the Independence Day and Republic Day was particularly special. After an early dinner, we would board the tram and go all the way to VT and then to the museum, to see the all the buildings illuminated for the occasion. My nana was a fun person. At a stop, he would spot a gentleman at the window of a tram that had halted on the tracks parallel to us. In a trice, he would poke his walking stick out the window and deftly flick off the guy's Gandhi topi (which lots of gents proudly donned in those early post-Independence years) and grab it with his other hand. When the startled man demanded to know what he was up to, he would wink and say, "Just amusing my grandchildren. Don't worry, I'll return your cap at the next stop. And believe it or not, he got away with this antic ever so often.
When BEST decided in the mid-1960s to end the tram service, our family regularly took the last tram from Dadar to VT. We later shifted to Bombay Central and travelled to school in a bus until we were old enough to walk. During summer holidays, my friend Selda, who lived down the road, and I had to attend music theory classes in Colaba. I was about 12 years old and approached my father with a small request. Could we take his car and get dropped off at Tardeo Circle and then take the C route bus all the way to Colaba along the beautiful Marine Drive? He asked us what would we would if the car wasn't there. I told him we would have to take a bus to VT and from there, take another one to Colaba. My dad said: "Wow! One music class and two bus rides. That's what you should do." And that's what we did do.
While studying in St Xavier's College, I used to take a bus that was jokingly referred to as "the hospital route" as it carried people within a walking distance of many hospitals before terminating at Ballard Estate. When I started working in advertising, my husband Saeed, who was my friend then, would wait in town till 8 pm to avoid the serpentine queues at most bus stops during the evening rush hour.
We would hang out at Samovar Café and take the last No 70 bus from Meriwether Road behind Colaba Causeway. We soon noticed that there was another "regular" couple on this bus. An elderly Sindhi gentleman with his more than ample wife. They didn't fit on one seat, so they sat opposite each other behind the driver's cabin. We started greeting them when we boarded the bus and waved goodbye when we got off. Bus No 70 stopped right in front of my house on Nair Road and just down the street from Saeed's house at Sitladevi Temple Road in Mahim. The elderly couple carried on in the bus past Saeed's stop.
We got married in 1969 and moved to Delhi. When we returned to Mumbai with our two sons Safdar and Zahir, then aged 3 and 2, we decided one day to take them into town. We sat bus No 70 and got off at Kala Ghoda. After a walk around the art galleries, we entered our old haunt, Samovar Café. The staff was delighted to see us old customers and even happier to meet our kids. So Saeed got an idea and said: "Let's take the last bus home, like we used to do." And we did.
When we boarded the bus, our eyes went straight towards the front seat. The old gentleman was there but his wife was not. There were still a few minutes before the bus took off, so we walked up to him and said salaam. He was surprised and delighted to see us. When we asked about his wife, his eyes welled up and he said softly: "Your story has a happy ending, but not mine. I lost my life partner last year and I will always miss her." He got up and put his hands on the heads of our sons and blessed them with a silent prayer. Memories are made of this.
When I returned to Mumbai in 1973, I resumed my regular travel by BEST bus. I took a bus from Churchgate to my office in Nariman Point if I was running late. On weekends, we took our kids from our home in Bombay Central to my in-laws' residence in Mahim — on that same No 70 bus. We also took a bus to the zoo, the aquarium on Marine Drive, and museums and art galleries in town. Our young children became adept at travelling by bus and started going out on their own, to spend the day with my brother in a port trust housing colony behind Colaba bus station. Of course, the city was a saner and safer place for kids in the 1970s and 1980s.
We moved to Bandra in 1990. And as a suburbanite, BEST becomes our lifeline. Unless you are unwell and cannot manage to use public transport, it's pointless to use your car. There are traffic snarl-ups throughout the day and finding a parking spot has become a nightmare too. As a retired person with no deadlines to meet, I think it makes more sense to take a bus to travel in the suburbs. I'm not the only one. I have a group of friends in Bandra who do the same.
I am considered an oddity by the security staff in my building. Ever so often, they open the gate to let me out and watch me walk towards the main road, from where I catch a bus. A short while later, they open the gate again, so that my chauffeur can drive out — with the woman who cooks for us. She has a problem with her feet, so my chauffeur drivers her to her next job every day.
I am sharing my experiences to drive home the point that public transport makes more sense, if you are reasonably healthy. It's quicker, cheaper and, more importantly, good for the environment.
The writer is an activist, a former film and TV researcher, and an ardent BEST lover
https://mumbaimirror.indiatimes.com/opinion/columnists/by-invitation/a-70-yr-love-affair-with-best/articleshow/65315315.cms