Thursday, Aug 15, 2013, 1 Agency: DNA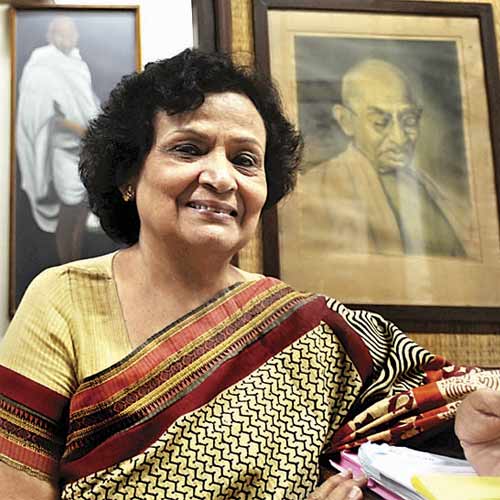 Dr Usha Thakkar's book will be released next year. – Rajendra Gawankar/DNA
A clandestine radio station operating from South Mumbai during the Quit India Movement, 1942, broke the news of women being raped by the British in Ashti and Chimur in Maharashtra.
Veteran freedom fighter Dr Usha Mehta was the broadcaster for the station, called the Congress Radio. The channel broadcast news for three months after the arrest of Mahatma Gandhi.
As India celebrates its 66th Independence Day today, Gandhian scholar Dr Usha Thakkar, 65, has decided to author a book on Dr Mehta, who passed away in 2000. The book will also talk about the underground radio station, giving unknown details of what transpired in the days of the freedom struggle.
Dr Thakkar was associated with Dr Mehta for three decades and did her Ph.D under the freedom fighter's guidance at the University of Bombay in 1966. "During the 1942 movement, no newspaper or radio station was willing to write or talk against the government. After Gandhiji's arrest, Dr Mehta wanted to tell the people what was happening in the country and hence, decided to start Congress Radio," said Dr Thakkar, who is now president of Mani Bhavan.
The Congress Radio started at a place near Girgaum Chowpatty.  "Dr Mehta used to announce that this was the Congress Radio calling on (a wavelength of) 42.34 m from somewhere in India," she added.
Dr Thakkar says there was a woman revolutionary who anchored the bulletin. Her name was Coomi Dastur and nobody could trace her. She eventually became the principal of Elphinstone College. As news of the radio reached the police, they tried to track down the location and hunt down the "culprits". But the members kept changing places.
The police finally traced them at Parekh Wadi and arrested them while Dr Mehta was anchoring the bulletin. "When the police tried to arrest Dr Mehta, she told them to stand still as Vande Mataram was being played. The police did as told and then confiscated the equipment and 140 records," Dr Thakkar said.
In 1946, Dr Mehta was released from jail. She stayed in Laxmi Bhavan till her death and worked for the freedom of speech. She was a professor of political science at MU's Kalina campus.