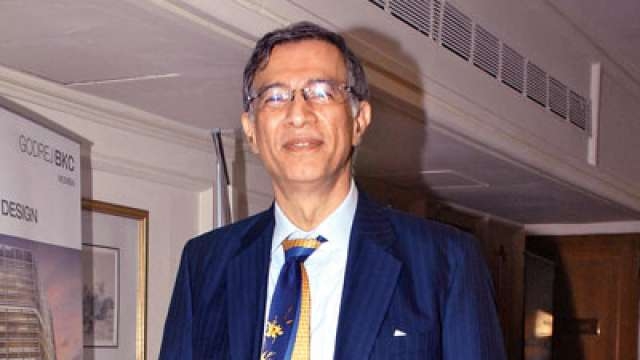 RBI in 2014 declared Niranjan a 'wilful defaulter' but documents with DNA show banks like SBI and others violated guidelines to give him loans
"Defaulter!" This is exactly how India's premier institution, the RBI, had described property tycoon and co-founder of the Hiranandani Group — Niranjan Hiranandani. But despite the RBI declaring Hiranandani as a "wilful defaulter" as far back as 2014, the group continues to receive loans from premier banks across the country.
Documents exclusive to DNA reveal that the Hiranandani Group has received Rs 5,500 crore from the State Bank of India and Axis Bank, which was given to two firms belonging to the group. The SBI loan was given in February 2015 and March 2016 by Axis Bank. These loans, the documents make clear, come well after the RBI listed Hiranandani as a defaulter.
When contacted, Hiranandani insisted that he had done nothing wrong. A spokesperson authorised to speak on behalf of him and the Group admits that Hiranandani's name had figured in the RBI's list of wilful defaulters. But he claimed that it was an "error" and has now been struck off.
Niranjan Hiranandani's name had first appeared in the RBI's wilful defaulters' list on June 30, 2014 following a default of Rs 350 crore loan with Punjab National Bank-led consortium by his company Sunny Vista Realtors Pvt Ltd (SVRPL). Other banks in this consortium were UCO and Andhra Bank. But eight months later while his name was still on the wilful defaulters' list, SBI seemingly decided to deviate from RBI rules and lend his company – Hiranandani Builders – Rs 1,250 crore in February 2015.
All these loans were sanctioned despite an RBI's master circular on wilful defaulters, which reads: "No additional facilities (loan) should be granted by any bank/FI to the listed wilful defaulters".
What is even more shocking is that SBI was seemingly aware that they were flouting RBI rules. In a document issued while sanctioning the loan, SBI officials wrote: "…deviation from loan policy guidelines in respect to name of one partners, Niranjan Hiranandani appearing in the RBI wilful defaulters list dated 30 June 2014."
It's not just the RBI. The SBI seems to have flouted its own guidelines when sanctioning the loans to the Hiranandani Group. The documents available with DNA show that the above loan of Rs 750 crore to Hiranadani Builders were sanctioned against the securitisation of rental income known as Lease Rental Discounting or LRD scheme with a tenure of 12 years. However, SBI policy allows that such a loan is only up to Rs 100 crore and that too only for a 10-year period.
Asked about this, the Hiranandani Group maintained that this loan was pre-closed in March 2016, stating that "the funds were raised from private sources for closure".
But while the Hiranandani Group may have clarified this loan, other loans continue to have been given to them. Axis Bank pre-funded Rs 2,815 crore (Rs 1,480 crore to Lakeview Developers and Rs 1,335 crore to Hiranandani Builders in March 2016). Later on, Axis bank sold down the majority of the loan to SBI. SBI sanctioned Rs 750 crore loan with syndication of Axis Bank to Hiranandani Builders in August this year.
The group, however, insists that it has flouted no guidelines. Asked about the date of removal of Hiranandani's name from the RBI's wilful defaulter list, his team forwarded a letter of Andhra Bank written to Credit Information Bureau (India) Limited (CIBIL) addressing concerns regarding Sunny Vista Realtors Private Limited (SVRPL) — a company belonging to the Group.
The Andhra Bank letter dated December 11, 2015, addressed to CIBIL, says, "We request you to delete the name of company and its directors as wilful defaulters from your records." Another letter released by the group, shows a communication from Andhra Bank to SVRPL, dated December 9, 2015, where the bank has recommended to its officials, "for deletion of company and its director's name from RBI wilful defaulter list."
Despite these letters, questions continue to surround the Group. SBI documents show Niranjan Hiranandani to be a wilful defaulter during the loan process in 2015. Again, in August 2016, SBI cites a similar request letter of Andhra Bank during its risk analysis discussion for a new loan of Rs 750 crore requested by Hiranandani Builders from Axis Bank.
When asked to comment, SBI and Axis bank officials have maintained that they can't comments on any individual's account status. In a statement, Axis Bank says, "As a matter of policy we don't comment on individual borrowers. However, as a normal practice, we follow prudent underwriting, well-defined credit principles and effective loan approval process." Similarly, RBI says in its response to DNA, "As a matter of policy, we do not reply to media queries relating to individual bank accounts."
Group denies charges
The Hiranandani Group has denied all the allegations raised against it. A spokesperson for the Group said: "Mr Hiranandani's name appeared in the RBI wilful defaulters list but on clarification by the bankers was removed from the wilful defaulter list. The listing of his name in the RBI defaulters list was an error and consequently rectified. Irrespective of the above, Mr. Hiranandani took over all the projects along with its loans and made sure that all banks were fully paid."
Timeline
June, 2014 – RBI declares Hiranandani 'wilful defaulter'
February 2015 – SBI loan of Rs1,250 cr was given to Hiranandani Builders was in violation of rules
December, 2015 – Andhra Bank requested CIBIL to delete wilful defaulter tag from the HiranandaniGroup
March 2016 Axis Bank pre-funded Rs 1,335 cr to Hiranandani Builders
Definition of a wilful defaulter
Anyone who has enough cash, but is not willing to pay banks' dues is a wilful defaulter.
Siphoning off funds, fabrication of bank records and fraudulent transactions by the borrower can also invite the chip of wilful defaulter.
Action against a wilful defaulter
RBI rules state that a "wilful defaulter can't float new ventures for a period of five years from the date the name appeared in RBI "wilful defaulter" list.
Further, if a bank identifies siphoning or diversion of funds, misrepresentation, falsification of accounts and fraudulent transactions then that bank should debarred from that account.
Former RBI governor Raghuram Rajan said that wilful defaulter tag is a necessary tool in the hands of creditors to resolve distressed assets.
Outstanding Loans: How much wilful defaulters owe banks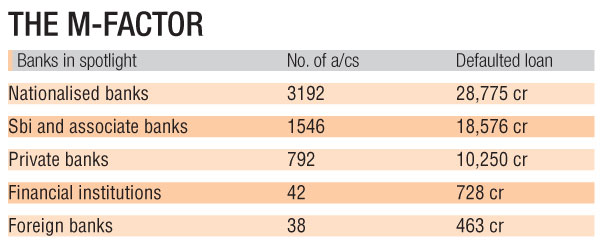 Source-AIBEA
http://www.dnaindia.com/india/report-dna-exclusive-hiranandani-co-founder-declared-wilful-defaulter-banks-still-shower-him-with-loans-2273416