lt;<
The Preamble to the Constitution of India defines the country as a sovereign, socialist, secular, democratic republic.
Over the last few months, this definition has been under attack as self-appointed gau rakshaks attacked, and sometimes lynched, people they suspected had beef in their possession.
When a 17-year-old boy was stabbed to death on a train because an argument over seats turned ugly, and because he belonged to a certain religion, the country rose in protest.
#Not In My Name, said ordinary citizens, as they took to the streets to reclaim the India they believed in.
Text, photographs: Uttam Ghosh/Rediff.com
Video: Hitesh Harisinghani/Rediff.com

It began with a Facebook post, as Delhi-based documentary filmmaker Saba Dewan called for a protest against the series of lynchings in different parts of India.
These lynchings were carried out by self-styled gau rakshaks against those they believed had beef in their possession.
Mumbai, and 12 other cities, responded to Dewan's call and protests were held simultaneously on the evening of June 28.
At Carter Road, a popular Bandra promenade that attracts Mumbaikars of all ages and from all walks of life on a daily basis, a group of people – most of whom did not know each other — gathered to make their collective voice felt.
They were armed with banners that were hand painted, or made of flex, to protest the manner in which the idea of a secular India was being destroyed.
Four days later, on July 3, filmmaker Anand Patwardhan organised a larger protest, teaming up with members of the Left parties, Prakash Ambedkar's Republican Party and other political parties.
Forty organisations, comprising nearly 5,000 people, came along for the march that began at the Veer Kotwal Udyan in Dadar, central Mumbai, and wound past PortugueseChurch before ending at Chaitya Bhoomi.
The residents of the area had been witness to the red flags of the Communist movement earlier, but what they saw on July 3 was different.
This powerful imaginary letter was read out at the Delhi protest by Mohammad Assaruddin in memory of his 17-year-old friend, Junaid, who was killed by a mob when he was on his way home to Ballabhgarh after shopping for Eid in Delhi.
Sagar Gorkhe from the Kabir Kala Manch and Laxman from the Republican Panthers sang revolutionary songs as they led the #Not In My Name rally.
Also spotted in the rally were young school girls who let their posters do the talking.
Shrujana, an artist, wore a cow mask, inspired by Sujatro Ghosh's photoseries wherein he's been photographing women wearing cow masks and walking around Delhi, to highlight the need for making the streets a safe space for women and not just cows.
Sujatro plans to take his project in other cities as well.
I went to the protest gathering at the KotwalGarden opposite Plaza Cinema, Dadar, as did 5,000 other people.
A police inspector lent me a friendly arm so that I could safely cross the street and find a way into the heart of the demonstration.
It was all orderly and the slogan-shouting, when it began, was neither fierce nor calling for violence.
It was just as well, because one of the themes of the event was 'Nafrat Ke Kilaaf Insaniyat Ki Awaaz (Yes to Humanity, No to Hate)'.
The gathering drew from, and was supported by, the Aam Aadmi Party, the Bharipa Bahujan Mahasangh, the Communist Party of India (Marxist), the Communist Party of India, the Lal Nishan Party, the Bastar Solidarity Network, several Dalit organisations and left-of-centre formations.
IMAGE: Gautam Bengal, a well known artist — he has done a series of drawings on Mumbai's Irani cafes — children's book illustrator, animator and author of 1/7 Bondel Road: An Endearing Short Story Collection lent one of his artworks for use in the protest.
Shouting slogans, holding aloft banners of many colours and escorted by the police, they made their way to Chaitya Bhoomi, the resting place of Dr B R Ambedkar.
I had to bow out of the march.
There was no doubt that this several-thousand strong gathering was driven by emotion against what is happening: lawlessness by self proclaimed cow protectors and attacks on Muslims.
It would have been strange if the event were not also used to gain political mileage.
It was.
But at least a third of the crowd was made up of citizens with no party affiliations, just people deploring the crimes being allowed to happen by permissive administrations in Uttar Pradesh, Jharkhand, Rajasthan and Madhya Pradesh, among others.
A well produced, blood-stained leaflet carried a grim list — 38 persons dead or injured, of 33 were Muslim names.
Gerson da Cunha is Mumbai-based advertising doyenne, stage and film actor, social worker and author.
Age was not a factor when it came to participation.
Neither was language.
Some messages were succinct.
In the end, they all were one, united by a cause they all believed in.
Dolly Thakore: They just wanted to say, enough was enough
The smart, young on-duty policeman, who came to help a senior citizen out of the car and guide him through the gate of KotwalGarden set the tone of the gathering — helpful, polite, cooperative, respectful, accommodating.
And this spirit carried through the two kilometre walk to Chaitya Bhoomi.
The crowd started at some 300, and swelled to 5,000, as the serpentine slogan-chorusing, orderly procession wound its way from Dadar's Plaza Cinema, via ShivajiPark, on to Cadell Road, and finally Dr Ambedkar's resting place.
The 5 pm office-returning vehicular traffic stopped in deference, allowing the procession to cross the intersections at traffic lights.
Some even lowered the windows of their air-conditioned cars.
At one such stop, a fellow protestor invited some BEST travellers to join in, and four passengers promptly alighted and shared in carrying the 'Not In My Name' handmade banners and posters.
There was a substantial presence of writers, filmmakers, artists, activists, lawyers, theatre practitioners, singers and musicians, whom one recognised and hugged, walking alongside hundreds of students, teachers, shopkeepers, hospital staff, mothers with babes-in-arms and housewives.
img class="alignnone size-medium wp-image-75868″ src="https://kractivist.org/wp-content/uploads/2017/07/lynching16-300×200.jpg" alt="" width="300″ height="200″>
&
IMAGE: Delhi-based artist and sculptor Dhrupadi Noor sent her painting, 'Tribute to Junaid', for use during the protest.
Many unknown faces joined the march as it progressed, each with a smile and a nod, as voices rose in unison and response to the cheerleaders.
The touching gesture of sharing water bottles, and sometimes even juices bought from the stores along the way with complete strangers, expressed the rally's spirit of solidarity and equality.
Residents from adjacent neighbourhoods joined in as the march surged forward.
Cameras were in evidence without being intrusive.
A few television interviewers did thrust their microphones to get the proverbial bite, but none were aggressive or impolite.
The double-storeyed buildings on either side of the road brought out many residents who waved and housed some camera crew on their first floors.
All watched in empathy and respect for their fellow citizens, who had braved the erratic weather (the rain stayed away though many came prepared with raincoats and umbrellas).
All seemed oblivious of these discomforts.
Some gently stirring speeches and songs were voiced under the huge archway and shadow of Chaitya Bhoomi. But no political leaders were recognisable among them.
Before the sun sighed into the sea, some of the marchers broke away, filled with peace and calm at having shared in a huge emotional moment.
Dolly Thakore is a well-known Mumbai-based theatre actress.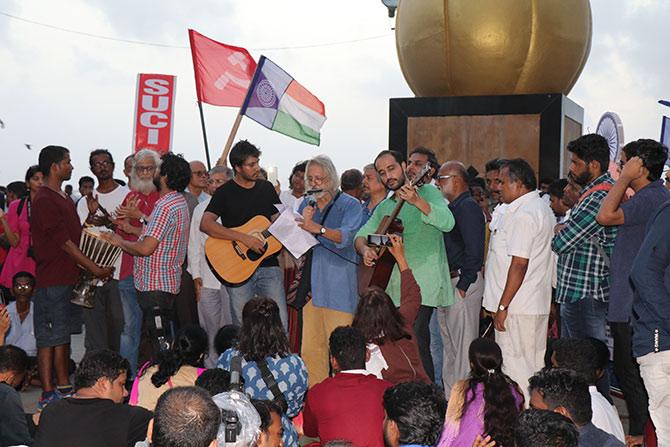 The rally ended at Chaitya Bhoomi Anand Patwardhan (in blue) addressed his fellow protestors. As did political leaders like Prakash Ambedkar and Prakash Reddy.
Filmmaker Dibakar Banerjee too made his voice heard (do watch the video above).
As did Rossi D'Souza and the Kabir Kala Manch who shared their feelings through music.
https://m.rediff.com/news/special/not-in-my-name-they-came-for-the-india-they-loved/20170704.htm