Thursday, Sep 26, 2013, | Place: Mumbai | Agency:
DNA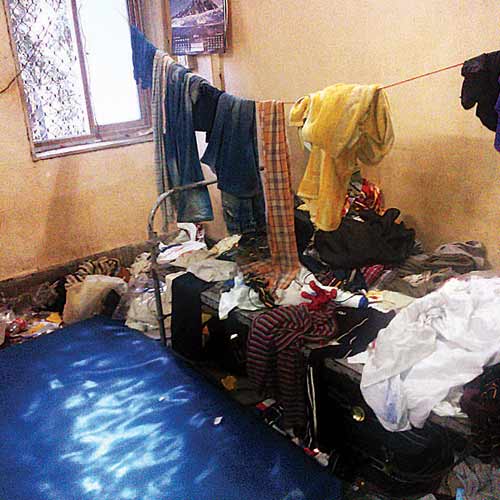 With not enough beds for patients at Sion hospital, most have to lie on the floor
As the only public hospital catering to the massive inflow of patients from the suburbs for the past 65 years, the BMC-run Lokmanya Tilak Municipal General Hospital in Sion is overburdened.
Popularly known as Sion hospital, it is seeped in neglect and poor maintenance.
It was in the news for all the wrong reasons medical caregivers dying of tuberculosis and bodies lying near the casualty department, painting a sorry picture of the youngest of the three BMC-run hospitals. Despite an annual budget of hundreds of crores, overcrowding and unhygienic conditions are the major problems plaguing the hospital.
The room to keep bodies before conducting panchnama and post-mortem, is lying locked since August last year. A few metres away, patients wait to get treated for wounds. "These flout all norms of hygiene and human dignity. Despite several media reports, corpses are kept in the open and uncovered.
It's nauseating," said a police officer at the casualty ward.
When this was pointed out to Sion hospital dean Dr Avinash Supe earlier, he had said: "We have to keep the corpse outside for a while for observation. But I'll see to it that they are covered."
But, corpses are still kept in the open.
Sion resident Jayant Gupta (name changed), 48, who was admitted to the hospital for an angioplasty procedure on Monday was seen lying on the floor in the cardiology ward. "There are not enough beds so I have been lying on the floor," said Gupta.
While there are 18 beds in the ward, over 29 had been admitted. "So most have to lie on the floor," said a nurse in the ward.
Doctors say that while the load of patients has risen over the past 50 years, the teaching posts in the hospital have not increased. "A case in point is the gynaecology department.
Around 12,000 babies are delivered at the hospital every year. The department has only three lecturers, while KEM Hospital which sees half the number of deliveries has 18 lecturers," said a doctor requesting anonymity.
Junior doctors of the hospital themselves live in pathetic conditions. The deplorable living conditions in hostels has compelled almost 80% of the first year post-graduate students in Sion hospital to seek transfer to either KEM or Nair hospitals within a month of their posting.
Over 550 resident medical officers in Sion hospital are housed in 100 rooms in the Resident Medical Officers' quarters. As per Medical Council of India rules, not more than two student doctors should occupy one hostel room in medical colleges. In the first year, over five students are cramped in a room of 150 sqft. "There are no beds or toilets in the room," said a resident doctor.
Of 54 doctors and nurses who suffer from tuberculosis in BMC hospitals, 15 doctors are from Sion hospital.
"We are building new quarters which will be commissioned in two months. Around 100 students will be shifted there," said Supe.
Health care for years
On 30th November 1964 Lokmanya Tilak Medical College was set up with the first batch of 60 students. Started as a 50-bed hospital and single OPD in a military hospital, it has more than 1,400 beds now.
This hospital is a  major referral hospital and caters to all trauma and disasters accident cases from Eastern and Western Express Highways.