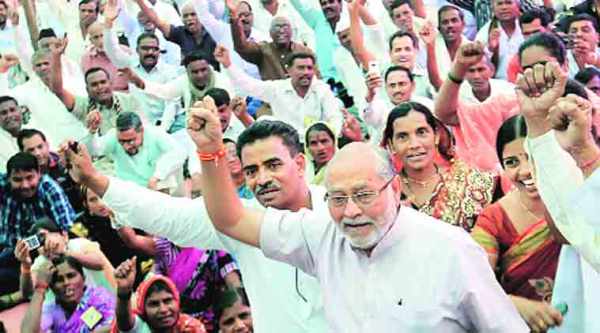 Prahlad Modi participates in a protest at Azad Maidan in Mumbai on Monday.
This Modi seems to be more of an Arvind Kejriwal who earned brickbats for agitating when holding on to the post of Delhi CM. On Monday, Prahlad Modi, the brother of Prime Minister Narendra Modi was seen in action on the streets of Mumbai agitating against inadequacies in the public distribution system and on target later this month is Ramlila Maidan and Jantar Mantar in Delhi.
Prahlad Modi, vice-president of the All India Fair Price Dealers Association, said the PDS policy did not adequately cover the poor.
The Association that held the demonstration at Azad Maidan to highlight shortage of foodgrain and kerosene supply in fair price shops "thus depriving the needy" says the agiation should not be projected as a fight between the Modis.
Asked about his kinship with the PM, he said, "Yes, I am brother of Narendra Modi. But I have been associated with this organisation much before he became prime minister. My organisation's protest is not against my brother or PM. I am only highlighting concerns of people and shortcomings in policies."
Association president Pushparaj (Kaka ) Deshmukh said, "On March 17, we will launch a massive protest from Ramlila Ground to Jantar Mantar in New Delhi."
"Foodgrain and kerosene are being supplied to fair price shops as per the 2011 census. After the Food Security Act came into force there has been a 30 percent hike in demand but stock in fair price shop is inadequate. Often, it is small fairprice shop operators who are at the receiving end from people."
"Supply of kerosene used by the poor has come down by 80 per cent in fair price shops."
There is huge mismatch between commission per litre for petrol (Rs 2.25) and kerosene (25 paise). This is unacceptable to us, he revealed.
In Maharashtra, they demanded that the government should restore the subsidy to the 1.77 crore people who fall in the category of above poverty line (APL). "The APL category was considered for subsidies in the previous government in Maharashtra."
According to Deshmukh, "Participation of Prahlad (Modi) in the agitation is being projected as against Narendra Modi, which is not correct. "If more people are covered by fair price shop it would help them fight inflation," he added.
Modi's brother leads protest against PDS policy, bats for APL members