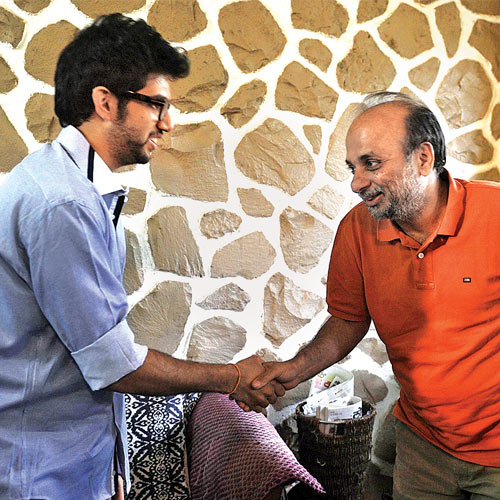 The University of Mumbai's management council will meet on Saturday to discuss the suspension of econometrics professor Neeraj Hatekar after the governor's call to solve the matter at the earliest.
Governor and chancellor of the university K Sankaranarayanan on Thursday asked the university vice-chancellor Rajan Welukar to resolve the issue amicably "at the earliest" and following "due procedure" in the larger interest of students.
Following the governor's intervention, the University of Mumbai called for a management council meeting on January 18 to discuss the suspension.  "My suspension is illegal and I will be happy to be back. However, the university will have to provide reasonable answers for questions raised," said Hatekar.
On Friday, Yuva Sena president Aaditya Thackeray visited professor Neeraj Hatekar's residence at the Mumbai University's Kalina campus to extend his support to the professor and students who are fighting against the varsity's decision to suspend the professor.
Though neither VC nor pro-VC responded to calls, a highly placed official confirmed that the governor has given an "earful" to the VC, prompting the latter to soften his stand. Revoking Hatekar's suspension would definitely be the best solution before management council.
An official said: "The management council has two options:  1)To revoke the suspension and order a departmental inquiry. A committee could be asked to probe charges against Hatekar and submit the report within 15 days.  2)A time-bound inquiry could be ordered without revoking the suspension. The suspension would be reviewed on the basis of the inquiry report.
"The choice of the option depends upon the "severity" of the words used by the Governor," says a MC member. He added, in either case, Hatekar would be served a chargesheet seeking his explanation
Read more jere — http://www.dnaindia.com/mumbai/report-mumbai-university-may-revoke-professor-neeraj-hatekar-s-suspension-on-saturday-1952841